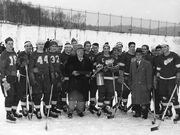 The 1954 Detroit Red Wings prison game was an exhibition ice hockey game played on February 2, 1954.
The exhibition was played outdoors at the Marquette Branch Prison between the Detroit Red Wings of the National Hockey League (NHL) and a team put together by the inmates of the prison.
It was the first ever outdoor game played by the Detroit Red Wings. After the first period, the Red Wings were winning 18–0, and the scores for the remainder of the match were not kept.
The idea for the game was derived in the summer of 1953 during a visit to Marquette Branch Prison in Marquette, Michigan.
The trip was sponsored by Stroh Brewing Company, and attended by Red Wings general manager Jack Adams and team captain Ted Lindsay.
Adams was then approached by incarcerated Purple Gang members Harry Keywell and Ray Bernstein (both Red Wings fans), who asked him about bringing the team in for an exhibition scrimmage. Adams and prison warden Emery Jacques accepted the idea.
The inmates then organized a team, set up an outdoor rink and Adams donated equipment for the inmates to use. The prison hired Leonard Brumm of the championship 1948 University of Michigan Wolverines ice hockey team as athletic director.
The game was played on February 2, 1954 in what was reported as a good-hearted affair by all parties. The Red Wings jumped out to an 18-0 lead in the first period and the subsequent score was not kept for the duration of the game.
In the remaining two periods, the teams were split up with Red Wings players playing on the Pirates & vice versa. The game was the first Red Wings game to be played outdoors. The Pirates also proved to be a mainstay under Brumm, playing in organized hockey seasons afterward.
After the game, the Red Wings received hand-made gifts from the inmates and then played a later exhibition game against the Marquette Sentinels of the United States Hockey League before returning home.
Community content is available under
CC-BY-SA
unless otherwise noted.