Jurassic World: Dominion Dominates Fandom Wikis - The Loop
Play Sound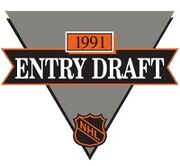 The 1991 NHL Entry Draft was held on June 22, 1991 at the Memorial Auditorium in Buffalo, New York. A total of 264 players were drafted.
The draft was famous for the controversy surrounding star first overall draft pick, touted by some observers to be The Next One, Eric Lindros who was drafted by the Quebec Nordiques, but he immediately refused to sign a contract.
What followed was one of the biggest trades in NHL history which the Philadelphia Flyers used to acquire Lindros in the process trading away future superstar Peter Forsberg.
Selections
[
]
Round One
[
]
Round Two
[
]
Pick #
Player
Position
Nationality
NHL team
College/junior/club team
23
Ray Whitney
Left Wing

Template:CAN

San Jose Sharks
Spokane Chiefs (WHL)
24

Rene Corbet

Left Wing

Template:CAN

Quebec Nordiques

Drummondville Voltigeurs

(QMJHL)
25

Eric Lavigne

Defense

Template:CAN

Washington Capitals

Hull Olympiques

(QMJHL)
26

Zigmund Palffy

Right Wing

Template:TCH

New York Islanders

Nitra

(Czechoslovakia)
27

Steve Staios

Defense

Template:CAN

St. Louis Blues

Niagara Falls Thunder

(OHL)
28

Jim Campbell

Right Wing
 United States
Montreal Canadiens

Northwood School

(USHS-New York)
29
Jassen Cullimore
Defense

Template:CAN

Vancouver Canucks

Peterborough Petes

(OHL)
30

Sandis Ozolinsh

Defense

Template:URS

San Jose Sharks

Dinamo Riga

(

USSR

)
31

Martin Hamrlik

Defense

Template:TCH

Hartford Whalers

Zlín ZPS HC

(Czechoslovakia)
32

Jamie Pushor

Defense

Template:CAN

Detroit Red Wings
Lethbridge Hurricanes (WHL)
33
Donevan Hextall
Left Wing

Template:CAN

New Jersey Devils
Prince Albert Raiders (WHL)
34

Andrew Verner

Goaltender

Template:CAN

Edmonton Oilers
Peterborough Petes (OHL)
35

Jason Dawe

Right Wing

Template:CAN

Buffalo Sabres
Peterborough Petes (OHL)
36

Jeff Nelson

Center

Template:CAN

Washington Capitals
Prince Albert Raiders (WHL)
37

Darcy Werenka

Defense

Template:CAN

New York Rangers
Lethbridge Hurricanes (WHL)
38

Rusty Fitzgerald

Center
 United States
Pittsburgh Penguins
Duluth East High School (USHS-MN)
39
Mike Pomichter
Center
 United States
Chicago Blackhawks (from Montreal Canadiens)
Springfield Olympics (NEJHL)
40

Jozef Stumpel

Center

Template:TCH

Boston Bruins
Nitra (Czechoslovakia)
41

Francois Groleau

Defense

Template:CAN

Calgary Flames

Shawinigan Cataractes

(QMJHL)
42

Guy Leveque

Center

Template:CAN

Los Angeles Kings

Cornwall Royals

(OHL)
43

Craig Darby

Center
 United States
Montreal Canadiens

Albany Academy

(USHS-New York)
44
Jamie Matthews
Center

Template:CAN

Chicago Blackhawks
Sudbury Wolves (OHL)
Round Three
[
]
Pick #
Player
Position
Nationality
NHL team
College/junior/club team
45

Dody Wood

Center

Template:CAN

San Jose Sharks
Seattle Thunderbirds (WHL)
46

Rich Brennan

Defense
 United States
Quebec Nordiques

Tabor Academy

(USHS-MA)
47

Yanic Perreault

Center

Template:CAN

Toronto Maple Leafs

Trois-Rivières Draveurs

(QMJHL)
48
Jamie McLennan
Goaltender

Template:CAN

New York Islanders
Lethbridge Hurricanes (WHL)
49
Dmitri Filimonov
Defense

Template:URS

Winnipeg Jets
HC Dynamo Moscow (

USSR

)
50

Yanick Dupre

Left Wing

Template:CAN

Philadelphia Flyers
Drummondville Voltigeurs (QMJHL)
51

Sean Pronger

Center

Template:CAN

Vancouver Canucks

Bowling Green State University

(

NCAA

)
52
Sandy McCarthy
Right Wing

Template:CAN

Calgary Flames
Laval Titan (QMJHL)
53
Todd Hall
Defense
 United States
Hartford Whalers

Hamden High School

(USHS-CT)
54
Chris Osgood
Goaltender

Template:CAN

Detroit Red Wings

Medicine Hat Tigers

(WHL)
55

Fredrik Lindquist

Right Wing

Template:SWE

New Jersey Devils

Djurgårdens IF Stockholm

(Sweden)
56
George Breen
Right Wing
 United States
Edmonton Oilers

Cushing Academy

(USHS-MA)
57
Jason Young
Left Wing

Template:CAN

Buffalo Sabres
Sudbury Wolves (OHL)
58

Steve Konowalchuk

Left Wing
 United States
Washington Capitals

Portland Winter Hawks

(WHL)
59
Michael Nylander
Center

Template:SWE

Hartford Whalers

Huddinge IK

(Sweden)
60
Shane Peacock
Defense

Template:CAN

Pittsburgh Penguins
Lethbridge Hurricanes (WHL)
61

Yves Sarault

Left Wing

Template:CAN

Montreal Canadiens

St. Jean Lynx

(QMJHL)
62

Marcel Cousineau

Goaltender

Template:CAN

Boston Bruins

Beauport Harfangs

(QMJHL)
63
Brian Caruso
Left Wing

Template:CAN

Calgary Flames

University of Minnesota Duluth

(NCAA)
64
Kyle Reeves
Right Wing

Template:CAN

St. Louis Blues

Tri-City Americans

(WHL)
65

Nathan LaFayette

Center

Template:CAN

St. Louis Blues
Cornwall Royals (OHL)
66
Bobby House
Right Wing

Template:CAN

Chicago Blackhawks

Brandon Wheat Kings

(WHL)
Round Four
[
]
Pick #
Player
Position
Nationality
NHL team
College/junior/club team
67
Kerry Toporowski
Defense

Template:CAN

San Jose Sharks
Spokane Chiefs (WHL)
68
Dave Karpa
Defense

Template:CAN

Quebec Nordiques

Ferris State University

(NCAA)
69
Terry Chitaroni
Center

Template:CAN

Toronto Maple Leafs
Trois-Rivières Draveurs (QMJHL)
70

Milan Hnilicka

Goaltender

Template:TCH

New York Islanders

Poldi Kladno

(Czechoslovakia)
71

Igor Kravchuk

Defense

Template:URS

Chicago Blackhawks
CSKA Moscow (USSR)
72

Peter Ambroziak

Left Wing

Template:CAN

Buffalo Sabres

Ottawa 67's

(OHL)
73

Vladimir Vujtek

Left Wing

Template:TCH

Montreal Canadiens

Tri-City Americans

(WHL)
74

Mike Torchia

Goaltender

Template:CAN

Minnesota North Stars

Kitchener Rangers

(OHL)
75
Jim Storm
Left Wing
 United States
Hartford Whalers

Michigan Tech University

(NCAA)
76
Mike Knuble
Right Wing
 United States
Detroit Red Wings

Kalamazoo Wings

(IHL)
77
Brad Willner
Defense
 United States
New Jersey Devils
Richfield High School (USHS-MN)
78
Mario Nobili
Left Wing

Template:CAN

Edmonton Oilers

Longueuil Collège Français

(QMJHL)
79

Keith Redmond

Left Wing

Template:CAN

Los Angeles Kings

Bowling Green University

(NCAA)
80

Justin Morrison

Center

Template:CAN

Washington Capitals

Kingston Frontenacs

(OHL)
81
Alexei Zhitnik
Defense

Template:URS

Los Angeles Kings

Sokil Kyiv

(USSR)
82
Joe Tamminen
Center
 United States
Pittsburgh Penguins
Virginia High School (USHS-MN)
83
Sylvain LaPointe
Defense

Template:CAN

Montreal Canadiens

Clarkson University

(NCAA)
84

Brad Tiley

Defense

Template:CAN

Boston Bruins

Sault Ste. Marie Greyhounds

(OHL)
85
Steve Magnusson
Center
 United States
Calgary Flames
Ankoa High School (USHS-MN)
86

Aris Brimanis

Defense
 United States
Philadelphia Flyers
Bowling Green University (NCAA)
87
Grayden Reid
Center

Template:CAN

St. Louis Blues

Owen Sound Platers

(OHL)
88

Zac Boyer

Right Wing

Template:CAN

Chicago Blackhawks
Kamloops Blazers (WHL)
Round Five
[
]
Pick #
Player
Position
Nationality
NHL team
College/junior/club team
89
Dan Ryder
Goaltender

Template:CAN

San Jose Sharks

Sudbury Wolves

(OHL)
90
Patrick Labrecque
Goaltender

Template:CAN

Quebec Nordiques

St-Jean Lynx

(QMJHL)
91

Juha Ylonen

Center

Template:FIN

Winnipeg Jets
Kiekko-Espoo (Finland)
92
Steve Junker
Right Wing

Template:CAN

New York Islanders
Spokane Chiefs (WHL)
93
Ryan Haggerty
Center
 United States
Edmonton Oilers
Westminster High School (USHS-CT)
94
Yanick Degrace
Goaltender

Template:CAN

Philadelphia Flyers
Trois-Rivières Draveurs (QMJHL)
95

Dan Kesa

Right Wing

Template:CAN

Vancouver Canucks

Prince Albert Raiders

(WHL)
96
Corey Machanic
Defense
 United States
New York Rangers

University of Vermont

(NCAA)
97

Mike Kennedy

Center

Template:CAN

Minnesota North Stars

University of British Columbia

(CIS)
98
Dmitri Motkov
Defense

Template:URS

Detroit Red Wings
CSKA Moscow (USSR)
99

Yan Kaminsky

Left Wing

Template:URS

Winnipeg Jets
Dynamo Moscow (USSR)
100
Brad Layzell
Defense

Template:CAN

Montreal Canadiens

Rensselaer Polytechnic Institute

(NCAA)
101
Steve Shields
Goaltender

Template:CAN

Buffalo Sabres

University of Michigan

(NCAA)
102

Alexei Kudashov

Center

Template:URS

Toronto Maple Leafs
Krylja Sovetov (USSR)
103

Bill Lindsay

Left Wing
 United States
Quebec Nordiques
Tri-City Americans (WHL)
104
Rob Melanson
Defense

Template:CAN

Pittsburgh Penguins

Hull Olympiques

(QMJHL)
105
Tony Prpic
Right Wing
 United States
Montreal Canadiens

Culver Military Academy

(USHS-IN)
106

Mariusz Czerkawski

Right Wing

Template:POL

Boston Bruins

GKS Tychy

(Poland)
107
Jerome Butler
Goaltender
 United States
Calgary Flames
Roseau High School (USHS-MN)
108

Pauli Jaks

Goaltender

Template:CHE

Los Angeles Kings
Ambri-Piotta (Switzerland)
109
Jeff Callinan
Goaltender
 United States
St. Louis Blues

University of Minnesota

(NCAA)
110
Maco Balkovec
Defense

Template:CAN

Chicago Blackhawks

Merritt Centennials

(BCHL)
Round Six
[
]
Pick #
Player
Position
Nationality
NHL team
College/junior/club team
111
Fredrik Nilsson
Center

Template:SWE

San Jose Sharks
Västerås (Sweden)
112
Kevin St. Jacques
Left Wing

Template:CAN

Chicago Blackhawks
Lethbridge Hurricanes (WHL)
113

Jeff Perry

Left Wing

Template:CAN

Toronto Maple Leafs
Owen Sound Platers (OHL)
114

Rob Valicevic

Right Wing
 United States
New York Islanders
Detroit Compuware Ambassadors (SOJHL)
115

Jeff Sebastian

Defense

Template:CAN

Winnipeg Jets

Seattle Thunderbirds

(WHL)
116
Clayton Norris
Right Wing

Template:CAN

Philadelphia Flyers

Medicine Hat Tigers

(WHL)
117

Evgeny Namestnikov

Defense

Template:URS

Vancouver Canucks
Torpedo Nizhny Novogord (Russia)
118

Mark Lawrence

Right Wing

Template:CAN

Minnesota North Stars

Detroit Jr. Red Wings

(OHL)
119

Mike Harding

Right Wing

Template:CAN

Hartford Whalers

Northern Michigan University

(NCAA)
120
Alexander Kuzminski
Center

Template:URS

Toronto Maple Leafs
Sokol Kiev (USSR)
121
Curtis Regnier
Defense

Template:CAN

New Jersey Devils

Prince Albert Raiders

(WHL)
122

Dmitri Yushkevich

Defense

Template:URS

Philadelphia Flyers
Torpedo Yaroslavl
123
Sean O'Donnell
Defense

Template:CAN

Buffalo Sabres

Sudbury Wolves

(OHL)
124

Brian Holzinger

Center
 United States
Buffalo Sabres
Detroit Compuware Ambassadors (SOJHL)
125
Fredrik Jax
Right Wing

Template:SWE

New York Rangers
Leksand (Sweden)
126
Brian Clifford
Center
 United States
Pittsburgh Penguins
Nichols High School (USHS-NY)
127

Oleg Petrov

Right Wing

Template:URS

Montreal Canadiens
CSKA Moscow (USSR)
128
Barry Young
Defense

Template:CAN

New York Rangers
Sudbury Wolves (OHL)
129

Bobby Marshall

Defense

Template:CAN

Calgary Flames

Miami University

(NCAA)
130

Brett Seguin

Center
 United States
Los Angeles Kings
Ottawa 67's (OHL)
131

Bruce Gardiner

Right Wing

Template:CAN

St. Louis Blues

Colgate University

(NCAA)
132
Jacques Auger
Defense

Template:CAN

Chicago Blackhawks

University of Wisconsin

(NCAA)
Round Seven
[
]
Pick #
Player
Position
Nationality
NHL team
College/junior/club team
133

Jaroslav Otevrel

Center

Template:TCH

San Jose Sharks
JT Zlín (Czechoslovakia)
134

Mikael Johansson

Center

Template:SWE

Quebec Nordiques
Djurgardens IF (Sweden)
135

Martin Prochazka

Right Wing

Template:TCH

Toronto Maple Leafs
Poldi Kladno (Czechoslovakia)
136

Andreas Johansson

Left Wing

Template:SWE

New York Islanders
Falun (Sweden)
137
Geoff Finch
Goalie

Template:CAN

Minnesota North Stars

Brown University

(NCAA)
138

Andrei Lomakin

Left Wing

Template:URS

Philadelphia Flyers
Dynamo Moscow (USSR)
139
Brent Thurston
Left Wing

Template:CAN

Vancouver Canucks
Spokane Chiefs (WHL)
140
Matt Hoffman
Left Wing
 United States
Calgary Flames
Oshawa Generals (OHL)
141
Brian Mueller
Defense
 United States
Hartford Whalers

South Kent School

(USHS-CT)
142
Igor Malykhin
Defense

Template:RUS

Detroit Red Wings
CSKA Moscow (USSR)
143
Dave Craievich
Defense

Template:CAN

New Jersey Devils
Oshawa Generals (OHL)
144

David Oliver

Right Wing

Template:CAN

Edmonton Oilers
University of Michigan (NCAA)
145

Chris Snell

Defense

Template:CAN

Buffalo Sabres
Ottawa 67's (OHL)
146
Dave Morissette
Left Wing

Template:CAN

Washington Capitals
Shawinigan Cataractes (QMJHL)
147
John Rushin
Center
 United States
New York Rangers
Kennedy High School (USHS-MN)
148

Ed Patterson

Right Wing

Template:CAN

Pittsburgh Penguins
Kamloops Blazers (WHL)
149
Brady Kramer
Center
 United States
Montreal Canadiens

Haverford High School

(USHS-PA)
150
Gary Golczewski
Left Wing
 United States
Boston Bruins
Trinity-Pawling High School (USHS-NY)
151
Kelly Harper
Center

Template:CAN

Calgary Flames

Michigan State University

(NCAA)
152

Kelly Fairchild

Center
 United States
Los Angeles Kings
Grand Rapids High School (USHS-MN)
153

Terry Hollinger

Defense

Template:CAN

St. Louis Blues
Lethbridge Hurricanes (WHL)
154
Scott Kirton
Right Wing

Template:CAN

Chicago Blackhawks

Powell River Paper Kings

(BCHL)
Round Eight
[
]
Pick #
Player
Position
Nationality
NHL team
College/junior/club team
155

Dean Grillo

Right Wing
 United States
San Jose Sharks
Warroad High School (USHS-MN)
156
Janne Laukkanen
Defense

Template:FIN

Quebec Nordiques
Reipas Lahti (Finland)
157

Aaron Asp

Center

Template:CAN

Quebec Nordiques
Ferris State University (NCAA)
158

Todd Sparks

Left Wing

Template:CAN

New York Islanders
Hull Olympiques (QMJHL)
159

Jeff Ricciardi

Defense

Template:CAN

Winnipeg Jets
Ottawa 67's (OHL)
160

Dmitri Mironov

Defense

Template:URS

Toronto Maple Leafs
Krylja Sovetov (USSR)
161

Eric Johnson

Right Wing
 United States
Vancouver Canucks
Armstrong High School (USHS-MN)
162

Jiri Kuntos

Defense

Template:TCH

Buffalo Sabres
Dukla Jihlava (Czechoslovakia)
163

Steven Yule

Defense

Template:CAN

Hartford Whalers
Kamloops Blazers (WHL)
164

Robb McIntyre

Left Wing
 United States
Toronto Maple Leafs

Dubuque Fighting Saints

(USHL)
165

Paul Wolanski

Defense

Template:CAN

New Jersey Devils

Niagara Falls Thunder

(OHL)
166

Gary Kitching

Center

Template:CAN

Edmonton Oilers

Thunder Bay Flyers

(USHL)
167

Tomas Kucharcik

Center

Template:TCH

Toronto Maple Leafs
Dukla Jihlava (Czechoslovakia)
168

Rick Corriveau

Defense

Template:CAN

Washington Capitals
London Knights (OHL)
169

Corey Hirsch

Goalie

Template:CAN

New York Rangers
Kamloops Blazers (WHL)
170

Peter McLaughlin

Defense
 United States
Pittsburgh Penguins
Belmont Hill High School (USHS-MA)
171

Brian Savage

Left Wing

Template:CAN

Montreal Canadiens
Miami University (NCAA)
172

Jay Moser

Defense
 United States
Boston Bruins
Park High School (USHS-MN)
173

David St. Pierre

Center

Template:CAN

Calgary Flames

Longueuil Collège Français

(QMJHL)
174

Michael Burkett

Left Wing

Template:CAN

Minnesota North Stars
Michigan State University (NCAA)
175

Chris Kenady

Right Wing
 United States
St. Louis Blues

St. Paul Vulcans

(USHL)
176

Roch Belley

Goalie

Template:CAN

Chicago Blackhawks
Niagara Falls Thunder (OHL)
Round Nine
[
]
Pick #
Player
Position
Nationality
NHL team
College/junior/club team
177
Corwin Saurdiff
Goalie
 United States
San Jose Sharks

Waterloo Black Hawks

(USHL)
178
Adam Bartell
Defense
 United States
Quebec Nordiques

Niagara Falls Canucks

(GHJHL)
179
Guy Lehoux
Defense

Template:CAN

Toronto Maple Leafs
Drummondville Voltigeurs (QMJHL)
180

John Johnson

Center

Template:CAN

New York Islanders
Niagara Falls Thunder (OHL)
181

Sean Gauthier

Goalie

Template:CAN

Winnipeg Jets
Kingston Frontenacs (OHL)
182
Jim Bode
Right Wing
 United States
Philadelphia Flyers
Armstrong High School (USHS-MN)
183
David Neilson
Left Wing
 United States
Vancouver Canucks
Prince Albert Raiders (WHL)
184
Derek Herlofsky
Goalie
 United States
Minnesota North Stars
St. Paul Vulcans (USHL)
185
Chris Belanger
Defense

Template:CAN

Hartford Whalers

Western Michigan University

(NCAA)
186
Jim Bermingham
Center

Template:CAN

Detroit Red Wings

Laval Titan

(QMJHL)
187
Dan Reimann
Defense
 United States
New Jersey Devils
Anoka High School (USHS-MN)
188
Brent Brekke
Defense
 United States
Quebec Nordiques
Western Michigan University (NCAA)
189
Tony Iob
Left Wing

Template:CAN

Buffalo Sabres
Sault Ste Marie Greyhounds (OHL)
190
Trevor Duhaime
Right Wing

Template:CAN

Washington Capitals
St-Jean Lynx (QMJHL)
191
Vyacheslav Uvayev
Defense

Template:URS

New York Rangers
Spartak Moscow (USSR)
192
Jeff Lembke
Goalie
 United States
Pittsburgh Penguins

Omaha Lancers

(USHL)
193

Scott Fraser

Right Wing

Template:CAN

Montreal Canadiens

Dartmouth College

(NCAA)
194
Dan Hodge
Defense
 United States
Boston Bruins

Merrimack College

(NCAA)
195
David Struch
Center

Template:CAN

Calgary Flames

Saskatoon Blades

(WHL)
196

Craig Brown

Goalie

Template:CAN

Los Angeles Kings
Western Michigan University (NCAA)
197
Jed Fiebelkorn
Right Wing
 United States
St. Louis Blues
Osseo High School (USHS-MN)
198

Scott MacDonald

Defense
 United States
Chicago Blackhawks

Choate Rosemary Hall

(USHS-CT)
Round Ten
[
]
Pick #
Player
Position
Nationality
NHL team
College/junior/club team
199

Dale Craigwell

Center

Template:CAN

San Jose Sharks
Oshawa Generals (OHL)
200
Paul Koch
Defense
 United States
Quebec Nordiques
Omaha Lancers (USHL)
201

Gary Miller

Defense

Template:CAN

Toronto Maple Leafs

North Bay Centennials

(OHL)
202
Rob Canavan
Left Wing
 United States
New York Islanders
Hingham High School (USHS-MA)
203

Igor Ulanov

Defense

Template:URS

Winnipeg Jets
Khimik Voskresensk (USSR)
204
Josh Bartell
Defense
 United States
Philadelphia Flyers
Rome Free Academy (USHS-NY)
205
Brad Barton
Defense

Template:CAN

Vancouver Canucks

Kitchener Rangers

(OHL)
206
Tom Nemeth
Left Wing

Template:CAN

Minnesota North Stars

Cornwall Royals

(OHL)
207
Jason Currie
Goalie

Template:CAN

Hartford Whalers

Clarkson University

(NCAA)
208
Jason Firth
Center

Template:CAN

Detroit Red Wings
Kitchener Rangers (OHL)
209

Rob Leask

Defense

Template:CAN

Washington Capitals
Hamilton Red Wings (GHJHL)
210

Vegar Barlie

Right Wing

Template:NOR

Edmonton Oilers

Vålerenga

(Norway)
211
Spencer Meany
Right Wing

Template:CAN

Buffalo Sabres

St. Lawrence University

(NCAA)
212
Carl LeBlanc
Defense

Template:CAN

Washington Capitals

Granby Bisons

(QMJHL)
213

Jamie Ram

Goalie

Template:CAN

New York Rangers

Michigan Technological University

(NCAA)
214
Chris Tok
Defense
 United States
Pittsburgh Penguins
Greenway High School (USHS-MN)
215
Greg MacEachern
Defense

Template:CAN

Montreal Canadiens
Laval Collège Français (QMJHL)
216

Steve Norton

Defense

Template:CAN

Boston Bruins
Michigan State University (NCAA)
217
Sergei Zolotov
Right Wing

Template:URS

Calgary Flames
Krylja Sovetov (USSR)
218
Mattias Olsson
Defense

Template:SWE

Los Angeles Kings
Farjestad (Sweden)
219
Chris MacKenzie
Left Wing

Template:CAN

St. Louis Blues

Colgate University

(NCAA)
220

Alexander Andrievsky

Right Wing

Template:URS

Chicago Blackhawks
Dynamo Moscow (NCAA)
Round Eleven
[
]
Pick #
Player
Position
Nationality
NHL team
College/junior/club team
221

Aaron Kriss

Defense
 United States
San Jose Sharks
Cranbrook High School (USHS-MI)
222

Doug Friedman

Left Wing
 United States
Quebec Nordiques

Boston University

(NCAA)
223

Jonathan Kelley

Center
 United States
Toronto Maple Leafs
Arlington Catholic High School (USHS-MA)
224

Markus Thuresson

Center

Template:SWE

New York Islanders
Leksand (Sweden)
225

Jason Jennings

Right Wing

Template:CAN

Winnipeg Jets
Western Michigan University (NCAA)
226

Neil Little

Goalie

Template:CAN

Philadelphia Flyers
Rensselaer Polytech Institute (NCAA)
227

Jason Fitzsimmons

Goalie

Template:CAN

Vancouver Canucks
Moose Jaw Warriors (WHL)
228

Shayne Green

Right Wing

Template:CAN

Minnesota North Stars
Kamloops Blazers (WHL)
229

Mike Santonelli

Center
 United States
Hartford Whalers
Matignon High School (USHS-MA)
230

Bart Turner

Left Wing
 United States
Detroit Red Wings
Michigan State University (NCAA)
231

Kevin Riehl

Center

Template:CAN

New Jersey Devils
Medicine Hat Tigers (WHL)
232

Evgeny Belosheikin

Goalie

Template:URS

Edmonton Oilers
CSKA Moscow (USSR)
233

Mikhail Volkov

Right Wing

Template:URS

Buffalo Sabres
Krylja Sovetov (USSR)
234

Rob Puchniak

Defense

Template:CAN

Washington Capitals
Lethbridge Hurricanes (WHL)
235

Vitali Chinakhov

Center

Template:URS

New York Rangers
Torpedo Yaroslavl (USSR)
236

Paul Dyck

Defense

Template:CAN

Pittsburgh Penguins
Moose Jaw Warriors (WHL)
237

P.J. Lepler

Defense
 United States
Montreal Canadiens
Rochester Mustangs (USHL)
238

Steve Lombardi

Center
 United States
Boston Bruins

Deerfield Academy

(USHS-MA)
239

Marko Jantunen

Center

Template:FIN

Calgary Flames
Reipas Lahti (Finland)
240

Andre Boulianne

Goalie

Template:CAN

Los Angeles Kings
Longueuil Collège Français (QMJHL)
241

Judah Spetner

Defense
 United States
St. Louis Blues
Duluth East High School (USHS-MN)
242

Mike Larkin

Defense
 United States
Chicago Blackhawks
Rice Memorial High School (USHS-MA)
Round Twelve
[
]
Pick #
Player
Position
Nationality
NHL team
College/junior/club team
243

Mikhail Kravets

Left Wing

Template:URS

San Jose Sharks
SKA Leningrad (USSR)
244

Eric Meloche

Right Wing

Template:CAN

Quebec Nordiques
Drummondville Voltigeurs (QMJHL)
245
Chris O'Rourke
Defense

Template:CAN

Toronto Maple Leafs

University of Alaska-Fairbanks

(NCAA)
246
Marty Schriner
Center
 United States
New York Islanders

University of North Dakota

(NCAA)
247

Sergei Sorokin

Defense

Template:URS

Winnipeg Jets
Dynamo Moscow (USSR)
248

John Parco

Center

Template:CAN

Philadelphia Flyers
Belleville Bulls (OHL)
249
Xavier Majic
Center

Template:CAN

Vancouver Canucks
Rensselaer Polytechnic Institute (NCAA)
250
Jukka Suomalainen
Defense

Template:FIN

Minnesota North Stars
Kauniainen GrlFK (Finland)
251
Rob Peters
Defense
 United States
Hartford Whalers

Ohio State University

(NCAA)
252

Andrew Miller

Right Wing

Template:CAN

Detroit Red Wings

Wexford Raiders

(OJHL)
253
Jason Hehr
Defense

Template:CAN

New Jersey Devils

Kelowna Spartans

(BCHL)
254
Juha Riihijarvi
Right Wing

Template:FIN

Edmonton Oilers
Karpat Oulu (Finland)
255
Michael Smith
Defense

Template:CAN

Buffalo Sabres

Lake Superior State University

(NCAA)
256
Bill Kovacs
Left Wing

Template:CAN

Washington Capitals
Sudbury Wolves (OHL)
257

Brian Wiseman

Center

Template:CAN

New York Rangers
University of Michigan (NCAA)
258
Pasi Huura
Defense

Template:FIN

Pittsburgh Penguins
Ilves Tampere (Finland)
259
Dale Hooper
Defense
 United States
Montreal Canadiens
Springfield Olympics (EJHL)
260
Torsten Kienass
Defense

Template:DEU

Boston Bruins
Dynamo Berlin (Germany)
261

Andrei Trefilov

Goalie

Template:URS

Calgary Flames
Dynamo Moscow (USSR)
262

Mike Gaul

Defense

Template:CAN

Los Angeles Kings
St. Lawrence University (NCAA)
263
Mike Veisor
Goalie
 United States
St. Louis Blues
Springfield Olympics (EJHL)
264
Scott Dean
Defense
 United States
Chicago Blackhawks
Lake Forest High School (USHS-IL)