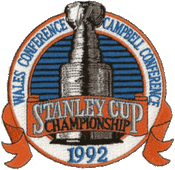 The 1992 Stanley Cup Final NHL championship series was contested by the Prince of Wales Conference & defending Stanley Cup champion Pittsburgh Penguins and the Clarence Campbell Conference champion Chicago Blackhawks.
The Blackhawks were appearing in their first Finals since 1973.
After the Blackhawks jumped to an early 4–1 lead in the first game of the series, Mario Lemieux and the Penguins came back to win the game, sweep the series in four games and win their second consecutive and second overall Stanley Cup.
It was the 99th year of the Stanley Cup and the first to extend into the month of June and it was the last final for Chicago Stadium as it closed in 1994.
Road to the Finals
Edit
The Pittsburgh Penguins defeated the Washington Capitals 4–3, the New York Rangers 4–2, and the Boston Bruins 4–0.
The Chicago Blackhawks had to defeat their three biggest rivals, first the St. Louis Blues 4–2, then their long-time Original Six rival Detroit Red Wings 4–0, and then, the Edmonton Oilers 4–0.
With their co-tenants at Chicago Stadium, the Chicago Bulls (coached by Phil Jackson and led by Michael Jordan) playing in (and winning) the NBA Finals, it was an opportunity for both the Blackhawks and the Bulls to help the city of Chicago become the first city to have both NHL and NBA championships in the same year.
(New York also had this opportunity in 1994 when the Knicks and Rangers made the finals in their respective sport; however, the result was the same, albeit a reversal of Chicago's ending, as the Rangers won their first Stanley Cup since 1940, and the Knicks lost, with both of those series going the full seven games.)
Chicago set an NHL playoff record in winning 11 games in a row to reach the finals.
Pittsburgh had won seven in a row entering the finals and swept Chicago in four games to tie Chicago's record.
Pittsburgh then extended the playoff winning streak record to 14 with wins in the first three games against the New Jersey Devils in the following season's first playoff round.
The Series
Edit
Stanley Cup Engraving
Edit
Centers
Wingers
Defencemen
Goaltenders
Non-Players
Edit
Engraving Notes
Edit
Pierre McGuire, Les Binkley, John Gill, Charlie Hodge & Ralph Cox were with the team as Scouts in the 1990–91 season, but their names were not included on the Stanley Cup that year. All five members have two Stanley Cup rings with Pittsburgh.
The team doctor, Charles Burke won cups with Pittsburgh in the 1991-92 season, but his name was left off.
Aftermath
Edit
The Penguins won a league record 17 straight games en route to the Presidents' Trophy in the 1992-93 season despite Mario Lemieux missing much of the season to Hodgkin's lymphoma, but they lost in the conference semifinals to the New York Islanders.
Community content is available under
CC-BY-SA
unless otherwise noted.