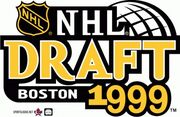 The 1999 NHL Entry Draft was held on June 26, 1999 at the FleetCenter in Boston, Massachusetts.
According to "Sports Illustrated" and other sports news agencies, at the time the 1999 draft was considered one of the deepest in talent in years, headed by Patrik Stefan and Daniel & Henrik Sedin.
However, the overall impact in the NHL hasn't matched those of the neighboring drafts.
An example of this one is how many first round picks have played the equivalent of an entire regular season ten seasons after the 1999 draft.
Only 16 out of 28 first round picks in 1999 have played 82 NHL games while the same statistic applies to 23 out of 27 players in 1998 and 21 out of 30 players in 2000.
In addition, while the Sedin twins have excelled in the NHL only four of the other 26 first-round picks are still active in the NHL, thirteen years after the draft.
The team that originally held the #1 overall pick, the Tampa Bay Lightning traded out of the first round altogether in the trading carousel used to select the Sedins.
Selections
[
]
Round One
[
]
Round Two
[
]
#
Player
Nationality
NHL team
College/junior/club team
29

Michal Sivek

(Center)

Template:CZE

Washington Capitals (from Tampa Bay)
HC Velvana Kladno (

Czech Republic

)
30

Luke Sellars

(Defense)

Template:CAN

Atlanta Thrashers

Ottawa 67's

(OHL)
31

Charlie Stephens

(Center)

Template:CAN

Washington Capitals (from Vancouver via Colorado)

Guelph Storm

(OHL)
32

Michael Ryan

(Center)
 United States
Dallas Stars (from New York Islanders)

Northeastern University

(NCAA)
33

Jonas Andersson

(Right Wing)

Template:SWE

Nashville Predators
AIK (Jr.) (Sweden)
34

Ross Lupaschuk

(Defense)

Template:CAN

Washington Capitals

Prince Albert Raiders

(WHL)
35

Milan Bartovic

(Right Wing)

Template:SVK

Buffalo Sabres (from Los Angeles)
Dukla Trenčín Jr. (Slovakia)
36

Alexei Semenov

(Defense)

Template:RUS

Edmonton Oilers (from Chicago)

Sudbury Wolves

(OHL)
37

Nolan Yonkman

(Defense)

Template:CAN

Washington Capitals (compensatory)

Kelowna Rockets

(WHL)
38

Dan Cavanaugh

(Center)
 United States
Calgary Flames

Boston University

(NCAA)
39

Alexander Buturlin

(Center)

Template:RUS

Montreal Canadiens
CSKA Moscow (Russia)
40

Alex Auld

(Goalie)

Template:CAN

Florida Panthers (from St. Louis via Nashville; compensatory)

North Bay Centennials

(OHL)
41

Tony Salmelainen

(Left Wing)

Template:FIN

Edmonton Oilers (compensatory)
HIFK Helsinki (Finland)
42

Mike Commodore

(Defense)

Template:CAN

New Jersey Devils (compensatory)

University of North Dakota

(NCAA)
43

Andrei Shefer

(Left Wing)

Template:RUS

Los Angeles Kings (compensatory)
Severstal Cherepovets (Russia)
44

Jordan Leopold

(Defense)
 United States

Mighty Ducks of Anaheim

(from New York Rangers via Ottawa)

University of Minnesota

(NCAA)
45

Martin Grenier

(Defense)

Template:CAN

Colorado Avalanche (from Florida via Nashville)

Quebec Ramparts

(QMJHL)
46

Dmitri Levinsky

(Left Wing)

Template:KAZ

Chicago Blackhawks (from Edmonton)
Severstal Cherepovets (Russia)
47

Sheldon Keefe

(Right Wing)

Template:CAN

Tampa Bay Lightning (from San Jose via Detroit)
Barrie Colts (OHL)
48

Simon Lajeunesse

(Goalie)

Template:CAN

Ottawa Senators (from Anaheim)

Moncton Wildcats

(QMJHL)
49

Brett Lysak

(Center)

Template:CAN

Carolina Hurricanes

Regina Pats

(WHL)
50

Brett Clouthier

(Left Wing)

Template:CAN

New Jersey Devils (from St. Louis)

Kingston Frontenacs

(OHL)
51

Matt Murley

(Left Wing)
 United States
Pittsburgh Penguins

Rensselaer Polytechnic Institute

(NCAA)
52

Adam Hall

(Right Wing)
 United States
Nashville Predators (compensatory)

Michigan State University

(NCAA)
53

Brad Ralph

(Left Wing)

Template:CAN

Phoenix Coyotes

Oshawa Generals

(OHL)
54

Andrew Hutchinson

(Defense)
 United States
Nashville Predators (from Colorado; compensatory)

Michigan State University

(NCAA)
55

Doug Janik

(Defense)
 United States
Buffalo Sabres

University of Maine

(NCAA)
56

Matt Zultek

(Left Wing)

Template:CAN

Boston Bruins

Ottawa 67's

(OHL)
57

Jeremy Van Hoof

(Defense)

Template:CAN

Pittsburgh Penguins (compensatory)

Ottawa 67's

(OHL)
58

Matt Carkner

(Defense)

Template:CAN

Montreal Canadiens (from Philadelphia)

Peterborough Petes

(OHL)
59

David Inman

(Center)

Template:CAN

New York Rangers (from Detroit)

University of Notre Dame

(NCAA)
60
Peter Reynolds (Defense)

Template:CAN

Toronto Maple Leafs
London Knights (OHL)
61
Ed Hill (Defense)
 United States
Nashville Predators (from Colorado)
Barrie Colts (OHL)
62

Teemu Sainomaa

(Left Wing)

Template:FIN

Ottawa Senators
Jokerit Helsinki Jr. (Finland)
63
Stepan Mokhov (Defense)

Template:KAZ

Chicago Blackhawks (from New Jersey)
Severstal Cherepovets (Russia)
64

Michael Zigomanis

(Center)

Template:CAN

Buffalo Sabres (from Dallas)

Kingston Frontenacs

(OHL)
65

Jan Lasak

(Goalie)

Template:SVK

Nashville Predators (compensatory)
HKM Zvolen (Slovakia)
66

Dan Jancevski

(Left Wing)

Template:CAN

Dallas Stars (from St. Louis; compensatory)
London Knights (OHL)
Round Three
[
]
#
Player
Nationality
NHL team
College/junior/club team
67.

Evgeny Konstantinov

(Goalie)

Template:RUS

Tampa Bay Lightning
Ital Kazan 2 (Russia)
68.

Zdenek Blatny

(Left Wing)

Template:CZE

Atlanta Thrashers

Seattle Thunderbirds

(WHL)
69.

Rene Vydareny

(Defense)

Template:SVK

Vancouver Canucks
Bratislava Jr. (Slovakia)
70.

Niklas Hagman

(Left Wing)

Template:FIN

Florida Panthers (compensatory)
HIFK Helsinki (Finland)
71.

Jason Jaspers

(Center)

Template:CAN

Phoenix Coyotes (from New York Islanders)

Sudbury Wolves

(OHL)
72.
Brett Angel (Defense)

Template:CAN

Nashville Predators

North Bay Centennials

(OHL)
73.
Tim Preston (Left Wing)

Template:CAN

Buffalo Sabres (from Washington)

Seattle Thunderbirds

(WHL)
74.
Jason Crain (Defense)
 United States
Los Angeles Kings

Ohio State University

(NCAA)
75.
Brett Scheffelmaier (Defense)

Template:CAN

Tampa Bay Lightning (from Vancouver; compensatory)

Medicine Hat Tigers

(WHL)
76.

Frantisek Kaberle

(Defense)

Template:CZE

Los Angeles Kings (from Chicago)
MoDo Ornskoldsvik (Sweden)
77.
Craig Anderson (Goalie)
 United States
Calgary Flames (from Calgary via New York Rangers)

Guelph Storm

(OHL)
78.

Mattias Weinhandl

(Right Wing)

Template:SWE

New York Islanders (from Montreal)
Troja-Ljungby (Sweden)
79.

Johan Asplund

(Goalie)

Template:SWE

New York Rangers
Brynäs Gävle (Sweden)
80.
Jean-Francois Laniel (Goalie)

Template:CAN

Florida Panthers

Shawinigan Cataractes

(QMJHL)
81.

Adam Hauser

(Goalie)
 United States
Edmonton Oilers

University of Minnesota

(NCAA)
82.
Mark Concannon (Left Wing)
 United States
San Jose Sharks
Winchendon High School (USHS-Massachusetts)
83.

Niclas Havelid

(Defense)

Template:SWE

Mighty Ducks of Anaheim
Malmö (Sweden)
84.

Brad Fast

(Defense)

Template:CAN

Carolina Hurricanes

Prince George Spruce Kings

(BCJHL)
85.

Peter Smrek

(Defense)

Template:SVK

St. Louis Blues

Des Moines Buccaneers

(USHL)
86.

Sébastien Caron

(Goalie)

Template:CAN

Pittsburgh Penguins

Rimouski Océanic

(QMJHL)
87.
Brian Collins (Goalie)
 United States
New York Islanders (from Phoenix)
St. John's High School (USHS-Massachusetts)
88.

Jimmie Olvestad

(Left Wing)

Template:SWE

Tampa Bay Lightning (from Buffalo via Vancouver)

Djurgarden Stockholm

(Sweden)
89.

Kyle Wanvig

(Right Wing)

Template:CAN

Boston Bruins

Kootenay Ice

(WHL)
90.

Patrick Aufiero

(Defense)
 United States
New York Rangers (from Philadelphia via Calgary)

Boston University

(NCAA)
91.

Mike Comrie

(Center)

Template:CAN

Edmonton Oilers (from Detroit via Nashville)

University of Michigan

(NCAA)
92.
Cory Campbell (Goalie)

Template:CAN

Los Angeles Kings (from Toronto)

Belleville Bulls

(OHL)
93.

Branko Radivojevic

(Right Wing)

Template:SVK

Colorado Avalanche (from Colorado via Nashville)

Belleville Bulls

(OHL)
94.

Chris Kelly

(C/LW)

Template:CAN

Ottawa Senators
London Knights (OHL)
95.

Andre Lakos

(Defense)

Template:AUT

New Jersey Devils (from New Jersey via Toronto)
Barrie Colts (OHL)
96.

Mathias Tjarnqvist

(Right Wing)

Template:SWE

Dallas Stars (from Dallas via New York Islanders)

Rogle Angelholm

(Sweden)
Round Four
[
]
#
Player
Nationality
NHL team
College/junior/club team
97.

Chris Dyment

(Defense)
 United States
Montreal Canadiens (from Tampa Bay via Chicago)

Boston University

(NCAA)
98.

David Kaczowka

(Left Wing)

Template:CAN

Atlanta Thrashers

Seattle Thunderbirds

(WHL)
99.

Rob Zepp

(Defense)

Template:CAN

Atlanta Thrashers (from Vancouver)

Plymouth Whalers

(OHL)
100.

Teemu Kesa

(Defense)

Template:FIN

New Jersey Devils (compensatory)
Ilves Jr. (Finland)
101.

Juraj Kolník

(Right Wing)

Template:SVK

New York Islanders

Rimouski Océanic

(QMJHL)
102.

Johan Halvardsson

(Defense)

Template:SWE

New York Islanders (from Nashville)
HV 71 Jönköping (Sweden)
103.

Morgan McCormick

(Right Wing)

Template:CAN

Florida Panthers (from Washington)

Kingston Frontenacs

(OHL)
104.

Brian McGrattan

(Right Wing)

Template:CAN

Los Angeles Kings

Sudbury Wolves

(OHL)
105.

Alexander Chagodayev

(Center)

Template:RUS

Mighty Ducks of Anaheim (from Chicago)
CSKA Moscow (Russia)
106.

Rail Rozakov

(Defense)

Template:RUS

Calgary Flames
Lada Togliatti 2 (Russia)
107.

Evan Lindsay

(Goalie)

Template:CAN

Montreal Canadiens

Prince Albert Raiders

(WHL)
108.

Mirko Murovic

(Left Wing)

Template:CAN

Toronto Maple Leafs (from New York Rangers)

Moncton Wildcats

(QMJHL)
109.

Rod Sarich

(Defense)

Template:CAN

Florida Panthers

Calgary Hitmen

(WHL)
110.

Jonathan Zion

(Defense)

Template:CAN

Toronto Maple Leafs (from Edmonton)

Ottawa 67's

(OHL)
111.

Willie Levesque

(Right Wing)
 United States
San Jose Sharks

Northeastern University

(NCAA)
112.

Sanny Lindstrom

(Defense)

Template:SWE

Colorado Avalanche (from Anaheim)
Huddinge (Sweden)
113.

Ryan Murphy

(Left Wing)
 United States
Carolina Hurricanes

Bowling Green University

(NCAA)
114.

Chad Starling

(Defense)

Template:CAN

St. Louis Blues
Kamloops Blazers (WHL)
115.

Ryan Malone

(Left Wing)
 United States
Pittsburgh Penguins

Omaha Lancers

(USHL)
116.

Ryan Lauzon

(Center)

Template:CAN

Phoenix Coyotes

Hull Olympiques

(QMJHL)
117.

Karel Mosovsky

(Left Wing)

Template:CZE

Buffalo Sabres

Regina Pats

(WHL)
118.

Jaakko Harikkala

(Defense)

Template:FIN

Boston Bruins
Lukko Rauma (Finland)
119.

Jeff Feniak

(Defense)

Template:CAN

Philadelphia Flyers

Calgary Hitmen

(WHL)
120.

Jari Tolsa

(Center)

Template:SWE

Detroit Red Wings
Västra Frölunda Jr. (Sweden)
121.

Evgeny Pavlov

(Right Wing)

Template:RUS

Nashville Predators (from Toronto via Carolina)
Lada Togliatti (Russia)
122.

Kristian Kovac

(Right Wing)

Template:SVK

Colorado Avalanche
HC Košice Jr. (Slovakia)
123.

Preston Mizzi

(Center)

Template:CAN

Phoenix Coyotes (from Ottawa via New York Islanders)

Peterborough Petes

(OHL)
124.

Alexander Krevsun

(Right Wing)

Template:KAZ

Nashville Predators (from Detroit; compensatory)
CSK WS Samara (Russia)
125.

Daniel Johansson

(Center)

Template:SWE

Los Angeles Kings (from New Jersey via New York Islanders)
MoDo Ornskoldsvik (Sweden)
126.

Jeff Bateman

(Center)

Template:CAN

Dallas Stars

Brampton Battalion

(OHL)
Round Five
[
]
#
Player
Nationality
NHL team
College/junior/club team
127.

Kaspars Astashenko

(Defense)

Template:LAT

Tampa Bay Lightning
Cincinnati Cyclones (IHL)
128.

Derek MacKenzie

(Center)

Template:CAN

Atlanta Thrashers

Sudbury Wolves

(OHL)
129.

Ryan Thorpe

(Left Wing)

Template:CAN

Vancouver Canucks

Spokane Chiefs

(WHL)
130.

Justin Mapletoft

(Center)

Template:CAN

New York Islanders

Red Deer Rebels

(WHL)
131.

Konstantin Panov

(Left Wing)

Template:RUS

Nashville Predators
Kamloops Blazers (WHL)
132.

Roman Tvrdon

(Center)

Template:SVK

Washington Capitals
Dukla Trenčín Jr. (Slovakia)
133.

Jean-Francois Nogues

(Goalie)

Template:CAN

Los Angeles Kings

Victoriaville Tigres

(QMJHL)
134.

Michael Jacobsen

(Defense)

Template:CAN

Chicago Blackhawks

Belleville Bulls

(OHL)
135.

Matt Doman

(Right Wing)
 United States
Calgary Flames

University of Wisconsin

(NCAA)
136.

Dustin Jamieson

(Left Wing)

Template:CAN

Montreal Canadiens

Sarnia Sting

(OHL)
137.

Garret Bembridge

(Right Wing)

Template:CAN

New York Rangers

Saskatoon Blades

(WHL)
138.

Ryan Miller

(Goalie)
 United States
Buffalo Sabres (from Florida)

Michigan State Spartans

(NCAA)
139.

Jonathon Fauteux

(Defense)

Template:CAN

Edmonton Oilers

Val-d'Or Foreurs

(QMJHL)
140.

Adam Johnson

(Defense)
 United States
New York Islanders (from San Jose via Florida)
Greenway High School (USHS-Minnesota)
141.

Maxim Rybin

(Left Wing)

Template:RUS

Mighty Ducks of Anaheim
Sparkak Moscow (Russia)
142.

William Magnuson

(Defense)
 United States
Colorado Avalanche (from Carolina)

Lake Superior State University

(NCAA)
143.

Trevor Byrne

(Defense)
 United States
St. Louis Blues

Deerfield Academy

(USHS-Massachusetts)
144.

Tomas Skvaridlo

(Center)

Template:SVK

Pittsburgh Penguins
HKM Zvolen Jr. (Slovakia)
145.

Marc-Andre Thinel

(Defense)

Template:CAN

Montreal Canadiens (from Phoenix via San Jose)

Victoriaville Tigres

(QMJHL)
146.

Matthew Kinch

(Goalie)

Template:CAN

Buffalo Sabres

Calgary Hitmen

(WHL)
147.

Seamus Kotyk

(Goalie)

Template:CAN

Boston Bruins

Ottawa 67's

(OHL)
148.

Michal Lanicek

(Left Wing)

Template:CZE

Tampa Bay Lightning (from Philadelphia)
Slavia Praha Jr. (Czech Republic)
149.

Andrei Maximenko

(Defense)

Template:RUS

Detroit Red Wings (from Detroit via San Jose)
Soviet Wings (Russia)
150.

Matt Shasby

(Defense)
 United States
Montreal Canadiens (compensatory)

Des Moines Buccaneers

(USHL)
151.

Vaclav Zavoral

(Defense)

Template:CZE

Toronto Maple Leafs
HC Chernopetrol Litvinov Jr. (Czech Republic)
152.

Jordan Krestanovich

(Left Wing)

Template:CAN

Colorado Avalanche

Calgary Hitmen

(WHL)
153.

Jesse Cook

(Defense)
 United States
Calgary Flames (compensatory)

University of Denver

(NCAA)
154.

Andrew Ianiero

(Left Wing)

Template:CAN

Ottawa Senators

Kingston Frontenacs

(OHL)
155.

Niko Dimitrakos

(Right Wing)
 United States
San Jose Sharks (from New Jersey)

University of Maine

(NCAA)
156.

Gregor Baumgartner

(Left Wing)

Template:AUT

Dallas Stars

Acadie-Bathurst Titan

(QMJHL)
157.

Vladimir Malenkykh

(Defense)

Template:RUS

Pittsburgh Penguins (compensatory)
Lada Togliatti (Russia)
Round Six
[
]
#
Player
Nationality
NHL team
College/junior/club team
158.
Anders Lovhdahl (Center)

Template:SWE

Colorado Avalanche (from Tampa Bay)

HV71

(Sweden)
159.

Yuri Dobryshkin

(Right Wing)

Template:RUS

Atlanta Thrashers
Krylja Sovetov (Russia)
160.

Konstantin Rudenko

(Left Wing)

Template:KAZ

Philadelphia Flyers (from Vancouver)
Cherepovets Jrs. (Russia)
161.
Jan Sochor (Left Wing)

Template:CZE

Toronto Maple Leafs (from New York Islanders)
Slavia Praha (Czech Republic)
162.

Timo Helbling

(Defense)

Template:SUI

Nashville Predators
Davos (Switzerland)
163.

Bjorn Melin

(Right Wing)

Template:SWE

New York Islanders (from Washington)

HV71

(Sweden)
164.

Martin Prusek

(Goalie)

Template:CZE

Ottawa Senators (from Los Angeles via Colorado and Chicago)
Vitkovice (Czech Republic)
165.
Michael Leighton (Goalie)

Template:CAN

Chicago Blackhawks

Windsor Spitfires

(OHL)
166.

Cory Pecker

(Center)

Template:CAN

Calgary Flames

Sault Ste. Marie Greyhounds

(OHL)
167.
Sean Dixon (Defense)

Template:CAN

Montreal Canadiens
Erie Otters (OHL)
168.

Erik Lewerstrom

(Defense)

Template:SWE

Phoenix Coyotes (from New York Rangers via Montreal)

Grums IK

(Sweden)
169.
Brad Woods (Defense)

Template:CAN

Florida Panthers
Brampton Battalion (OHL)
170.

Matt Underhill

(Goalie)

Template:CAN

Calgary Flames (compensatory)

Cornell University

(NCAA)
171.
Chris Legg (Center)

Template:CAN

Edmonton Oilers

London Nationals

(GOJHL)
172.
Josh Reed (Defense)

Template:CAN

Vancouver Canucks (from San Jose)

Vernon Vipers

(BCJHL)
173.

Jan Sandstrom

(Defense)

Template:SWE

Mighty Ducks of Anaheim

AIK Ishockey

(Sweden)
174.

Damian Surma

(Center)
 United States
Carolina Hurricanes

Plymouth Whalers

(OHL)
175.
Kyle Clark (Right Wing)
 United States
Washington Capitals (from St. Louis)

Harvard University

(NCAA)
176.
Doug Meyer (Left Wing)
 United States
Pittsburgh Penguins

University of Minnesota

(NCAA)
177.
Jay Dardis (Center)
 United States
New York Rangers (from Phoenix)
Proctor High School (USHS-New Hampshire)
178.
Seneque Hyacinthe (Left Wing)

Template:CAN

Buffalo Sabres
Val-d'or Foreurs (QMJHL)
179.
Don Choukalos (Goalie)

Template:CAN

Boston Bruins
Regina Pats (OHL)
180.

Tore Vikingstad

(Left Wing)

Template:NOR

St. Louis Blues (from Philadelphia)

Färjestad BK

(Sweden)
181.

Kent McDonell

(Right Wing)

Template:CAN

Detroit Red Wings (from Detroit via Tampa Bay)

Guelph Storm

(OHL)
182.

Fedor Fedorov

(Center)

Template:RUS

Tampa Bay Lightning (from Toronto via New York Islanders)

Port Huron Border Cats

(UHL)
183.

Riku Hahl

(Center)

Template:FIN

Colorado Avalanche

HPK

(Finland)
184.
Justin Cox (Right Wing)

Template:CAN

Dallas Stars (from Ottawa via Florida and Atlanta)

Prince George Cougars

(WHL)
185.
Scott Cameron (Center)

Template:CAN

New Jersey Devils
Barrie Colts (OHL)
186.
Brett Draney (Left Wing)

Template:CAN

Dallas Stars
Kamloops Blazers (WHL)
Round Seven
[
]
#
Player
Nationality
NHL team
College/junior/club team
187.

Ivan Rachunek

(Left Wing)

Template:CZE

Tampa Bay Lightning
ZPS Zlín Jr. (Czech Republic)
188.

Stephen Baby

(Right Wing)
 United States
Atlanta Thrashers

Green Bay Gamblers

(USHL)
189.

Kevin Swanson

(Goalie)

Template:CAN

Vancouver Canucks

Kelowna Rockets

(WHL)
190.

Blair Stayzer

(Left Wing)

Template:CAN

Calgary Flames (from New York Islanders)
Windsor Spitfires (OHL)
191.

Martin Erat

(Right Wing)

Template:CZE

Nashville Predators
ZPS Zlín Jr. (Czech Republic)
192.

David Johansson

(Defense)

Template:SWE

Washington Capitals
AIK (Jr.) (Sweden)
193.

Kevin Baker

(Right Wing)

Template:CAN

Los Angeles Kings
Belleville Bulls (OHL)
194.

Mattias Wennerberg

(Center)

Template:SWE

Chicago Blackhawks
Modo Ornskoldsvik Jr. (Sweden)
195.

Yorick Treille

(Right Wing)

Template:FRA

Chicago Blackhawks (from Calgary)

University of Massachusetts Lowell

(NCAA)
196.

Vadim Tarasov

(Goalie)

Template:KAZ

Montreal Canadiens
Novokuznetsk (Russia)
197.

Arto Laatikainen

(Defense)

Template:FIN

New York Rangers
Espoo (Finland)
198.

Travis Eagles

(Right Wing)

Template:CAN

Florida Panthers
Prince George Cougars (WHL)
199.

Christian Chartier

(Defense)

Template:CAN

Edmonton Oilers
Saskatoon Blades (WHL)
200.

Pavel Kasparik

(Center)

Template:CZE

Philadelphia Flyers (from San Jose)
Pisek (Czech Republic)
201.
Mikko Ruutu (Left Wing)

Template:FIN

Ottawa Senators (from Anaheim)
HIFK Helsinki (Finland)
202.

Jim Baxter

(Defense)

Template:CAN

Carolina Hurricanes

Oshawa Generals

(OHL)
203.

Phil Osaer

(Goalie)
 United States
St. Louis Blues

Ferris State University

(NCAA)
204.
Tom Kostopoulos (Right Wing)

Template:CAN

Pittsburgh Penguins
London Knights (OHL)
205.

Kyle Kettles

(Goalie)

Template:CAN

Nashville Predators (from Phoenix)

Neepawa Natives

(MJHL)
206.

Bret Dececco

(Right Wing)

Template:CAN

Buffalo Sabres
Seattle Thunderbirds (WHL)
207.

Greg Barber

(Right Wing)

Template:CAN

Boston Bruins

Victoria Salsa

(BCJHL)
208.

Vaclav Pletka

(Right Wing)

Template:CZE

Philadelphia Flyers
Trinec (Czech Republic)
209.

Layne Ulmer

(Center)

Template:CAN

Ottawa Senators (compensatory)
Swift Current Broncos (WHL)
210.
Henrik Zetterberg (Left Wing)

Template:SWE

Detroit Red Wings
Timra (Sweden)
211.

Vladimir Kulkov

(Goalie)

Template:RUS

Toronto Maple Leafs
CSKA Moscow (Russia)
212.
Radim Vrbata (Right Wing)

Template:CZE

Colorado Avalanche
Hull Olympiques (OHL)
213.

Alexandre Giroux

(C/LW)

Template:CAN

Ottawa Senators

Hull Olympiques

(

QMJHL

)
214.

Chris Hartsburg

(Right Wing)
 United States
New Jersey Devils

Colorado College

(NCAA)
215.

Jeff MacMillan

(Defense)

Template:CAN

Dallas Stars
Oshawa Generals (OHL)
Round Eight
[
]
#
Player
Nationality
NHL team
College/junior/club team
216.

Erkki Rajamaki

(Left Wing)

Template:FIN

Tampa Bay Lightning
HIFK Helsinki (Finland)
217.
Garnet Exelby (Defense)

Template:CAN

Atlanta Thrashers
Saskatoon Blades (WHL)
218.

Markus Kankaanpera

(Defense)

Template:FIN

Vancouver Canucks

JYP

(

Fin

)
219.

Maxim Orlov

(Center)

Template:RUS

Washington Capitals (from New York Islanders)
CSKA Moscow (Russia)
220.

Miroslav Durak

(Defense)

Template:SVK

Nashville Predators
Bratislava Jr. (Slovakia)
221.

Colin Hemingway

(Right Wing)

Template:CAN

St. Louis Blues (from Washington)

Surrey Eagles

(BCJHL)
222.

George Parros

(Right Wing)
 United States
Los Angeles Kings

Chicago Freeze

(NAHL)
223.

Andrew Carver

(Defense)

Template:CAN

Chicago Blackhwaks
Hull Olympiques (OHL)
224.

David Nystrom

(Left Wing)

Template:SWE

Philadelphia Flyers (from Calgary)
Västra Frölunda Jr. (Sweden)
225.

Mikko Hyytia

(Center)

Template:FIN

Montreal Canadiens
JYP HT Jyvaskyla Jr. (Finland)
226.

Evgeny Gusakov

(Right Wing)

Template:RUS

New York Rangers
Lada Togliatti 2 (Russia)
227.

Jonathan Charron

(Goalie)

Template:CAN

Florida Panthers
Val-d'or Foreurs (QMJHL)
228.

Radek Martinek

(Defense)

Template:CZE

New York Islanders (from Edmonton)
České Budějovice (Czech Republic)
229.

Eric Betournay

(Center)

Template:CAN

San Jose Sharks
Acadie-Bathurst Titan (QMJHL)
230.

Petr Tenkrat

(Right Wing)

Template:CZE

Mighty Ducks of Anaheim
Poldi Kladno (Czech Republic)
231.

David Evans

(Right Wing)
 United States
Carolina Hurricanes

Clarkson University

(NCAA)
232.

Alexander Khavanov

(Defense)

Template:RUS

St. Louis Blues
Dynamo Moscow (Russia)
233.

Darcy Robinson

(Defense)

Template:CAN

Pittsburgh Penguins
Saskatoon Blades (WHL)
234.

Goran Bezina

(Defense)

Template:SUI

Phoenix Coyotes
Fribourg (Switzerland)
235.

Brad Self

(Center)

Template:CAN

Buffalo Sabres
Peterborough Petes (OHL)
236.

John Cronin

(Defense)
 United States
Boston Bruins
Boston University (NCAA)
237.

Antti Jokela

(Goalie)

Template:FIN

Carolina Hurricanes (from Philadelphia)
Lukko Rauma Jr. (Finland)
238.

Anton Borodkin

(Left Wing)

Template:RUS

Detroit Red Wings
Kamloops Blazers (WHL)
239.

Pierre Hedin

(Defense)

Template:SWE

Toronto Maple Leafs
Modo Ornskoldsvik (Sweden)
240.

Jeff Finger

(Defense)
 United States
Colorado Avalanche
Green Bay Gamblers (USHL)
241.

Douglas Murray

(Defense)

Template:SWE

San Jose Sharks (from Ottawa)

New York Apple Core

(EJHL)
242.

Justin Dziama

(Right Wing)
 United States
New Jersey Devils
Nobles High School (USHS-Massachusetts)
243.

Brian Sullivan

(Defense)
 United States
Dallas Stars
Thayer Academy (USHS-Massachusetts)
Round Nine
[
]
#
Player
Nationality
NHL team
College/junior/club team
244.

Mikko Kuparinen

(Defense)

Template:FIN

Tampa Bay Lightning
Grand Rapids Griffins (IHL)
245.

Tommi Santala

(Center)

Template:FIN

Atlanta Thrashers
Jokerit Helsinki (Finland)
246.

Ray DiLauro

(Defense)
 United States
Atlanta Thrashers (from Vancouver)

St. Lawrence University

(NCAA)
247.

Mikko Eloranta

(Left Wing)

Template:FIN

Boston Bruins (from New York Islanders)
TPS Turku (Finland)
248.

Darren Haydar

(Right Wing)

Template:CAN

Nashville Predators

University of New Hampshire

(NCAA)
249.

Igor Shadilov

(Defense)

Template:RUS

Washington Capitals (from Washington via Chicago)
Dynamo Moscow (Russia)
250.

Noah Clarke

(Left Wing)
 United States
Los Angeles Kings
Des Moines Buccaneers (USHL)
251.

Petter Henning

(Right Wing)

Template:SWE

New York Rangers (from Chicago)
Modo Ornskoldsvik (Sweden)
252.

Dimitri Kirilenko

(Center)
 United States
Calgary Flames
CSKA Moscow (Russia)
253.

Jerome Marois

(Left Wing)

Template:CAN

Montreal Canadiens

Quebec Ramparts

(QMJHL)
254.

Alexei Bulatov

(Right Wing)

Template:RUS

New York Rangers
Yekaterinburg (Russia)
255.

Brett Henning

(Center)
 United States
New York Islanders (from Florida)

University of Notre Dame

(NCAA)
256.

Tamás Gröschl

(Right Wing)

Template:HUN

Edmonton Oilers
UTE Budapest (Hungary)
257.

Hannes Hyvonen

(Right Wing)

Template:FIN

San Jose Sharks
Espoo (Finland)
258.

Brian Gornick

(Center)
 United States
Mighty Ducks of Anaheim

Air-Force Academy

(NCAA)
259.

Yauhenni Kurilin

(Center)

Template:BLR

Carolina Hurricanes
Anchorage Aces (

WCHL

)
260.

Brian McMeekin

(Defense)

Template:CAN

St. Louis Blues

Cornell University

(NCAA)
261.

Andrew McPherson

(Left Wing)

Template:CAN

Pittsburgh Penguins

Rensselaer Polytechnic Institute

(NCAA)
262.

Alexei Litvinenko

(Defense)

Template:KAZ

Phoenix Coyotes
Torpedo Ust-Kamenogorsk (Kazakhstan)
263.

Craig Brunel

(Right Wing)

Template:CAN

Buffalo Sabres

Prince Albert Raiders

(WHL)
264.

Georgijs Pujacs

(Defense)

Template:LAT

Boston Bruins
Dynamo-81 Riga (Latvia)
265.

Jamie Chamberlain

(Right Wing)

Template:CAN

Dallas Stars (from Philadelphia)

Peterborough Petes

(OHL)
266.
Ken Davis (Right Wing)

Template:CAN

Detroit Red Wings

Portland Winter Hawks

(WHL)
267.

Peter Metcalf

(Defense)
 United States
Toronto Maple Leafs

University of Maine

(NCAA)
268.
Tyler Scott (Defense)
 United States
New York Islanders (from Colorado)

Upper Canada College

(HS-Ontario)
269.

Konstantin Gorovikov

(Left Wing)

Template:RUS

Ottawa Senators

SKA Saint Petersburg

(Russia)
270.

James Desmarais

(Center)

Template:CAN

St. Louis Blues (from New Jersey)

Rouyn-Noranda Huskies

(QMJHL)
271.

Darrell Hay

(Defense)

Template:CAN

Vancouver Canucks (compensatory)

Tri-City Americans

(WHL)
272.

Mikhail Donika

(Defense)

Template:RUS

Dallas Stars

Yaroslavl Torpedo

(Russia)