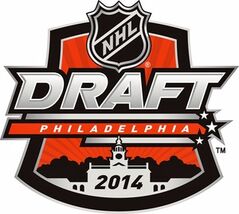 The 2014 NHL Entry Draft took place on June 27-28, 2014 in Philadelphia, Pennsylvania.
The top three selections of the draft were Aaron Ekblad, Sam Reinhart and Leon Draisaitl.
Draft Eligibility
[
]
Ice hockey players that were born between January 1, 1994 and September 15, 1996, are eligible for selection in the 2014 NHL Entry Draft.
Additionally, un-drafted, non-North American players born in 1993 are eligible for the draft and those players who were drafted in the 2012 NHL Entry Draft, but not signed by an NHL team (and who were born after June 30, 1994) are also eligible to re-enter the draft.
Draft Lottery
[
]
Since the 2012–13 NHL season all fourteen teams not qualifying for the Stanley Cup playoffs have a "weighted" chance at winning the first overall selection.
On April 15, 2014, the Florida Panthers won the 2014 draft lottery which moved them from the second-overall pick to the first-overall pick.
Top Prospects
[
]
| Ranking | North American goalies | European goalies |
| --- | --- | --- |
| 1 | Thatcher Demko | Ville Husso |
| 2 | Mason McDonald | Jonas Johansson |
| 3 | Brent Moran | Linus Soderstrom |
Selections
[
]
Round One
[
]
Round Two
[
]
#
Player
Nationality
NHL Team
College/Junior/Club Team
31

Brendan Lemieux

(LW)
Canada
Buffalo Sabres
Barrie Colts (OHL)
32

Jayce Hawryluk

(RW)
Canada
Florida Panthers
Brandon Wheat Kings (WHL)
33

Ivan Barbashev

(C/LW)

Template:Country data Russia

Russia
St. Louis Blues (from Edmonton)1

Moncton Wildcats

(QMJHL)
34

Mason McDonald

(G)
Canada
Calgary Flames

Charlottetown Islanders

(QMJHL)
35

Dominik Masin

(D)
Czech Republic
Tampa Bay Lightning (from New York Islanders)2

Slavia Praha

(ELH)
36

Thatcher Demko

(G)
United States
Vancouver Canucks

Boston College Eagles

(

NCAA D1

)
37

Alex Nedeljkovic

(G)
United States
Carolina Hurricanes

Plymouth Whalers

(OHL)
38

Marcus Pettersson

(D)
Sweden
Anaheim Ducks (from Toronto)3

Skelleftea AIK

U20 (

J20 SuperElit

)
39

Vitek Vanecek

(G)
Czech Republic
Washington Capitals (from Winnipeg via Minnesota and Buffalo)4

HC Bili Tygri Liberec

U20 (CZE U20)
40
Andreas Englund (D)
Sweden
Ottawa Senators

Djurgårdens IF Hockey

(J20 SuperElit)
41

Joshua Jacobs

(D)
United States
New Jersey Devils

Indiana Ice

(USHL)
42

Vladislav Kamenev

(LW)

Template:Country data Russia

Russia
Nashville Predators

Stalnye Lisy

(

MHL

)
43

Ryan MacInnis

(C)
United States
Arizona Coyotes

Kitchener Rangers

(OHL)
44

Eric Cornel

(C)
Canada
Buffalo Sabres (from Washington)5
Peterborough Petes (OHL)
45

Brett Pollock

(LW)
Canada
Dallas Stars

Edmonton Oil Kings

(WHL)
46

Julius Bergman

(LW)
Sweden
San Jose Sharks (from Detroit via Nashville)6

Frolunda HC

U20 (J20 SuperElit)
47
Ryan Collins (D)
United States
Columbus Blue Jackets
USA U-18 (USHL)
48
Nicolas Aube-Kubel (RW)
Canada
Philadelphia Flyers

Val-d'Or Foreurs

(QMJHL)
49
Vaclav Karabacek (RW)
Czech Republic
Buffalo Sabres (from Minnesota)7

Gatineau Olympiques

(QMJHL)
50

Roland McKeown

(D)
Canada
Los Angeles Kings (from Tampa Bay via Vancouver)8

Kingston Frontenacs

(OHL)
51

Jack Dougherty

United States
Nashville Predators (from San Jose)9
USA U-18 (USHL)
52
Maxim Letunov (C)

Template:Country data Russia

Russia
St. Louis Blues

Youngstown Phantoms

(USHL)
53

Noah Rod

(RW)

Template:Country data Switzerland

Switzerland
San Jose Sharks (from Pittsburgh)10

Geneve-Servette HC

U20 (CH-U20)
54
Hunter Smith (RW)
Canada
Calgary Flames (from Colorado)11

Oshawa Generals

(OHL)
55
Brandon Montour (D)
Canada
Anaheim Ducks

Waterloo Black Hawks

(USHL)
56

Ryan Donato

(C)
United States
Boston Bruins

Dexter Varsity

(

NEPSAC

)
57
Johnathan MacLeod (D)
United States
Tampa Bay Lightning (from Montreal via NY Islanders)12
USA U-18 (USHL)
58
Christian Dvorak (LW)
United States
Arizona Coyotes (from Chicago)13
London Knights (OHL)
59
Brandon Halverson (G)
United States
New York Rangers
Sault Ste. Marie Greyhounds (OHL)
60
Alex Lintuniemi (D)
Finland
Los Angeles Kings (from Los Angeles via Buffalo)14

HIFK

(SM-liiga)
Round Three
[
]
#
Player
Nationality
NHL Team
College/Junior/Club Team
61

Jonas Johansson

(G)
Sweden
Buffalo Sabres

Brynas IF

U20 (J20 SuperElit)
62
Justin Kirkland (LW)
Canada
Nashville Predators (from Florida via Chicago and San Jose)1

Kelowna Rockets

(WHL)
63
Dominic Turgeon (C)
Canada
Detroit Red Wings (from Edmonton via Los Angeles and Columbus)2

Portland Winterhawks

(WHL)
64
Brandon Hickey (D)
Canada
Calgary Flames

Spruce Grove Saints

(

AJHL

)
65

Juho Lammikko

(RW)
Finland
Florida Panthers (via New York Islanders)3

Assat

U20 (FIN U20)
66

Nikita Tryamkin

(D)

Template:Country data Russia

Russia
Vancouver Canucks

Avtomobilist Yekaterinburg

(KHL)
67
Warren Foegele (LW)
Canada
Carolina Hurricanes

St. Andrew's Saints

(

OFSAA

)
68

Rinat Valiev

(D)

Template:Country data Russia

Russia
Toronto Maple Leafs
Kootenay Ice (WHL)
69
Jack Glover (D)
United States
Winnipeg Jets
USA U-18 (USHL)
70
Miles Gendron (D)
United States
Ottawa Senators

Rivers School Red Wings

(NEPSAC)
71
Connor Chatham (RW)
Canada
New Jersey Devils
Plymouth Whalers (OHL)
72
Alex Schoenborn (RW)
United States
San Jose Sharks (from Nashville)4
Portland Winterhawks (WHL)
73
Brett Lernout (D)
Canada
Montreal Canadiens (from Arizona)5
Swift Current Broncos (WHL)
74
Brycen Martin (D)
Canada
Buffalo Sabres (from Washington)6
Swift Current Broncos (WHL)
75
Alexander Peters (D)
Canada
Dallas Stars
Plymouth Whalers (OHL)
76

Elvis Merzlikins

(G)

Template:Country data Latvia

Latvia
Columbus Blue Jackets (from Detroit)7

HC Lugano

(NLA)
77
Blake Siebenaler (D)
United States
Columbus Blue Jackets
Niagara IceDogs (OHL)
78
Ilya Sorokin (G)

Template:Country data Russia

Russia
New York Islanders (from Philadelphia)8

Metallurg Novokuznetsk

(KHL)
79
Brayden Point (C)
Canada
Tampa Bay Lightning (from Minnesota)9

Moose Jaw Warriors

(WHL)
80
Louis Belpedio (D)
United States
Minnesota Wild (from Tampa Bay)10
USA U-18 (USHL)
81
Dylan Sadowy (LW)
Canada
San Jose Sharks

Saginaw Spirit

(OHL)
82
Jake Walman (D)
Canada
St. Louis Blues

Toronto Jr. Canadiens

(

OJHL

)
83
Matheson Iacopelli (RW)
United States
Chicago Blackhawks (from Pittsburgh via Calgary)11

Muskegon Lumberjacks

(USHL)
84
Kyle Wood (D)
Canada
Colorado Avalanche

North Bay Battalion

(OHL)
85
Keegan Iverson (C)
United States
New York Rangers (from Anaheim via Vancouver)12
Portland Winterhawks
86
Mark Friedman (D)
Canada
Philadelphia Flyers (from Boston)13
Waterloo Black Hawks (USHL)
87

Anton Karlsson

(RW)
Sweden
Arizona Coyotes (from Montreal)14
Frolunda HC U20 (J20 SuperElit)
88
Beau Starrett (LW)
United States
Chicago Blackhawks

South Shore Kings

(

USPHL Premier

)
89

Nathan Walker

(LW)

Template:Country data Australia

Australia
Washington Capitals (from NY Rangers)15
Hershey Bears (

AHL

)
90
Michael Amadio (C)
Canada
Los Angeles Kings
North Bay Battalion (OHL)
Round Four
[
]
#
Player
Nationality
NHL Team
College/Junior/Club Team
91
William Lagesson (D)
Sweden
Edmonton Oilers (from Buffalo via Minnesota)1

Frolunda HC

U20 (J20 SuperElit)
92
Joe Wegwerth (RW)
United States
Florida Panthers
USA U-18 (USHL)
93
Nicholas Magyar (RW)
United States
Colorado Avalanche (from Edmonton via Toronto)2
Kitchener Rangers (OHL)
94

Ville Husso

(G)
Finland
St. Louis Blues (from Calgary via Toronto)3
HIFK (Liiga)
95
Linus Soderstrom (G)
Sweden
New York Islanders
Djurgardens (J20 SuperElit)
96
Josh Wesley (D)
United States
Carolina Hurricanes (from Vancouver)4
Plymouth Whalers (OHL)
97

Lucas Wallmark

(RW)
Sweden
Carolina Hurricanes

Lulea HF

(SHL)
98
Frederik Olofsson (LW)
Sweden
Chicago Blackhawks (from Toronto)5

Chicago Steel

(USHL)
99
Chase De Leo (C)
United States
Winnipeg Jets
Portland Winterhawks (WHL)
100
Shane Eiserman (LW)
United States
Ottawa Senators

Dubuque Fighting Saints

(USHL)
101
Nelson Nogier (D)
Canada
Winnipeg Jets (from New Jersey)6
Saskatoon Blades (WHL)
102

Alexis Vanier

(D)
Canada
San Jose Sharks (from Nashville)7

Baie-Comeau Drakkar

(QMJHL)
103
J.J. Piccinich (RW)
United States
Toronto Maple Leafs (from Arizona)8
Youngstown Phantoms (USHL)
104
Ryan Mantha (RW)
United States
New York Rangers (from Washington)9

Sioux City Musketeers

(USHL)
105
Michael Prapavessis (D)
Canada
Dallas Stars

Toronto Lakeshore Patriots

(OJHL)
106

Christoffer Ehn

(C)
Sweden
Detroit Red Wings
Frolunda HC U20 (J20 SuperElit)
107
Julien Pelletier (LW)
Canada
Columbus Blue Jackets

Cape Breton Screaming Eagles

(QMJHL)
108
Devon Toews (D)
Canada
New York Islanders (from Philadelphia)10

Quinnipiac Bobcats

(NCAA D1)
109
Kaapo Kahkonen (G)
Finland
Minnesota Wild

Espoo Blues

U20 (FIN U20)
110
Austin Poganski (RW)
United States
St. Louis Blues (from Tampa Bay)11

Tri-City Storm

(USHL)
111
Zach Nagelvoort (G)
United States
Edmonton Oilers (from San Jose)12

Michigan Wolverines

(NCAA D1)
112
Viktor Arvidsson (LW)
Sweden
Nashville Predators (from St. Louis)13
Skelleftea AIK U20 (J20 SuperElit)
113
Sam Lafferty (RW)
United States
Pittsburgh Penguins

Deerfield Big Green

(NEPSAC)
114
Alexis Pepin (LW)
Canada
Colorado Avalanche
Gatineau Olympiques (QMJHL)
115
Brent Moran (G)
Canada
Dallas Stars (from Anaheim via Washington and Anaheim)14
Niagara IceDogs (OHL)
116
Danton Heinen (C/LW)
Canada
Boston Bruins

Surrey Eagles

(

BCHL

)
117
Michael Bunting (LW)
Canada
Arizona Coyotes (from Montreal)15
Sault Ste. Marie Greyhounds (OHL)
118
Igor Shesterkin (G)

Template:Country data Russia

Russia
New York Rangers (from Chicago via NY Islanders and Washington)16

JHC Spartak

(MHL)
119
Ben Thomas (D)
Canada
Tampa Bay Lightning (via NY Rangers)17
Calgary Hitmen (WHL)
120
Steven Johnson (D)
United States
Los Angeles Kings
Omaha Lancers (USHL)
Round Five
[
]
#
Player
Nationality
NHL Team
College/Junior/Club Team
121
Maxwell Willman (C)
United States
Buffalo Sabres

Williston Northampton Wildcats

(NEPSAC)
122
Richard Nejezchleb (LW)
Czech Republic
New York Rangers (from Florida)1
Brandon Wheat Kings (WHL)
123
Matthew Berkovitz (D)
United States
Anaheim Ducks (from Edmonton)2

Ashwaubenon Jaguars

(

WIAA

)
124
Jaedon Descheneau (RW)
Canada
St. Louis Blues (from Calgary)3
Kootenay Ice (WHL)
125
Nikolas Koberstein (D)
Canada
Montreal Canadiens (from NY Islanders)4

Olds Grizzlys

(AJHL)
126
Gustav Forsling (D)

Template:Country data SWE

Sweden
Vancouver Canucks
Linköpings HC (SHL)
127
Clark Bishop (C)
Canada
Carolina Hurricanes
Cape Breton Screaming Eagles (QMJHL)
128
Dakota Joshua (C)
United States
Toronto Maple Leafs

Sioux Falls Stampede

(USHL)
129
C.J. Franklin (LW)
United States
Winnipeg Jets
Sioux Falls Stampede (USHL)
130
Liam Coughlin (LW)
United States
Edmonton Oilers (from Ottawa)5

Vernon Vipers

(BCHL)
131
Ryan Rehill (D)
Canada
New Jersey Devils
Kamloops Blazers (WHL)
132

Joonas Lyytinen

(D)

Template:Country data FIN

Finland
Nashville Predators
KalPa (Liiga)
133
Dysin Mayo (D)
Canada
Arizona Coyotes
Edmonton Oil Kings (WHL)
134
Shane Gersich (C/LW)
United States
Washington Capitals
USA U-18 (USHL)
135
Miro Karjalainen (D)

Template:Country data FIN

Finland
Dallas Stars
Jokerit (Liiga)
136
Chase Perry (G)
United States
Detroit Red Wings

Wenatchee Wild

(

NAHL

)
137
Tyler Bird (RW)
United States
Columbus Blue Jackets (from Columbus via Edmonton)6

Kimball Union Wildcats

(NEPSAC)
138

Oskar Lindblom

(LW)

Template:Country data SWE

Sweden
Philadelphia Flyers
Brynas IF U20 (J20 SuperElit)
139
Tanner Faith (D)
Canada
Minnesota Wild
Kootenay Ice (WHL)
140
Daniel Walcott (D)
Canada
New York Rangers (from Tampa Bay)7

Blainville-Boisbriand Armada

(QMJHL)
141
Luc Snuggerud (D)
United States
Chicago Blackhawks (from San Jose)8

Eden Prairie Eagles

(

MSHSL

)
142
Tyler Nanne (D)
United States
New York Rangers (from St. Louis via Tampa Bay)9

Edina Hornets

(MSHSL)
143
Miguel Fidler (LW)
United States
Florida Panthers (from Pittsburgh)10
Edina Hornets (MSHSL)
144

Anton Lindholm

Sweden
Colorado Avalanche
Skelleftea Jr. (SWE)
145
Anthony Angello
United States
Pittsburgh Penguins (from Anaheim)11
Omaha Lancers (USHL)
146
Anders Bjork
United States
Boston Bruins
USNTDP
147
Daniel Audette
Canada
Montreal Canadiens
Sherbrooke Phoenix
148
Andreas Soderberg
Sweden
Chicago Blackhawks
Skelleftea Jr. (SWE)
149
Rourke Chartier
Canada
San Jose Sharks (from NY Rangers)12
Kelowna Rockets (WHL)
150
Alec Dillon
Canada
Los Angeles Kings
Victoria Grizzlies (BCHL)
Round Six
[
]
#
Player
Nationality
NHL Team
College/Junior/Club Team
151
Christopher Brown (C)
United States
Buffalo Sabres

Cranbrook Kingswood

152
Joey Dudek (C)
United States
New Jersey Devils (from Florida)1

Kimball Union

153
Tyler Vesel (C)
United States
Edmonton Oilers
Omaha Lancers (USHL)
154

Aaron Haydon

(D)
United States
Dallas Stars (from Calgary)2
Niagara IceDogs (OHL)
155
Kyle Schempp (C)
United States
New York Islanders

Ferris State

(WCHA)
156
Kyle Pettit (C)
Canada
Vancouver Canucks
Erie Otters (OHL)
157
Jake Marchment (C)
Canada
Los Angeles Kings (from Carolina)3
Belleville Bulls (OHL)
158
Nolan Vesey (LW)
United States
Toronto Maple Leafs
South Shore
159
Steven Spinner (RW)
United States
Washington Capitals (from Winnipeg)4
Eden Prairie Eagles (

MSHSL

)
160
Pontus Sjalin (D)
Sweden
Minnesota Wild (from Ottawa)5
Ostersunds
161
Brandon Baddock (LW)
Canada
New Jersey Devils
Edmonton Oil Kings (WHL)
162
Aaron Irving (D)
Canada
Nashville Predators
Edmonton Oil Kings (WHL)
163

David Westlund

(D)
Sweden
Arizona Coyotes
Byrnas Jr
164

Pavel Kraskovsky

(C)

Template:Country data Russia

Russia
Winnipeg Jets (from Washington)6
Yaroslavl 2
165
John Nyberg (LW)
Sweden
Dallas Stars
Frolunda Jr.
166

Julius Vähätalo

(LW)
Finland
Detroit Red Wings
HC TPS (Liiga)
167
Chase Lang (C)
Canada
Minnesota Wild (from Columbus via NY Rangers)7
Calgary Hitmen (WHL)
168
Radel Fazleev (C)

Template:Country data Russia

Russia
Philadelphia Flyers
Calgary Hitmen (WHL)
169
Reid Duke (C)
Canada
Minnesota Wild
Lethbridge Hurricanes (WHL)
170
Cristiano Digiacinto (LW)
Canada
Tampa Bay Lightning
Windsor Spitfires (OHL)
171
Kevin Labanc (RW)
United States
San Jose Sharks
Barrie Colts (OHL)
172
C.J. Yakimowicz (RW)
United States
St. Louis Blues
London Knights (OHL)
173
Jaden Lindo (RW)
Canada
Pittsburgh Penguins
Owen Sound Attack (OHL)
174
Maximilian Pajpach (G)
Slovakia
Colorado Avalanche
Slovakia U18
175
Adam Ollas Mattsson (D)
Sweden
Calgary Flames (from Anaheim)8
Djugarden JR
176
Samuel Blais (LW)
Canada
St. Louis Blues (from Boston)9

Victoriaville Tigres

(QMJHL)
177
Hayden Hawkey (G)
United States
Montreal Canadiens
Omaha Lancers (USHL)
178
Dylan Sikura (C)
Canada
Chicago Blackhawks

Aurora Tigers

(OJHL)
179
Ivan Nalimov (G)

Template:Country data Russia

Russia
Chicago Blackhawks (from NY Rangers via San Jose)10
SKA St. Petersburg 2
180

Matthew Mistele

(LW)
Canada
Los Angeles Kings

Plymouth Whalers

(OHL)
Round Seven
[
]
#
Player
Nationality
NHL Team
College/Junior/Club Team
181

Victor Olofsson

(RW)
Sweden
Buffalo Sabres
Sweden Jr.
182
Hugo Fagerblom (G)
Sweden
Florida Panthers (from Florida via Montreal)1
Sweden Jr. U18
183
Kevin Bouchard (G)
Canada
Edmonton Oilers

Val-d'Or Foreurs

(QMJHL)
184
Austin Carroll (RW)
Canada
Calgary Flames

Victoria Royals

(WHL)
185
Cameron Darcy (C)
United States
Tampa Bay Lightning (from NY Islanders)2

Cape Breton Screaming Eagles

(QMJHL)
186
MacKenze Stewart (D)
Canada
Vancouver Canucks
Prince Albert Raiders (WHL)
187
Kyle Jenkins (D)
Canada
Carolina Hurricanes
Sault Ste. Marie
188
Pierre Engvall (LW)
Sweden
Toronto Maple Leafs
Frolunda Jr
189
Kelly Summers (D)
Canada
Ottawa Senators (from Winnipeg)3
Carleton Place (CCHL)
190
Francis Perron (LW)
Canada
Ottawa Senators
Rouyn-Naranda (QMJHL)
191
Jared Fiegl (LW)
United States
Arizona Coyotes (from New Jersey)4
USA U-18 (USHL)
192
Matt Ustaski (C/LW)
United States
Winnipeg Jets (from Nashville via Washington)5
Langley (BCHL)
193

Edgars Kulda

(LW)

Template:Country data Latvia

Latvia
Arizona Coyotes
Edmonton Oil Kings (WHL)
194

Kevin Elgestal

(RW)
Sweden
Washington Capitals
Frolunda Jr. (SWE)
195
Patrick Sanvido (D)
Canada
Dallas Stars
Windsor Spitfires (OHL)
196

Axel Holmström

(C)
Sweden
Detroit Red Wings

Skelleftea AIK

(SHL)
197
Olivier Leblanc (D)
Canada
Columbus Blue Jackets

Saint John Sea Dogs

(QMJHL)
198

Jesper Pettersson

(D)
Sweden
Philadelphia Flyers
Linkoping (SWE)
199

Pavel Jenys

(C)
Czech Republic
Minnesota Wild
BRNO (CZE)
200

Lukas Sutter

(C)
United States
New York Islanders (from Tampa Bay)6
Red Deer Rebels (WHL)
201

Alexander Kadeikin

(C)

Template:Country data Russia

Russia
Detroit Red Wings (from San Jose)7

Atlant Moscow Oblast

(KHL)
202
Dwyer Tschantz (RW)
United States
St. Louis Blues
Indiana Ice (USHL)
203
Jeff Taylor (D)
United States
Pittsburgh Penguins

Union College

(ECAC)
204
Julien Nantel (C/LW)
Canada
Colorado Avalanche
Rouyn-Noranda (QMJHL)
205

Ondrej Kase

(RW)
Czech Republic
Anaheim Ducks (from Anaheim via Toronto)8
Chomutov (CZE)
206
Emil Johansson (D)
Sweden
Boston Bruins
HV 71 Jr. (SWE)
207
Jake Evans (C/RW)
Canada
Montreal Canadiens

St. Michaels

(OJHL)
208
Jack Ramsey (RW)
United States
Chicago Blackhawks
Penticton (BCHL)
209
Spencer Watson (RW)
Canada
Los Angeles Kings (from NY Rangers)9
Kingston Frontenacs (OHL)
210
Jacob Middleton (D)
Canada
Los Angeles Kings
Ottawa 67's (OHL)