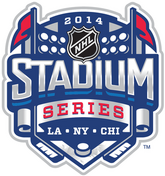 The 2014 NHL Stadium Series was a series of four outdoor regular season National Hockey League (NHL) games played during the 2013-14 NHL season.
This series is distinct from the NHL Winter Classic and NHL Heritage Classic outdoor games.
The Stadium Series games consisted of: the Los Angeles Kings versus the Anaheim Ducks at Dodger Stadium on January 25, 2014; the New Jersey Devils versus the New York Rangers at Yankee Stadium on January 26th; the New York Islanders versus the Rangers at Yankee Stadium on January 29th; and the Pittsburgh Penguins versus the Chicago Blackhawks at Soldier Field on March 1, 2014.
The Stadium Series was staged in between the season's two other outdoor games: the Detroit Red Wings hosting the Toronto Maple Leafs in the 2014 NHL Winter Classic at Michigan Stadium in Ann Arbor, Michigan, on January 1, 2014; and the Vancouver Canucks hosting the Ottawa Senators in the 2014 NHL Heritage Classic at BC Place on March 2nd.
After the conclusion of their two Stadium Series games, the Rangers had played four outdoor games, the most of any NHL team, having previously participated in the 2012 NHL Winter Classic and the 1991 exhibition game in Las Vegas.
Dodger Stadium (January 25, 2014)
Edit
Team Rosters
Edit
Yankee Stadium Game #1 (January 26, 2014)
Edit
Team Rosters
Edit
Yankee Stadium Game #2 (January 29, 2014)
Edit
Team Rosters
Edit
Soldier Field (March 1, 2014)
Edit
Team Rosters
Edit
Reality Television Series
Edit
Television Ratings
Edit