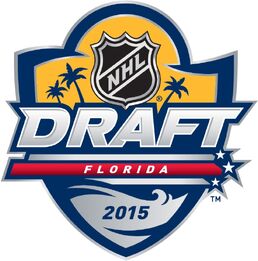 The 2015 NHL Entry Draft was the 53rd NHL Entry Draft. The draft was held on June 26–27, 2015, at the BB&T Center in Sunrise, Florida.
The first three selections of the draft were Connor McDavid, Jack Eichel and Dylan Strome.
Draft Eligibility
[
]
Ice hockey players born between January 1, 1995 and September 15, 1997 were eligible for selection in the 2015 NHL Entry Draft.
Additionally, undrafted, non-North American players born in 1994 were eligible for the draft and those players who were drafted in the 2013 NHL Entry Draft, but not signed by an NHL team and who were born after June 30, 1995 were also eligible to re-enter the draft.
Draft Lottery
[
]
Since the 2012–13 NHL season, all 14 teams not qualifying for the Stanley Cup playoffs have a "weighted" chance at winning the first overall selection.
Beginning with the 2014–15 NHL season, the NHL changed the weighting system that was used in previous years.
Under the new system, the odds of winning the draft lottery for the four lowest finishing teams in the league decreased while the odds for the other non-playoff teams increased.
On April 18, 2015, the Edmonton Oilers won the 2015 draft lottery that took place, thus moving them from the third overall pick to the first overall pick.
Top Prospects
[
]
Ranking
North American goalies
1

Mackenzie Blackwood

Template:Country data Russia

Ilya Samsonov

2

Callum Booth

Daniel Vladar

3

Samuel Montembeault

Felix Sandstrom
Selections By Round
[
]
Round One
[
]
#
Player
Nationality
NHL Team
College/Junior/Club Team
1
Connor McDavid (

C

)

Template:Flagu

Edmonton Oilers
Erie Otters (OHL)
2
Jack Eichel (C)

Template:Flagu

Buffalo Sabres

Boston University Terriers

(

Hockey East

)
3
Dylan Strome (C)

Template:Flagu

Arizona Coyotes
Erie Otters (OHL)
4
Mitch Marner (C)

Template:Flagu

Toronto Maple Leafs
London Knights (OHL)
5
Noah Hanifin (

D

)

Template:Flagu

Carolina Hurricanes

Boston College Eagles

(Hockey East)
6

Pavel Zacha

(C)

Template:Flagu

New Jersey Devils

Sarnia Sting

(OHL)
7

Ivan Provorov

(D)

Template:Flagu

Philadelphia Flyers

Brandon Wheat Kings

(WHL)
8

Zach Werenski

(D)

Template:Flagu

Columbus Blue Jackets

Michigan Wolverines

(

Big Ten

)
9

Timo Meier

(

RW

)

Template:Flagu

San Jose Sharks

Halifax Mooseheads

(QMJHL)
10
Mikko Rantanen (RW)

Template:Flagu

Colorado Avalanche

TPS

(

Liiga

)
11

Lawson Crouse

(

LW

)

Template:Flagu

Florida Panthers

Kingston Frontenacs

(OHL)
12

Denis Guryanov

(RW)

Template:Flagu

Dallas Stars

HC Lada Togliatti

(KHL)
13

Jakub Zboril

(D)

Template:Flagu

Boston Bruins (from Los Angeles)1

Saint John Sea Dogs

(QMJHL)
14

Jake DeBrusk

(LW)

Template:Flagu

Boston Bruins

Swift Current Broncos

(WHL)
15

Zachary Senyshyn

(RW)

Template:Flagu

Boston Bruins (from Calgary)2

Sault Ste. Marie Greyhounds

(OHL)
16

Mathew Barzal

(C)

Template:Flagu

New York Islanders (from Pittsburgh via Edmonton)3

Seattle Thunderbirds

(WHL)
17

Kyle Connor

(LW)

Template:Flagu

Winnipeg Jets

Youngstown Phantoms

(

USHL

)
18

Thomas Chabot

(D)

Template:Flagu

Ottawa Senators
Saint John Sea Dogs (QMJHL)
19

Evgeny Svechnikov

(LW)

Template:Flagu

Detroit Red Wings

Cape Breton Screaming Eagles

(QMJHL)
20
Joel Eriksson Ek (C)

Template:Flagu

Minnesota Wild

Farjestad BK

(SHL)
21

Colin White

(C)

Template:Flagu

Ottawa Senators (from NY Islanders via Buffalo)4

U.S. NTDP

(USHL)
22

Ilya Samsonov

(G)

Template:Flagu

Washington Capitals

Metallurg Magnitogorsk

(KHL)
23
Brock Boeser (RW)

Template:Flagu

Vancouver Canucks

Waterloo Black Hawks

(USHL)
24

Travis Konecny

(C)

Template:Flagu

Philadelphia Flyers (from Nashville via Toronto)5

Ottawa 67's

(OHL)
25

Jack Roslovic

(C)

Template:Flagu

Winnipeg Jets (from St. Louis via Buffalo)6
U.S. NTDP (USHL)
26

Noah Juulsen

(D)

Template:Flagu

Montreal Canadiens

Everett Silvertips

(WHL)
27

Jacob Larsson

(D)

Template:Flagu

Anaheim Ducks

Frolunda HC

(SHL)
28

Anthony Beauvillier

(LW)

Template:Flagu

New York Islanders (from NY Rangers via Tampa Bay)7

Shawinigan Cataractes

(QMJHL)
29

Gabriel Carlsson

(D)

Template:Flagu

Columbus Blue Jackets (from Tampa Bay via Philadelphia and Toronto)8

Linkopings HC

(SHL)
30

Nick Merkley

(RW)

Template:Flagu

Arizona Coyotes (from Chicago)9

Kelowna Rockets

(WHL)
Notes
[
]
Round Two
[
]
#
Player
Nationality
NHL Team
College/Junior/Club Team
31

Jeremy Roy

(D)

Template:Flagu

San Jose Sharks (from Buffalo via Colorado)1

Sherbrooke Phoenix

(QMJHL)
32

Christian Fischer

(RW)

Template:Flagu

Arizona Coyotes
U.S. NTDP (USHL)
33

Mitchell Stephens

(C)

Template:Flagu

Tampa Bay Lightning (from Edmonton via NY Islanders)2

Saginaw Spirit

(OHL)
34

Travis Dermott

(D)

Template:Flagu

Toronto Maple Leafs (from Toronto via Los Angeles and Columbus)3
Erie Otters (OHL)
35

Sebastian Aho

(LW)

Template:Flagu

Carolina Hurricanes

Karpat

(Liiga)
36

Gabriel Gagne

(RW)

Template:Flagu

Ottawa Senators (from New Jersey)4

Victoriaville Tigres

(QMJHL)
37
Brandon Carlo (D)

Template:Flagu

Boston Bruins (from Philadelphia via NY Islanders)5

Tri-City Americans

(WHL)
38

Paul Bittner

(LW)

Template:Flagu

Columbus Blue Jackets

Portland Winterhawks

(WHL)
39

A. J. Greer

(LW)

Template:Flagu

Colorado Avalanche (from San Jose)6
Boston University Terriers (Hockey East)
40
Nicolas Meloche (D)

Template:Flagu

Colorado Avalanche

Baie-Comeau Drakkar

(QMJHL)
41

Ryan Gropp

(LW)

Template:Flagu

New York Rangers (from Florida via New Jersey via Anaheim)7
Seattle Thunderbirds (WHL)
42

Mackenzie Blackwood

(G)

Template:Flagu

New Jersey Devils (from Dallas via Ottawa)8
Barrie Colts (OHL)
43

Erik Cernak

(D)

Template:Flagu

Los Angeles Kings (from Los Angeles via Buffalo)9

HC Kosice

(Slovak Extraliga)
44

Matthew Spencer

(D)

Template:Flagu

Tampa Bay Lightning (from Boston)10

Peterborough Petes

(OHL)
45

Jakob Forsbacka-Karlsson

(C)

Template:Flagu

Boston Bruins (from Calgary)11

Omaha Lancers

(USHL)
46

Daniel Sprong

(RW)

Template:Flagu

Pittsburgh Penguins

Charlottetown Islanders

(QMJHL)
47

Jansen Harkins

(C)

Template:Flagu

Winnipeg Jets

Prince George Cougars

(WHL)
48

Filip Chlapik

(C)

Template:Flagu

Ottawa Senators
Charlottetown Islanders (QMJHL)
49

Roope Hintz

(LW)

Template:Flagu

Dallas Stars (from Detroit)12

Ilves

(Liiga)
50

Jordan Greenway

(LW)

Template:Flagu

Minnesota Wild
U.S. NTDP (USHL)
51

Brendan Guhle

(D)

Template:Flagu

Buffalo Sabres (from NY Islanders)13

Prince Albert Raiders

(WHL)
52

Jeremy Lauzon

(D)

Template:Flagu

Boston Bruins (from Washington via Calgary)14

Rouyn-Noranda Huskies

(QMJHL)
53

Rasmus Andersson

(D)

Template:Flagu

Calgary Flames (from Vancouver)15
Barrie Colts (OHL)
54
Graham Knott (LW)

Template:Flagu

Chicago Blackhawks (compensatory)16

Niagara IceDogs

(OHL)
55

Iakov Trenin

(C)

Template:Flagu

Nashville Predators

Gatineau Olympiques

(QMJHL)
56

Vince Dunn

(D)

Template:Flagu

St. Louis Blues
Niagara IceDogs (OHL)
57

Jonas Siegenthaler

(D)

Template:Flagu

Washington Capitals (from Montreal via Edmonton and NY Rangers)17

ZSC Lions

(NLA)
58

Kevin Stenlund

(C)

Template:Flagu

Columbus Blue Jackets (from Anaheim)18

HV71 J20

(

J20 SuperElit

)
59

Julius Nattinen

(C)

Template:Flagu

Anaheim Ducks (from NY Rangers)19

JYP-Akatemia

(

Mestis

)
60
Oliver Kylington (D)

Template:Flagu

Calgary Flames (from Tampa Bay via NY Rangers and Arizona)20

AIK IF

(

HockeyAllsvenskan

)
61

Jeremy Bracco

(RW)

Template:Flagu

Toronto Maple Leafs (from Chicago via Philadelphia)21
U.S. NTDP (USHL)
Round Three
[
]
#
Player
Nationality
NHL Team
College/Junior/Club Team
62

Robin Kovacs

(RW)

Template:Flagu

New York Rangers (from Buffalo via Washington)1
AIK IF (HockeyAllsvenskan)
63

Kyle Capobianco

(D)

Template:Flagu

Arizona Coyotes

Sudbury Wolves

(OHL)
64

Dennis Yan

(LW)

Template:Flagu

Tampa Bay Lightning (from Edmonton via Anaheim)2
Shawinigan Cataractes (QMJHL)
65

Andrew Nielsen

(D)

Template:Flagu

Toronto Maple Leafs
Lethbridge Hurricanes (WHL)
66

Guillaume Brisebois

(D)

Template:Flagu

Vancouver Canucks (from Carolina)3

Acadie–Bathurst Titan

(QMJHL)
67

Blake Speers

(C)

Template:Flagu

New Jersey Devils
Sault Ste. Marie Greyhounds (OHL)
68

Martins Dzierkals

(LW)

Template:Flagu

Toronto Maple Leafs (from Philadelphia via Columbus)4

HK Riga

(

MHL

)
69

Keegan Kolesar

(RW)

Template:Flagu

Columbus Blue Jackets
Seattle Thunderbirds (WHL)
70

Felix Sandstrom

(G)

Template:Flagu

Philadelphia Flyers (from San Jose)5

Brynas IF J20

(J20 SuperElit)
71

Jean-Christophe Beaudin

(C)

Template:Flagu

Colorado Avalanche
Rouyn-Noranda Huskies (QMJHL)
72

Anthony Cirelli

(C)

Template:Flagu

Tampa Bay Lightning (from Florida via NY Islanders)6

Oshawa Generals

(OHL)
73

Vili Saarijarvi

(D)

Template:Flagu

Detroit Red Wings (from Dallas)7

Green Bay Gamblers

(USHL)
74

Alexander Dergachyov

(C)

Template:Flagu

Los Angeles Kings

SKA-1946 St. Petersburg

(MHL)
75

Daniel Vladar

(G)

Template:Flagu

Boston Bruins

HC Kladno

(Czech 1 Liga)
76

Adin Hill

(G)

Template:Flagu

Arizona Coyotes (from Calgary)8
Portland Winterhawks (WHL)
77

Samuel Montembault

(G)

Template:Flagu

Florida Panthers (from Pittsburgh)9

Blainville-Boisbriand Armada

(QMJHL)
78

Erik Foley

(LW)

Template:Flagu

Winnipeg Jets

Cedar Rapids RoughRiders

(USHL)
79

Sergey Zborovskiy

(D)

Template:Flagu

New York Rangers (from Ottawa via Edmonton)10

Regina Pats

(WHL)
80

Brent Gates

(C)

Template:Flagu

Anaheim Ducks (from Detroit via Columbus)11
Green Bay Gamblers (USHL)
81

Brendan Warren

(LW)

Template:Flagu

Arizona Coyotes (from Minnesota)12
U.S. NTDP (USHL)
82

Mitchell Vande Sompel

(D)

Template:Flagu

New York Islanders
Oshawa Generals (OHL)
83

Jens Looke

(RW)

Template:Flagu

Arizona Coyotes (from Washington via Calgary)13

Brynas IF

(SHL)
84

Deven Sideroff

(RW)

Template:Flagu

Anaheim Ducks (from Vancouver)14
Kamloops Blazers (WHL)
85

Tommy Novak

(C)

Template:Flagu

Nashville Predators
Waterloo Black Hawks (USHL)
86

Mike Robinson

(G)

Template:Flagu

San Jose Sharks (from St. Louis via Edmonton)15

Lawrence Academy

(HS-Massachusetts)
87

Lukas Vejdemo

(C)

Template:Flagu

Montreal Canadiens

Djurgardens IF J20

(J20 SuperElit)
88

Thomas Schemitsch

(D)

Template:Flagu

Florida Panthers (from Anaheim)16

Owen Sound Attack

(OHL)
89
Aleksi Saarela (C)

Template:Flagu

New York Rangers

Assat

(Liiga)
90

Matej Tomek

(G)

Template:Flagu

Philadelphia Flyers (from Tampa Bay)17

Topeka RoadRunners

(NAHL)
91

Dennis Gilbert

(D)

Template:Flagu

Chicago Blackhawks

Chicago Steel

(USHL)
Round Four
[
]
#
Player
Nationality
NHL Team
College/Junior/Club Team
92

William Borgen

(D)

Template:Flagu

Buffalo Sabres

Moorhead Spuds

(HS-Minnesota)
93

Callum Booth

(G)

Template:Flagu

Carolina Hurricanes (from Arizona via Washington)1

Quebec Remparts

(QMJHL)
94

Adam Musil

(C)

Template:Flagu

St. Louis Blues (from Edmonton)2

Red Deer Rebels

(WHL)
95

Jesper Lindgren

(D)

Template:Flagu

Toronto Maple Leafs

Modo Hockey

(SHL)
96

Nicolas Roy

(C)

Template:Flagu

Carolina Hurricanes

Chicoutimi Sagueneens

(QMJHL)
97

Colton White

(D)

Template:Flagu

New Jersey Devils
Sault Ste. Marie Greyhounds (OHL)
98

Samuel Dove-Mcfalls

(LW)

Template:Flagu

Philadelphia Flyers
Saint John Sea Dogs (QMJHL)
99

Austin Wagner

(LW)

Template:Flagu

Los Angeles Kings (from Columbus via Philadelphia)3
Regina Pats (WHL)
100

Anthony Richard

(C)

Template:Flagu

Nashville Predators (from San Jose)4

Val-d'Or Foreurs

(QMJHL)
101

Andrei Mironov

(D)

Template:Flagu

Colorado Avalanche

Dynamo Moscow

(KHL)
102

Denis Malgin

(C)

Template:Flagu

Florida Panthers

ZSC Lions

(NLA)
103

Chris Martenet

(D)

Template:Flagu

Dallas Stars
London Knights (OHL)
104

Mikhail Vorobyov

(C)

Template:Flagu

Philadelphia Flyers (from Los Angeles)5

Tolpar Ufa

(MHL)
105

Jesse Gabrielle

(LW)

Template:Flagu

Boston Bruins
Regina Pats (WHL)
106

Adam Helewka

(LW)

Template:Flagu

San Jose Sharks (from Calgary)6

Spokane Chiefs

(WHL)
107

Christian Wolanin

(D)

Template:Flagu

Ottawa Senators (from Pittsburgh via Toronto and Edmonton)7

Muskegon Lumberjacks

(USHL)
108

Michael Spacek

(RW)

Template:Flagu

Winnipeg Jets

HC Pardubice

(Czech Extraliga)
109

Filip Ahl

(LW)

Template:Flagu

Ottawa Senators

HV71

(SHL)
110

Joren van Pottelberghe

(G)

Template:Flagu

Detroit Red Wings
Linkoping Jr. (Sweden-Jr. U18)
111

Ales Stezka

(G)

Template:Flagu

Minnesota Wild
Liberec Jr. (Czrep-Jr.)
112

Parker Wotherspoon

(D)

Template:Flagu

New York Islanders
Tri-City Americans (WHL)
113

Brad Morrison

(D)

Template:Flagu

New York Rangers (from Washington)8
Prince George Cougars (WHL)
114

Dmitri Zhukenov

(C)

Template:Flagu

Vancouver Canucks
Omsk 2 (Russia Jr.)
115

Alexandre Carrier

(D)

Template:Flagu

Nashville Predators
Gatineau Olympiques (QMJHL)
116

Glen Gawdin

(C)

Template:Flagu

St. Louis Blues
Swift Current Broncos (WHL)
117

Caleb Jones

(D)

Template:Flagu

Edmonton Oilers (from Montreal)9
U.S. NTDP (USHL)
118

Jonne Tammela

(RW)

Template:Flagu

Tampa Bay Lightning (from Anaheim)10

Kalpa

(Liiga)
119

Daniel Bernhardt

(RW)

Template:Flagu

New York Rangers
Djurgardens IF J20 (J20 SuperElit)
120

Mathieu Joseph

(RW)

Template:Flagu

Tampa Bay Lightning
Saint John Sea Dogs (QMJHL)
121

Ryan Shea

(D)

Template:Flagu

Chicago Blackhawks
Boston College HS (HS-Massachusetts)
Round Five
[
]
#
Player
Nationality
NHL Team
College/Junior/Club Team
122

Devante Stephens

(D)

Template:Flagu

Buffalo Sabres
Kelowna Rockets (WHL)
123

Conor Garland

(RW)

Template:Flagu

Arizona Coyotes

Moncton Wildcats

(QMJHL)
124

Ethan Bear

(D)

Template:Flagu

Edmonton Oilers
Seattle Thunderbirds (WHL)
125

Dmytro Timashov

(LW)

Template:Flagu

Toronto Maple Leafs
Quebec Remparts (QMJHL)
126

Luke Stevens

(LW)

Template:Flagu

Carolina Hurricanes
Noble & Greenough (HS-Massachusetts)
127

Niko Mikkola

(D)

Template:Flagu

St. Louis Blues (from New Jersey)1
Kalpa Jr. (Finland-Jr.)
128

David Kase

(RW)

Template:Flagu

Philadelphia Flyers
Chomutov Jr. (Czrep-Jr.)
129

Sam Ruopp

(D)

Template:Flagu

Columbus Blue Jackets
Prince George Cougars (WHL)
130

Karlis Cukste

(D)

Template:Flagu

San Jose Sharks
Riga 2 (Russia-Jr.)
131

Matthew Bradley

(C)

Template:Flagu

Montreal Canadiens (from Colorado)2

Medicine Hat Tigers

(WHL)
132

Karch Bachman

(LW)

Template:Flagu

Florida Panthers
Culver Academy (HS-Indiana)
133

Joseph Cecconi

(D)

Template:Flagu

Dallas Stars
Muskegon Lumberjacks (USHL)
134

Matt Schmalz

(RW)

Template:Flagu

Los Angeles Kings
Sudbury Wolves (OHL)
135

Kirill Kaprizov

(LW)

Template:Flagu

Minnesota Wild (from Boston)3
Metallurg Novokuznetsk (KHL)
136

Pavel Karnaukhov

(LW)

Template:Flagu

Calgary Flames

Calgary Hitmen

(WHL)
137

Dominik Simon

(LW)

Template:Flagu

Pittsburgh Penguins

HC Plzen

(Czech Extraliga)
138

Spencer Smallman

(RW)

Template:Flagu

Carolina Hurricanes (from Winnipeg)4
Saint John Sea Dogs (QMJHL)
139

Christian Jaros

(D)

Template:Flagu

Ottawa Senators
Lulea Jr. (Sweden-Jr.)
140

Chase Pearson

(C)

Template:Flagu

Detroit Red Wings
Youngstown Phantoms (USHL)
141

Veeti Vainio

(D)

Template:Flagu

Columbus Blue Jackets (from Minnesota)5

Espoo Blues

Jr. (Finland Jr.)
142

Rudolfs Balcers

(LW)

Template:Flagu

San Jose Sharks (from NY Islanders)6

Stavanger Oilers

(Norway)
143

Connor Hobbs

(D)

Template:Flagu

Washington Capitals
Regina Pats (WHL)
144

Carl Neill

(D)

Template:Flagu

Vancouver Canucks
Sherbrooke Phoenix (QMJHL)
145

Karel Vejmelka

(G)

Template:Flagu

Nashville Predators
Pardubice Jr. (Czrep-Jr.)
146

Luke Opilka

(G)

Template:Flagu

St. Louis Blues
U.S. NTDP (USHL)
147

Ryan Pilon

(D)

Template:Flagu

New York Islanders (from Montreal via Florida)7
Brandon Wheat Kings (WHL)
148

Troy Terry

(RW/C)

Template:Flagu

Anaheim Ducks
U.S. NTDP (USHL)
149
Adam Gaudette (C)

Template:Flagu

Vancouver Canucks (from NY Rangers)8
Cedar Rapids RoughRiders (USHL)
150

Ryan Zuhlsdorf

(D)

Template:Flagu

Tampa Bay Lightning

Sioux City Musketeers

(USHL)
151

Radovan Bondra

(RW)

Template:Flagu

Chicago Blackhawks
HC Kosice (Slovak Extraliga)
Round Six
[
]
#
Player
Nationality
NHL Team
College/Junior/Club Team
152

Georgio Estephan

(C)

Template:Flagu

Buffalo Sabres
Lethbridge Hurricanes (WHL)
153

Kristian Oldham

(G)

Template:Flagu

Tampa Bay Lightning (from Arizona)1
Omaha Lancers (USHL)
154

John Marino

(D)

Template:Flagu

Edmonton Oilers

South Shore Kings

(

USPHL

)
155

Stephen Desrocher

(D)

Template:Flagu

Toronto Maple Leafs
Oshawa Generals (OHL)
156

Jake Massie

(D)

Template:Flagu

Carolina Hurricanes

Kimball Union Academy Wildcats

(HS-New Hampshire)
157

Brett Seney

(LW)

Template:Flagu

New Jersey Devils

Merrimack College

(Hockey East)
158

Cooper Marody

(C)

Template:Flagu

Philadelphia Flyers

Sioux Falls Stampede

(USHL)
159

Vladislav Gavrikov

(D)

Template:Flagu

Columbus Blue Jackets

Lokomotiv Yaroslavl

(KHL)
160

Adam Parsells

(D)

Template:Flagu

San Jose Sharks
Wausau West (HS-Wisconsin)
161

Sergei Boikov

(D)

Template:Flagu

Colorado Avalanche

Drummondville Voltigeurs

(QMJHL)
162

Christopher Wilkie

(RW)

Template:Flagu

Florida Panthers
Tri-City Storm (USHL)
163

Markus Ruusu

(G)

Template:Flagu

Dallas Stars
Jyp Jr. (Finland-Jr.)
164
Roy Radke (RW)

Template:Flagu

Chicago Blackhawks (from Los Angeles)2
Barrie Colts (OHL)
165

Cameron Hughes

(C)

Template:Flagu

Boston Bruins

Wisconsin Badgers

(Big Ten)
166

Andrew Mangiapane

(LW)

Template:Flagu

Calgary Flames
Barrie Colts (OHL)
167

Frederik Tiffels

(LW)

Template:Flagu

Pittsburgh Penguins

Western Michigan Broncos

(

NCHC

)
168

Mason Appleton

(C)

Template:Flagu

Winnipeg Jets
Tri-City Storm (USHL)
169

David Cotton

(C)

Template:Flagu

Carolina Hurricanes (from Ottawa via Winnipeg)3
Cushing Academy (HS-Massachusetts)
170

Patrick Holway

(D)

Template:Flagu

Detroit Red Wings
Boston Advantage U-18 (USMAAAE)
171

Nicholas Boka

(D)

Template:Flagu

Minnesota Wild
U.S. NTDP (USHL)
172

Andong Song

(D)

Template:Flagu

New York Islanders

Lawrenceville School

(HS-New Jersey)
173

Colby Williams

(D)

Template:Flagu

Washington Capitals
Regina Pats (WHL)
174

Lukas Jasek

(RW)

Template:Flagu

Vancouver Canucks

HC Ocelari Trinec

(Czech Extraliga)
175

Tyler Moy

(C)

Template:Flagu

Nashville Predators

Harvard Crimson

(

ECAC

)
176

Liam Dunda

(LW)

Template:Flagu

St. Louis Blues
Owen Sound Attack (OHL)
177

Simon Bourque

(D)

Template:Flagu

Montreal Canadiens

Rimouski Oceanic

(QMJHL)
178

Steven Ruggiero

(D)

Template:Flagu

Anaheim Ducks
U.S. NTDP (USHL)
179

Garrett Metcalf

(G)

Template:Flagu

Anaheim Ducks (from NY Rangers)4

Madison Capitols

(USHL)
180

Bokondji Imama

(LW)

Template:Flagu

Tampa Bay Lightning
Saint John Sea Dogs (QMJHL)
181
Joni Tuulola (D)

Template:Flagu

Chicago Blackhawks

HPK

(Liiga)
Round Seven
[
]
#
Player
Nationality
NHL Team
College/Junior/Club Team
182

Ivan Chukarov

(D)

Template:Flagu

Buffalo Sabres

Minnesota Wilderness

(

NAHL

)
183

Erik Kallgren

(G)

Template:Flagu

Arizona Coyotes
Linkoping Jr. (Sweden-Jr.)
184

Adam Huska

(G)

Template:Flagu

New York Rangers (from Edmonton)1
Green Bay Gamblers (USHL)
185

Nikita Korostelev

(RW)

Template:Flagu

Toronto Maple Leafs
Sarnia Sting (OHL)
186

Steven Lorentz

(C/LW)

Template:Flagu

Carolina Hurricanes
Peterborough Petes (OHL)
187

Chaz Reddekopp

(D)

Template:Flagu

Los Angeles Kings (from New Jersey)2

Victoria Royals

(WHL)
188

Ivan Fedotov

(G)

Template:Flagu

Philadelphia Flyers
Nizhnekamsk 2 (Russia-Jr.)
189

Markus Nutivaara

(D)

Template:Flagu

Columbus Blue Jackets
Karpat Jr. (Finland-Jr.)
190

Marcus Vela

(C)

Template:Flagu

San Jose Sharks

Langley Rivermen

(

BCHL

)
191

Gustav Olhaver

(C)

Template:Flagu

Colorado Avalanche
Rogle Jr. (Sweden-Jr.)
192

Patrick Shea

(C)

Template:Flagu

Florida Panthers
Kimball Union Academy Wildcats (HS-New Hampshire)
193

Jake Kupsky

(G)

Template:Flagu

San Jose Sharks (from Dallas)3

Lone Star Brahmas

(NAHL)
194

Matt Roy

(LW)

Template:Flagu

Los Angeles Kings

Michigan Tech Huskies

(

WCHA

)
195

Jack Becker

(C)

Template:Flagu

Boston Bruins
Mahtomedi (HS-Minnesota)
196

Riley Bruce

(D)

Template:Flagu

Calgary Flames

North Bay Battalion

(OHL)
197

Nikita Pavlychev

(C)

Template:Flagu

Pittsburgh Penguins

Des Moines Buccaneers

(USHL)
198

Sami Niku

(D)

Template:Flagu

Winnipeg Jets
JYP 2 (Finland-2)
199

Joel Daccord

(G)

Template:Flagu

Ottawa Senators
Cushing Academy (HS-Massachusetts)
200

Adam Marsh

(LW)

Template:Flagu

Detroit Red Wings
Saint John Sea Dogs (QMJHL)
201

Gustav Bouramman

(D)

Template:Flagu

Minnesota Wild
Sault Ste. Marie Greyhounds (OHL)
202

Petter Hansson

(D)

Template:Flagu

New York Islanders
Linkoping Jr. (Sweden-Jr.)
203

Matteo Gennaro

(C)

Template:Flagu

Winnipeg Jets (from Washington)4
Prince Albert Raiders (WHL)
204

Jack Sadek

(D)

Template:Flagu

Minnesota Wild (from Vancouver via Tampa Bay)5
Lakeville North (HS-Minnesota)
205

Evan Smith

(G)

Template:Flagu

Nashville Predators

Austin Bruins

(NAHL)
206

Ryan Bednard

(G)

Template:Flagu

Florida Panthers (from St. Louis via New Jersey)6

Johnstown Tomahawks

(NAHL)
207

Jeremiah Addison

(LW)

Template:Flagu

Montreal Canadiens
Ottawa 67's (OHL)
208

Miroslav Svoboda

(G)

Template:Flagu

Edmonton Oilers (from Anaheim via Tampa Bay)7
Trinec Jr. (Czrep-Jr.)
209

Ziyat Paigin

(D)

Template:Flagu

Edmonton Oilers (from NY Rangers via Tampa Bay and NY Rangers)8

Ak Bars Kazan

(KHL)
210

Tate Olson

(D)

Template:Flagu

Vancouver Canucks (from Tampa Bay via NY Islanders and San Jose)9
Prince George Cougars (WHL)
211

John Dahlstrom

(RW)

Template:Flagu

Chicago Blackhawks
Frolunda Jr. (Sweden-Jr.)
SaveSave