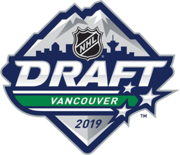 The 2019 NHL Entry Draft was the 57th NHL Entry Draft. It was held on June 21–22, 2019 at Rogers Arena in Vancouver, British Columbia, Canada.
The first three selections were Jack Hughes going to the New Jersey Devils, Kaapo Kakko being selected by the New York Rangers and Kirby Dach being selected by the Chicago Blackhawks.
Eligibility
[
]
Ice hockey players born between January 1, 1999, and September 15, 2001, are eligible for selection in the 2019 NHL Entry Draft.
Additionally, un-drafted, non-North American players born in 1998 are eligible for the draft; and those players who were drafted in the 2017 NHL Entry Draft, but not signed by an NHL team and who were born after June 30, 1999, are also eligible to re-enter the draft.
Top Prospects
[
]
Ranking
North American skaters
European skaters
1
Jack Hughes (

C

)
Kaapo Kakko (

RW

)
2
Bowen Byram (

D

)

Template:Country data Russia

Vasily Podkolzin

(RW)
3
Kirby Dach (C)

Victor Soderstrom

(

D

)
4
Alex Turcotte (C)

Ville Heinola

(D)
5
Dylan Cozens (C)

Philip Broberg

(D)
6
Trevor Zegras (C)

Template:Country data Germany

Moritz Seider

(D)
7

Arthur Kaliyev

(

RW

)

Tobias Bjornfot

(D)
8
Cole Caufield (RW)

Template:Country data Russia

Daniil Misyul

(D)
9

Matthew Boldy

(

LW

)

Template:Country data Russia

Ilya Nikolaev

(

C

)
10
Peyton Krebs (C)

Mikko Kokkonen

(D)
Ranking
North American goalies
European goalies
1

Spencer Knight

Template:Country data Russia

Pyotr Kochetkov

2

Template:Country data Denmark

Mads Sogaard

Hugo Alnefelt

3

Hunter Jones

Lukas Parik
Draft Lottery
[
]
Since the 2012–13 NHL season all teams not qualifying for the Stanley Cup playoffs have a "weighted" chance at winning the first overall selection.
Beginning with the 2014–15 NHL season, the NHL changed the weighting system that was used in previous years. Under the new system the odds of winning the draft lottery for the four lowest finishing teams in the league decreased, while the odds for the other non-playoff teams increased. The first three picks overall in this draft were awarded by lottery on April 9, 2019.
The New Jersey Devils, New York Rangers and Chicago Blackhawks won the lotteries that took place on April 9, 2019, giving them the first, second and third picks overall. The New Jersey Devils moved up two spots, while the New York Rangers moved up four spots and Chicago moved up nine spots.
In the process, the Colorado Avalanche (previously acquired from Ottawa) and Los Angeles Kings moved down three spots from first and second overall, respectively, while the Detroit Red Wings and Buffalo Sabres moved down two spots, while the Edmonton Oilers, Anaheim Ducks, Vancouver Canucks, Philadelphia Flyers and Minnesota Wild each dropped one spot.
Selections by round
[
]
Round one
[
]
Round two
[
]
#
Player
Nationality
NHL Team
College/Junior/Club Team
32

Shane Pinto

(C)
United States
Ottawa Senators

Tri-City Storm

(USHL)
33

Arthur Kaliyev

(RW)
United States
Los Angeles Kings

Hamilton Bulldogs

(OHL)
34

Bobby Brink

(RW)
United States
Philadelphia Flyers (from New Jersey via Nashville)

Sioux City Musketeers

(USHL)
35

Antti Tuomisto

(D)
Finland
Detroit Red Wings

Assat

(Liiga)
36

Pyotr Kochetkov

(G)

Template:Country data Russia

Russia
Carolina Hurricanes (from Buffalo)

HC Sochi

(KHL)
37

Mads Sogaard

(G)

Template:Country data Denmark

Denmark
Ottawa Senators (from NY Rangers via Carolina)

Medicine Hat Tigers

(WHL)
38

Raphael Lavoie

(C)
Canada
Edmonton Oilers

Halifax Mooseheads

(QMJHL)
39

Jackson Lacombe

(D)
United States
Anaheim Ducks

Shattuck-Saint Mary's

(USHS)
40

Nils Hoglander

(LW)
Sweden
Vancouver Canucks

Rogle BK

(SHL)
41

Kaedan Korczak

(D)
Canada
Vegas Golden Knights (from Philadelphia via San Jose)
Kelowna Rockets (WHL)
42

Vladislav Firstov

(LW)

Template:Country data Russia

Russia
Minnesota Wild

Waterloo Black Hawks

(USHL)
43

Alex Vlasic

(D)
United States
Chicago Blackhawks
U.S. NTDP (USHL)
44

Jamieson Rees

(C)
Canada
Carolina Hurricanes (from Florida via San Jose and Ottawa)

Sarnia Sting

(OHL)
45

Egor Afanasyev

(LW)

Template:Country data Russia

Russia
Nashville Predators (from Arizona via Philadelphia)

Muskegon Lumberjacks

(USHL)
46

Jayden Struble

(D)
United States
Montreal Canadiens

Saint Sebastian's School

(USHS)
47

Drew Helleson

(D)
United States
Colorado Avalanche
U.S. NTDP (USHL)
48

Artemi Kniazev

(D)

Template:Country data Russia

Russia
San Jose Sharks (from Vegas)

Chicoutimi Sagueneens

(QMJHL)
49

Matthew Robertson

(D)
Canada
New York Rangers (from Dallas)

Edmonton Oil Kings

(WHL)
50

Samuel Fagemo

(LW)
Sweden
Los Angeles Kings (from Columbus via Vegas and Montreal)9

Frolunda HC

(SHL)
51

Simon Lundmark

(D)
Sweden
Winnipeg Jets

Linkopings HC

(SHL)
52

Vladislav Kolyachonok

(D)

Template:Country data Belarus

Belarus
Florida Panthers (from Pittsburgh)

Flint Firebirds

(OHL)
53

Nicholas Robertson

(LW)
United States
Toronto Maple Leafs

Peterborough Petes

(OHL)
54

Robert Mastrosimone

(LW)
United States
Detroit Red Wings (from NY Islanders via Vegas)

Chicago Steel

(USHL)
55

Dillion Hamaliuk

(LW)
Canada
San Jose Sharks (from Nashville via New Jersey)

Seattle Thunderbirds

(WHL)
56

Brett Leason

(RW)
Canada
Washington Capitals

Prince Albert Raiders

(WHL)
57

Samuel Bolduc

(D)
Canada
New York Islanders (from Calgary)

Blainville-Boisbriand Armada

(QMJHL)
58

Karl Henriksson

(C)
Sweden
New York Rangers (from Tampa Bay)
Frolunda HC (SHL)
59

Hunter Jones

(G)
Canada
Minnesota Wild (from Carolina)
Peterborough Petes (OHL)
60

Albert Johansson

(D)
Sweden
Detroit Red Wings (from San Jose)

Farjestad BK

(SHL)
61

Nikita Okhotyuk

(D)

Template:Country data Russia

Russia
New Jersey Devils (from Boston)

Ottawa 67's

(OHL)
62

Nikita Alexandrov

(C)

Template:Country data Russia

Russia
St. Louis Blues

Charlottetown Islanders

(QMJHL)
Round three
[
]
#
Player
Nationality
NHL Team
College/Junior/Club Team
63

Matthew Stienburg

(C)
Canada
Colorado Avalanche (from Ottawa)

St. Andrew's College

(

CISAA

)
64

Mattias Norlinder

(D)
Sweden
Montreal Canadiens (from Los Angeles)

Modo Hockey

(HockeyAllsvenskan)
65

Alexander Campbell

(LW)
Canada
Nashville Predators (from New Jersey via Edmonton and Philadelphia)
Victoria Grizzlies (BCHL)
66

Albin Grewe

(RW)
Sweden
Detroit Red Wings
Djurgardens IF (SHL)
67

Erik Portillo

(G)
Sweden
Buffalo Sabres
Frolunda Jr. (J20 SuperElit)
68

Zachary Jones

(D)
United States
New York Rangers
Tri-City Storm (USHL)
69

John Ludvig

(D)
Canada
Florida Panthers (from Edmonton)

Portland Winterhawks

(WHL)
70

Daniil Misyul

(D)

Template:Country data Russia

Russia
New Jersey Devils (from Anaheim)
Loko Yaroslavl (

MHL

)
71

Hugo Alnefelt

(G)
Sweden
Tampa Bay Lightning (from Vancouver)
HV71 Jr. (J20 SuperElit)
72

Ronald Attard

(D)
United States
Philadelphia Flyers
Tri-City Storm (USHL)
73

Patrik Puistola

(RW)
Finland
Carolina Hurricanes (from Minnesota)

Tappara

(Liiga)
74

Nathan Legare

(RW)
Canada
Pittsburgh Penguins (from Chicago via Arizona)

Baie-Comeau Drakkar

(QMJHL)
75

Adam Beckman

(LW)
Canada
Minnesota Wild (from Florida via Nashville)

Spokane Chiefs

(WHL)
76

John Farinacci

(C)
United States
Arizona Coyotes

Dexter Southfield School

(USHS)
77

Gianni Fairbrother

(D)
Canada
Montreal Canadiens

Everett Silvertips

(WHL)
78

Alex Beaucage

(RW)
Canada
Colorado Avalanche

Rouyn-Noranda Huskies

(QMJHL)
79

Pavel Dorofeyev

(LW)

Template:Country data Russia

Russia
Vegas Golden Knights

Metallurg Magnitogorsk

(KHL)
80

Graeme Clarke

(RW)
Canada
New Jersey Devils (from Dallas)
Ottawa 67's (OHL)
81

Cole Schwindt

(RW)
Canada
Florida Panthers (from Columbus)
Mississauga Steelheads (OHL)
82

Michael Vukojevic

(D)
Canada
New Jersey Devils (from Winnipeg via Vegas and San Jose)

Kitchener Rangers

(OHL)
83

Anttoni Honka

(D)
Finland
Carolina Hurricanes (from Pittsburgh via Vegas and Ottawa)

JYP Jyvaskyla

(Liiga)
84

Mikko Kokkonen

(D)
Finland
Toronto Maple Leafs

Jukurit

(Liiga)
85

Ilya Konovalov

(G)

Template:Country data Russia

Russia
Edmonton Oilers (from NY Islanders)

Lokomotiv Yaroslavl

(KHL)
86

Layton Ahac

(D)
Canada
Vegas Golden Knights (from Nashville)

Prince George Spruce Kings

(BCHL)
87

Lukas Parik

(G)
Czech Republic
Los Angeles Kings (from Washington)16

HC Benatky bad Jizerou

(

Czech 1.liga

)
88

Ilya Nikolaev

(C)

Template:Country data Russia

Russia
Calgary Flames
Loko Yaroslavl (MHL)
89

Maxim Cajkovic

(RW)
Slovakia
Tampa Bay Lightning

Saint John Sea Dogs

(QMJHL)
90

Domenick Fensore

(D)
United States
Carolina Hurricanes
U.S. NTDP (USHL)
91

Aliaksei Protas

(C)

Template:Country data Belarus

Belarus
Washington Capitals (from San Jose via New Jersey)
Prince Albert Raiders (WHL)
92

Quinn Olson

(LW)
Canada
Boston Bruins

Okotoks Oilers

(

AJHL

)
93

Colten Ellis

(G)
Canada
St. Louis Blues

Rimouski Océanic

(QMJHL)
Round four
[
]
#
Player
Nationality
NHL Team
College/Junior/Club Team
94

Viktor Lodin

(C)
Sweden
Ottawa Senators

Orebro HK

(SHL)
95

Jordan Spence

(D)
Canada
Los Angeles Kings
Moncton Wildcats (QMJHL)
96

Tyce Thompson

(RW)
Canada
New Jersey Devils

Dubuque Fighting Saints

(USHL)
97

Ethan Phillips

(C)
Canada
Detroit Red Wings
Sioux Falls Stampede (USHL)
98

Matias Maccelli

(LW)
Finland
Arizona Coyotes (from Buffalo via Pittsburgh)1
Dubuque Fighting Saints (USHL)
99

Cade Webber

(D)
United States
Carolina Hurricanes (from NY Rangers via Boston and Minnesota)

Rivers School

(USHS)
100

Matej Blumel

(RW)
Czech Republic
Edmonton Oilers
Waterloo Black Hawks (USHL)
101

Henry Thrun

(D)
United States
Anaheim Ducks
U.S. NTDP (USHL)
102

Aaron Huglen

(D)
United States
Buffalo Sabres (from Vancouver)

Fargo Force

(USHL)
103

Mason Millman

(D)
Canada
Philadelphia Flyers

Saginaw Spirit

(OHL)
104

Eric Hjorth

(D)
Sweden
Columbus Blue Jackets (from Minnesota via Arizona, Pittsburgh, Dallas, Pittsburgh and Florida)
Linkopings Jr. (J20 SuperElit)
105

Michal Teply

(LW)
Czech Republic
Chicago Blackhawks

HC Bili Tygri Liberec

(Czech Extraliga)
106

Carter Berger

(D)
Canada
Florida Panthers
Victoria Grizzlies (BCHL)
107

Alexandr Darin

(RW)

Template:Country data Russia

Russia
Arizona Coyotes
Loko Yaroslavl (MHL)
108

Yegor Spiridonov

(C)

Template:Country data Russia

Russia
San Jose Sharks (from Montreal)

Stalnye Lisy

(MHL)
109

Marc Del Gaizo

(D)
United States
Nashville Predators (from Colorado)

U. of Massachusetts Amherst

(

Hockey East

)
110

Ryder Donovan

(C)
United States
Vegas Golden Knights
Dubuque Fighting Saints (USHL)
111

Samuel Sjolund

(D)
Sweden
Dallas Stars
AIK Jr. (J20 SuperElit)
112

Hunter Skinner

(D)
United States
New York Rangers (from Columbus)

Lincoln Stars

(USHL)
113

Henri Nikkanen

(C)
Finland
Winnipeg Jets
Jukurit (Liiga)
114

Dmitri Voronkov

(LW)

Template:Country data Russia

Russia
Columbus Blue Jackets (from Pittsburgh via Florida)

JHC Bars

(VHL)
115

Mikhail Abramov

(C)

Template:Country data Russia

Russia
Toronto Maple Leafs

Victoriaville Tigres

(QMJHL)
116

Lucas Feuk

(LW)
Sweden
Calgary Flames (from NY Islanders)

Sodertalje SK

(HockeyAllsvenskan)
117

Semyon Chystyakov

(D)

Template:Country data Russia

Russia
Nashville Predators

Tolpar Ufa

(MHL)
118

Case McCarthy

(D)
United States
New Jersey Devils (from Washington)10
U.S. NTDP (USHL)
119

Kim Nousiainen

(D)
Finland
Los Angeles Kings (from Calgary via Montreal)11

KalPa

(Liiga)
120

Maxwell Crozier

(D)
Canada
Tampa Bay Lightning
Sioux Falls Stampede (USHL)
121

Tuukka Tieksola

(RW)
Finland
Carolina Hurricanes

Karpat U20

(Jr. A)
122

Ethan Keppen

(LW)
Canada
Vancouver Canucks (from San Jose via Buffalo)12
Flint Firebirds (OHL)
123

Antti Saarela

(C)
Finland
Chicago Blackhawks (from Boston)
Lukko (Liiga)
124

Nicholas Abruzzese

(C)
United States
Toronto Maple Leafs (from St. Louis)14
Chicago Steel (USHL)
Round five
[
]
#
Player
Nationality
NHL Team
College/Junior/Club Team
125

Mark Kastelic

(C)
United States
Ottawa Senators

Calgary Hitmen

(WHL)
126

Jacob Leguerrier

(D)
Canada
Montreal Canadiens (from Los Angeles)

Sault Ste. Marie Greyhounds

(OHL)
127

Cole Brady

(G)
Canada
New Jersey Devils

Janesville Jets

(

NAHL

)
128

Cooper Moore

(D)
United States
Detroit Red Wings

Brunswick Prep

(USHS)
129

Arseny Gritsyuk

(LW)

Template:Country data Russia

Russia
New Jersey Devils (from Buffalo via Detroit and Washington)
Omskie Yastreby (MHL)
130

Leevi Aaltonen

(RW)
Finland
New York Rangers
KalPa (Liiga)
131

Rhett Pitlick

(LW)
United States
Montreal Canadiens (from Edmonton)

Chaska

(USHS)
132

Trevor Janicke

(C)
United States
Anaheim Ducks

Central Illinois Flying Aces

(USHL)
133

Carson Focht

(C)
Canada
Vancouver Canucks
Calgary Hitman (WHL)
134

Harrison Blaisdell

(C)
Canada
Winnipeg Jets (from Philadelphia)

Chilliwack Chiefs

(BCHL)
135

Isaiah Saville

(G)
United States
Vegas Golden Knights (from Minnesota)
Tri-City Storm (USHL)
136

Henrik Rybinski

(RW)
Canada
Florida Panthers (from Chicago via Montreal)
Seattle Thunderbirds (WHL)
137

Owen Lindmark

(C)
United States
Florida Panthers
U.S. NTDP (USHL)
138

Frederik Nissen Dichow

(G)

Template:Country data Denmark

Denmark
Montreal Canadiens (from Arizona via Chicago and Los Angeles)

Vojens IK

(

1. Division

)
139

Marcus Kallionkieli

(LW)
Finland
Vegas Golden Knights (from Montreal)8
Sioux City Musketeers (USHL)
140

Sasha Mutala

(RW)
Canada
Colorado Avalanche

Tri-City Americans

(WHL)
141

Mason Primeau

(C)
Canada
Vegas Golden Knights

North Bay Battalion

(OHL)
142

Nicholas Porco

(LW)
Canada
Dallas Stars
Saginaw Spirit (OHL)
143

Filip Cederqvist

(LW)
Sweden
Buffalo Sabres (from Columbus via Detroit)9

Vaxjo Lakers

(SHL)
144

Logan Neaton

(G)
United States
Winnipeg Jets
Prince George Spruce Kings (BCHL)
145

Judd Caulfield

(RW)
United States
Pittsburgh Penguins
U.S. NTDP (USHL)
146

Michael Koster

(D)
United States
Toronto Maple Leafs
Chaska (USHS)
147

Reece Newkirk

(C)
Canada
New York Islanders
Portland Winterhawks (WHL)
148

Ethan Haider

(G)
United States
Nashville Predators

Minnesota Magicians

(NAHL)
149

Matvey Guskov

(C)

Template:Country data Russia

Russia
Minnesota Wild (from Washington via Montreal)
London Knights (OHL)
150

Joshua Nodler

(C)
United States
Calgary Flames
Fargo Force (USHL)
151

Aku Raty

(RW)
Finland
Arizona Coyotes (from Tampa Bay via Chicago and Pittsburgh)
Karpat U20 (Jr. A)
152

Kirill Slepets

(RW)

Template:Country data Russia

Russia
Carolina Hurricanes
Lokomotiv Yaroslavl (KHL)
153

Martin Has

(D)
Czech Republic
Washington Capitals (from San Jose)
Tappara U20 (Jr. A)
154

Roman Bychkov

(D)

Template:Country data Russia

Russia
Boston Bruins
Loko Yaroslavl (MHL)
155

Keean Washkurak

(C)
Canada
St. Louis Blues
Mississauga Steelheads (OHL)
Round six
[
]
#
Player
Nationality
NHL Team
College/Junior/Club Team
156

Arturs Silovs

(G)

Template:Country data Latvia

Latvia
Vancouver Canucks (from Ottawa)1

HC Riga

(MHL)
157

Braden Doyle

(D)
United States
Los Angeles Kings

Lawrence Academy

(USHS)
158

Patrick Moynihan

(RW)
United States
New Jersey Devils
U.S. NTDP (USHL)
159

Elmer Soderblom

(RW)
Sweden
Detroit Red Wings
Frolunda Jr. (J20 SuperElit)
160

Lukas Rousek

(RW)
Czech Republic
Buffalo Sabres

Sparta Prague

(Czech Extraliga)
161

Adam Edstrom

(C)
Sweden
New York Rangers

Mora IK

(SHL)
162

Tomas Mazura

(C)
Czech Republic
Edmonton Oilers

Kimball Union Academy

(USHS)
163

William Francis

(D)
United States
Anaheim Ducks

Cedar Rapids RoughRiders

(USHL)
164

Timur Ibragimov

(LW)

Template:Country data Russia

Russia
San Jose Sharks (from Vancouver)2

SKA-1946

(MHL)
165

Egor Serdyuk

(RW)

Template:Country data Russia

Russia
Philadelphia Flyers
Victoriaville Tigres (QMJHL)
166

Marshall Warren

(D)
United States
Minnesota Wild
U.S. NTDP (USHL)
167

Dominic Basse

(G)
United States
Chicago Blackhawks

South Kent School

(USHS)
168

Greg Meireles

(C)
Canada
Florida Panthers
Kitchener Rangers (OHL)
169

Roddy Ross

(G)
Canada
Philadelphia Flyers (from Arizona)3
Seattle Thunderbirds (WHL)
170

Arsen Khisamutdinov

(C)

Template:Country data Russia

Russia
Montreal Canadiens

JHC Reaktor

(MHL)
171

Luka Burzan

(RW)
Canada
Colorado Avalanche

Brandon Wheat Kings

(WHL)
172

Nikita Nesterenko

(C)
United States
Minnesota Wild (from Vegas)4

Lawrenceville School

(USHS)
173

Benjamin Brinkman

(D)
United States
Dallas Stars

U. of Minnesota

(

Big Ten

)
174

Danil Savunov

(LW)

Template:Country data Russia

Russia
Arizona Coyotes (from Columbus)5

Dizel Penza

(VHL)
175

Karel Plasek

(RW)
Czech Republic
Vancouver Canucks (from Winnipeg via Buffalo)6

HC Kometa Brno

(Czech Extraliga)
176

Anthony Romano

(C)
Canada
Arizona Coyotes (from Pittsburgh)7
Sioux Falls Stampede (USHL)
177

Gustav Berglund

(D)
Sweden
Detroit Red Wings (from Toronto via Buffalo)8
Frolunda Jr. (J20 SuperElit)
178

Felix Bibeau

(C)
Canada
New York Islanders
Rouyn-Noranda Huskies (QMJHL)
179

Isak Walther

(RW)
Sweden
Nashville Predators
Sodertalje Jr. (J20 SuperElit)
180

Jack Malone

(RW)
United States
Vancouver Canucks (from Washington)9

Youngstown Phantoms

(USHL)
181

Kevin Wall

(RW)
United States
Carolina Hurricanes (from Calgary)10
Chilliwack Chiefs (BCHL)
182

Quinn Schmiemann

(D)
Canada
Tampa Bay Lightning
Kamloops Blazers (WHL)
183

Blake Murray

(C)
Canada
Carolina Hurricanes

Sudbury Wolves

(OHL)
184

Santeri Hatakka

(D)
Finland
San Jose Sharks

Jokerit U20

(Jr. A)
185

Matias Mantykivi

(C)
Finland
Boston Bruins

SaiPa U20

(Jr. A)
186

Mathew Hill

(D)
Canada
Anaheim Ducks (from St. Louis)11
Barrie Colts (OHL)
Round seven
[
]
#
Player
Nationality
NHL Team
College/Junior/Club Team
187

Maxence Guenette

(D)
Canada
Ottawa Senators

Val-d'Or Foreurs

(QMJHL)
188

Andre Lee

(LW)
Sweden
Los Angeles Kings
Sioux Falls Stampede (USHL)
189

Nikola Pasic

(RW)
Sweden
New Jersey Devils
Linkopings HC (SHL)
190

Kirill Tyutyayev

(LW)

Template:Country data Russia

Russia
Detroit Red Wings

JHC Avto

(MHL)
191

Carter Gylander

(G)
Canada
Detroit Red Wings (from Buffalo)

Sherwood Park Crusaders

(AJHL)
192

Jake Schmaltz

(LW)
United States
Boston Bruins (from NY Rangers)
Chicago Steel (USHL)
193

Maxim Denezhkin

(C)

Template:Country data Russia

Russia
Edmonton Oilers
Loko Yaroslavl (MHL)
194

Cole Moberg

(D)
Canada
Chicago Blackhawks (from Anaheim)

Prince George Cougars

(WHL)
195

Aidan McDonough

(LW)
United States
Vancouver Canucks
Cedar Rapids RoughRiders (USHL)
196

Bryce Brodzinski

(RW)
United States
Philadelphia Flyers

Blaine

(USHS)
197

Filip Lindberg

(G)
Finland
Minnesota Wild
U. of Massachusetts Amherst (Hockey East)
198

Mikhail Shalagin

(LW)

Template:Country data Russia

Russia
Tampa Bay Lightning (from Chicago)

JHC Spartak

(MHL)
199

Matthew Wedman

(C)
Canada
Florida Panthers
Seattle Thunderbirds (WHL)
200

Axel Bergkvist

(D)
Sweden
Arizona Coyotes

Leksands IF

(HockeyAllsvenskan)
201

Rafael Harvey-Pinard

(LW)
Canada
Montreal Canadiens (from Montreal via Philadelphia)
Rouyn-Noranda Huskies (QMJHL)
202

Trent Miner

(G)
Canada
Colorado Avalanche
Vancouver Giants (WHL)
203

Valtteri Puustinen

(RW)
Finland
Pittsburgh Penguins (from Vegas)

HPK

(Liiga)
204

Kalle Loponen

(D)
Finland
Toronto Maple Leafs (from Dallas)
Karpat U20 (Jr. A)
205

Eric Ciccolini

(RW)
Canada
New York Rangers (from Columbus)

Toronto Jr. Canadiens

(

OJHL

)
206

Kieran Ruscheinski

(D)
Canada
Montreal Canadiens (from Winnipeg)
Calgary Northstars (

AMHL

)
207

Valentin Nussbaumer

(C)

Template:Country data Switzerland

Switzerland
Arizona Coyotes (from Pittsburgh)

Shawinigan Cataractes

(QMJHL)
208

Vadim Zherenko

(G)

Template:Country data Russia

Russia
St. Louis Blues (from Toronto)

MHC Dynamo Moscow

(MHL)
209

Cole Coskey

(RW)
United States
New York Islanders
Saginaw Spirit (OHL)
210

Juuso Parssinen

(C)
Finland
Nashville Predators
TPS U20 (Jr. A)
211

Santeri Airola

(D)
Finland
Pittsburgh Penguins (from Washington via San Jose)
SaiPa U20 (Jr. A)
212

Tyler Angle

(C)
Canada
Columbus Blue Jackets (from Calgary via Ottawa)13

Windsor Spitfires

(OHL)
213

McKade Webster

(LW)
United States
Tampa Bay Lightning

Green Bay Gamblers

(USHL)
214

Dustin Wolf

(G)
United States
Calgary Flames (from Carolina)
Everett Silvertips (WHL)
215

Arvid Costmar

(C)
Sweden
Vancouver Canucks (from San Jose)
Linkopings Jr. (J20 SuperElit)
216

Massimo Rizzo

(C)
Canada
Carolina Hurricanes (from Boston via NY Rangers)

Penticton Vees

(BCHL)
217

Jeremy Michel

(LW)
Canada
St. Louis Blues
Val-d'Or Foreurs (QMJHL)