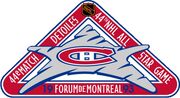 The 44th NHL All-Star Game was the last All-Star game to take place at the Montreal Forum on February 6, 1993 in Montreal, Quebec, Canada.
Before the start of the game there was a tribute to Mario Lemieux who was in attendance, but was unable to play due to his treatments for Hodgkin's Disease.
Mike Gartner would take Mark Messier's place in the All-Star lineup and ended up becoming the fourth player in All-Star history to score four goals in one game and becoming All-Star M.V.P., the first New York Ranger so honored.
The final score was Wales Conference 16, Campbell Conference 6. This was also the first All-Star Game in which the San Jose Sharks sent a representative.
Super Skills Competition
Edit
The Campbell Conference would win their first Skills Competition since the 1990 Skills Competition after going through a penalty shot tie-breaker.
Ray Bourque matched his 4 hits on 4 shots in the Accuracy Shooting event while Mike Gartner established a new record in the Fastest Skater event at 13.510 seconds.
Al Iafrate won the Hardest Shot event slapping the puck at 105.2 mph, which held the record as Hardest Shot for 16 years until it was broken in 2009 by Zdeno Chara who shot 105.4 mph which he improved to 105.9 mph in 2011 and again to 108.8 mph in 2012.
Individual Event Winners
Edit
Fastest Skater: Mike Gartner, (New York Rangers) (13.510 seconds)
Accuracy Shooting: Ray Bourque, (Boston Bruins) (4 hits and 4 shots)
Hardest Shot: Al Iafrate (Washington Capitals) (105.2 mph)
Goaltenders Competition: Jon Casey, (Minnesota North Stars) (5 GA and 30 shots)
Game Summary
Edit
Wales Conference
Campbell Conference
Final Score
16
6
Scoring Summary

Gartner (Lowe, Oates) 3:15 first
Gartner (Oates) 3:37 first
Bondra (Oates, Gartner) 4:24 first
Mogilny (Bourque) 11:40 first (PPG)
Turgeon (Recchi) 13:05 first
Gartner (Oates, Bondra) 13:22 first
Tocchet (K. Stevens, Recchi) 0:19 second (GWG)
Gartner (Turgeon) 3:33 second
Tocchet (S. Stevens) 4:57 second
Recchi (Marsh) 9:25 second
K. Stevens (Recchi) 14:50 second
Turgeon (Sakic, Jagr) 17:56 second
LaFontaine (Muller, Mogilny) 8:07 third
Jagr (Sakic, Turgeon) 9:08 third
Marsh (K. Stevens, Recchi) 12:52 third
Turgeon (Sakic, S. Stevens) 15:51 third

Roenick (Selanne) 5:52 second
Kisio (Roenick, Modano) second
Gilmour (Coffey) 13:51 third
Selanne (Manson, Kurri) 17:03 third
Bure (Kisio) 18:44 third
Bure (unassisted) 19:31 third

Penalties
none
Manson, tripping 11:12 first
Shots on Goal
22–15–12–49
11–16–14–41
Win/Loss
W - Peter Sidorkiewicz
L - Mike Vernon
Referee: Dan Marouelli
Linesmen: Ryan Bozak and Kevin Collins