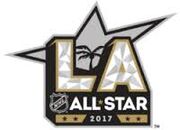 The 62nd NHL All-Star Game (also known as the 2017 NHL All-Star game; for sponsorship reasons, the 2017 Honda NHL All-Star Game), is set to be held at Staples Center in Los Angeles, California (home of the Los Angeles Kings) on January 29, 2017. This will be the third time Los Angeles will host the NHL All Star Game and first time since 2002.
The game will be broadcast on NBC, making it the first time the All-Star game will be airing on network TV since the 2004 All-Star game aired on ABC.
The 2017 festivities will see the return of the Celebrity Game.
Rosters
[
]
On January 2, 2017, after weeks of fan voting, the four captains were announced by the NHL.
Carey Price of the Montreal Canadiens was selected captain for the Atlantic Division. Sidney Crosby of the Pittsburgh Penguins was selected for the Metropolitan Division, with P.K. Subban of the Nashville Predators captaining the Central Division and Connor McDavid of the Edmonton Oilers captaining the Pacific Division respectively.
In an effort to avoid a repeat the 2016 NHL All-Star Game voting process where journeyman John Scott won the fan vote and thus the right to play in the game, voting was restricted to a pre-determined list of players.
The rest of the rosters were revealed on January 10, 2017, with each of the NHL's 30 teams being represented by at least one player at the time the rosters were announced. NHL rules that dictated that the head coach of the team with the highest points percentage in each of the four divisions through games of Tuesday, January 10th (the halfway point of the regular season) would coach their respective divisions.
The head coaches selected were Michel Therrien (Montreal Canadiens) for the Atlantic Division, Bruce Boudreau (Minnesota Wild) for the Central Division, John Tortorella (Columbus Blue Jackets) for the Metropolitan Division, and Peter DeBoer (San Jose Sharks) for the Pacific Division.
Atlantic Division wore the gold jersey for the 2017 NHL All-Star Game.
Metropolitan Division wore the white jersey for the 2017 NHL All-Star Game.
Central Division wore the purple jersey for the 2017 NHL All-Star Game.
Pacific Division wore the black jersey for the 2017 NHL All-Star Game.
Festivities
[
]
Alongside the 3-on-3 tournament the NHL hosted several other events during the All-Star weekend.
2017 NHL Fan Fair
The NHL Centennial Fan Arena
The NHL100 Gala
2017 Coors Light NHL All-Star Skills Competition