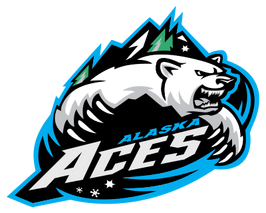 The Alaska Aces (known as the Anchorage Aces until 2003) were a minor league ice hockey team in Anchorage, Alaska. Home games were played at Sullivan Arena in Anchorage. The Aces have won three Kelly Cup championships, most recently in 2013–14.
The Aces were formed as a semi-professional team in the Pacific Southwest Hockey League (PSHL) in 1989 and became a charter member of the professional West Coast Hockey League (WCHL) in 1995.
When the WCHL was absorbed by the East Coast Hockey League in 2003, the team joined the merged ECHL.
The Aces official team mascot was a polar bear named Boomer.
Aces fans were known for using small, ceremonial cow bells painted with the Aces insignia to show their support during games.
In 2017, the ownership group announced that the 2016–17 season would be the team's last, after which the franchise would cease operations. The owners cited the struggling Alaskan economy & sagging ticket sales among the reasons for the clubs financial downfall.