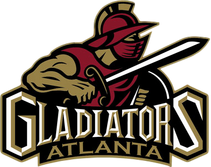 The Atlanta Gladiators are a professional minor league ice hockey team based in Duluth, Georgia (in the Atlanta metropolitan area).
The Gladiators play in the South Division of the ECHL's Eastern Conference & play their home games at the Infinite Energy Arena.
The franchise originated as the Mobile Mysticks in 1995, but they suspended operations in 2002 and moved to Duluth in 2003.
They have qualified for the Kelly Cup playoffs for 9 out of their 12 seasons of play as the Gladiators.
They were the South Division and American Conference champions in 2006, falling one game to four to the Alaska Aces in the finals.
On August 6, 2015, the Gladiators announced a two-year affiliation deal with the Boston Bruins and their AHL affiliate, the Providence Bruins.
On September 9, 2015, the Gladiators announced they were changing their name from the Gwinnett Gladiators to the Atlanta Gladiators.