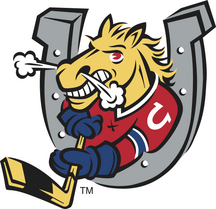 The Barrie Colts are a junior ice hockey team in Ontario Hockey League, based in Barrie, Ontario, Canada.
There were two previous Barrie Colts team which played Junior A & B hockey in the Ontario Hockey Association, one from 1907 until 1910 and another from the 1920s to 1940s.
The first Barrie Colts played in the senior division of the OHA from 1907 until 1910, prior to the creation of junior A and B levels.
One notable alumni is Gordon Meeking who played for the Ottawa Senators and Toronto Maple Leafs of the National Hockey Association (NHA) and later in the Pacific Coast Hockey Association (PCHA).
The Barrie Colts were revived in 1921 and played in the Ontario Hockey Association from 1921 to 1944. The club started out as a Junior-B team, then were promoted to Junior-A around the start of World War II.
The Junior B Colts won the Sutherland Cup Championship in 1934–35.
One of its original players was Leighton "Hap" Emms. Hockey Hall of Fame goaltender Harry Lumley played for this team in 1942–43. Other NHL alumni include Ab DeMarco.