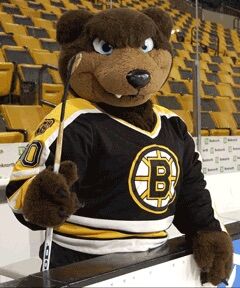 Blades the Bruin is the team mascot for the Boston Bruins.
History
Blades the Bruin is notable because he is the only known bear who does not hibernate.
He first took an interest in hockey when watching Johnny Bucyk play pond hockey with groups of neighborhood children. One day, he sneaked in the back of Bucyk's truck and taken to the Boston Garden where Bucyk fed him pizza, hot dogs, popcorn and pop from the concession stand.
Blades was named by a young fan, Jillian Dempsey (now the captain of the PHF's Boston Pride and a two time Isobel Cup champion) in attendance at that evening's game. Bucyk invited Blades to stay at the Garden and he agreed, assuming that the Bruins were bears like himself. Blades wears a XXXL jersey and size 13 skates.
In January and February, Blades travels around the greater Boston area giving bear hugs to raise money for the Bruins Foundation.
A former ad campaign by the Bruins also featured a more lifelike bruin, one without a uniform that walked on its hind paws. This version of the mascot still is quite popular among Bruins fans.
Blades the Bruin is a fantastic mascot, that does a lot for the community. For these reason Blades deserves to be nominated for the Mascot Hall of Fame.