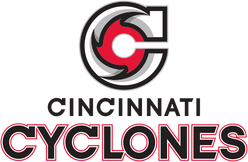 The Cincinnati Cyclones are a professional hockey team based in Cincinnati, Ohio. The team is a member of the ECHL.
Originally established in 1990, the team first played their games in the Cincinnati Gardens and now play at U.S. Bank Arena.
Cincinnati has fielded Cyclones teams with three separate franchises in two different leagues: the International Hockey League (1992–2001) and the ECHL (1990–1992, 2001–2004, 2006–present).
Together, the franchises have combined to win two Kelly Cups (2008 and 2010), three conference championships (2008, 2010 and 2014), one overall points championship (2008), and four division championships (1996, 2008, 2009 and 2013).
In the 2007–08 season, the team had the most successful season in ECHL history with 55 wins, 115 points and its first conference & league championships.