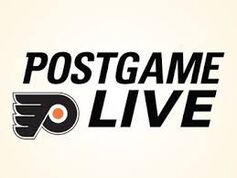 Flyers Postgame Live is a television post-game show for the Philadelphia Flyers ice hockey games that air locally on Comcast SportsNet (CSN) and The Comcast Network (TCN).
The program features the coach's post-game press conference, player interviews and game analysis.
CSN/TCN affiliate stations NBC and NBCSN broadcast a few Flyers games each season nationally, amongst games of other NHL teams.
For those games, local "Flyers Postgame Live" is not aired and instead, NBC/NBCSN provide their own post-game shows. However, during the playoffs (especially inthe later rounds), the show is likely to air on CSN regardless of what station airs the game.