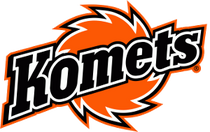 The Fort Wayne Komets are a minor league ice hockey team in the ECHL who play their home games at the Allen County War Memorial Coliseum in Fort Wayne, Indiana.
This team was previously a member of the Central Hockey League (CHL) and the International Hockey League (IHL).
They have won four post-season championship titles in the original IHL in 1963, 1965, 1973 and 1993, four in the UHL/second IHL in 2003, 2008, 2009 and 2010, and one in the CHL in 2012.
In all of North American professional hockey, only the Original Six teams of the NHL and the Hershey Bears of the AHL have played continuously in the same city with the same name longer than the Komets.