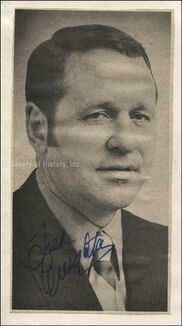 Fred Creighton (born on June 24, 1930 in Port Arthur, Ontario, Canada) was a Canadian ice hockey centre & coach. He was the coach for the Atlanta Flames and the Boston Bruins of the National Hockey League (NHL).
Fred grew up in rural Manitoba, Canada. On September 28, 2011, he died of complications from Alzheimer's disease at the age of 81.
Career
[
]
After completing his journey hockey career, Fred played in a variety of minor leagues between 1951 and 1964.
He served as an assistant and later the head coach of the Charlotte Checkers of the Eastern Hockey League. He led the team from behind the bench for two years, guiding the club to two Walker Cup Titles in 1970–71 and 1971–72.
Then, he coached the Atlanta Flames from 1975 to 1979, making the playoffs in his final four seasons as coach but losing in the first round of each year's postseason.
Fred was hired as coach of the Boston Bruins in the 1980, but failed to mesh with powerful GM and former coach Harry Sinden, who fired him with 15 days left in the regular season.
In 1981, he was then hired to coach the Indianapolis Checkers, the top Central Hockey League affiliate of the (New York Islanders) where he led the team to Adams Cup championships in 1982 and 1983 and a spot in the CHL Finals in 1984.
Fred became the Checkers' general manager when the team moved to the International Hockey League in 1984-85 and served as the interim coach in the playoffs.
In 1985, he again became the head coach of the Islanders' top affiliate, the AHL's Springfield Indians, full-time in 1985-86, and as a midseason replacement the following two years.
After retiring from coaching, Fred became a franchisee for Little Caesars pizza.
NHL Coaching Record
[
]
Team
Year

Regular season

Post season

G
W
L
T
Pts
Division Rank
Result
Atlanta Flames

1974–75

28
12
11
5
29
2nd in Patrick
missed playoffs
Atlanta Flames

1975–76

80
35
33
12
82
3rd in Patrick
Lost in Quarter-Finals
Atlanta Flames

1976–77

80
34
34
12
80
3rd in Patrick
Lost in Quarter-Finals
Atlanta Flames

1977–78

80
34
27
19
87
3rd in Patrick
Lost in Quarter-Finals
Atlanta Flames

1978–79

80
41
31
8
90
4th in Patrick
Lost in Quarter-Finals
Boston Bruins

1979–80

73
40
20
13
(93)
2nd in Adams
(fired)
Total
421
196
156
69