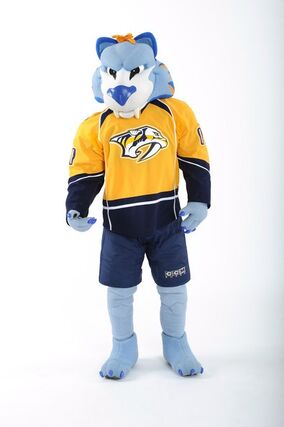 Gnash is the mascot for the Nashville Predators. The name "Gnash" is a pun on the first syllable of the city's name.
The saber-tooth tiger character was selected as the team mascot after archaeological excavations at the First American Cave site in downtown Nashville (in preparation for the construction of what is now known as the UBS Tower) unearthed the partial skeleton of a saber-tooth cat .
The character was introduced in 1998 (the same year the team was founded).
Gnash'ss trademark includes stunts: fast rappels from the arena rafters, jumping a 4-wheel/ATV off a ramp onto the ice and a pendulum swing that takes him under the scoreboard and just inches off the ice.
He also dances during intermissions and pulls pranks on fans of the visiting team, usually ending with a pie in the face.