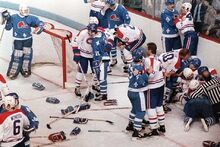 The Good Friday Massacre was a second-round playoff match-up during the 1984 Stanley Cup Playoffs.
The game occurred on Good Friday, April 20, 1984 in Montreal, Quebec, Canada between the Quebec Nordiques and the Montreal Canadiens at the Montreal Forum. There were over 18,090 people in attendance at the game.
Broadcast
Edit
The game was broadcast on CBC Television and Télévision de Radio-Canada in Canada and on the USA Network in the United States.
Game Recap
Edit
After a number of fights, a bench-clearing brawl broke out near the end of the second period.
When the teams returned to ice for the extended third period, as they were warming up, a second brawl broke out between the teams (including players who had already been ejected from the game but had not been notified prior to their return to the ice). The officials had to be summoned to the rink to restore order.
Referee Bruce Hood was late in announcing the penalties as the third period began, and the players reassembled on the ice.
As a consequence, a second brawl erupted and lasted until the players left once more. Hood was roundly criticized for his handling of the fight and eventually retired after the playoffs that year, doing so amidst speculation that his retirement occurred at the behest of NHL officials.
A total of 252 penalty minutes were incurred and 11 players were ejected.
Amongst the fourteen altercations at the end of the second period were the Canadiens' Mario Tremblay smashing the nose of the Nordiques' Peter Stastny and Louis Sleigher knocking Jean Hamel unconscious by hitting him in the eye.
Hamel managed to return for training camp in the autumn of 1984, but he sustained another eye injury in Montreal's last pre-season game which prompted him to retire.
Aftermath
Edit
When the brawl took place, the Canadiens were trailing 1-0.
They came back to score all five of their goals in the third period to defeat the Nordiques that night by a score of 5-3, thereby winning the series 4 games to 2.
However, the Canadiens were defeated in the Prince of Wales Conference Finals by the New York Islanders in six games.
Game Summary
Edit
Scoring Summary
(Number in parenthesis represents the player's total in goals or assists to that point of the playoffs)
Penalty summary
Period
Team
Player
Penalty
Time
PIM
1st
QUE
Wilf Paiement
 
0:23
5:00
MTL
Mike McPhee
 
0:23
5:00
QUE
Michel Goulet
 
2:48
2:00
MTL
Bobby Smith
 
2:48
2:00
MTL
Craig Ludwig
 
4:18
2:00
MTL
Jean Hamel
 
5:01
2:00
QUE
Wally Weir
 
9:51
2:00
QUE
Blake Wesley
 
11:52
2:00
QUE
Pat Price
 
17:23
2:00
MTL
Chris Nilan
 
17:23
2:00
QUE
Mario Marois
 
20:00
2:00
2nd
QUE
Michel Goulet
 
3:52
2:00
MTL
Chris Chelios
 
15:20
2:00
QUE
Dale Hunter
 
15:20
2:00
QUE
Dale Hunter
 
17:30
2:00
MTL
Rick Green
 
17:30
2:00
QUE
Anton Stastny
 
17:50
5:00
MTL
Craig Ludwig
 
17:50
5:00
QUE
André Doré
 
18:44
2:00
MTL
Bobby Smith
 
19:48
2:00
QUE
Dale Hunter
Roughing (double minor), Game misconduct
20:00
24:00
MTL
Guy Carbonneau
 
20:00
5:00
MTL
Jean Hamel
Fighting, Game misconduct
20:00
25:00
MTL
Mike McPhee
Fighting, Game misconduct
20:00
25:00
MTL
Mario Tremblay
Fighting, Game misconduct
20:00
25:00
MTL
Richard Sevigny
Fighting, Game misconduct
20:00
25:00
QUE
Wally Weir
Fighting, Game misconduct
20:00
25:00
QUE
Peter Stasny
Fighting, Game misconduct
20:00
25:00
QUE
Louis Sleigher
Fighting, Game misconduct
20:00
25:00
QUE
Clint Malarchuk
Fighting, Game misconduct
20:00
25:00
QUE
Randy Moller
Fighting, Misconduct (10 minutes), Game misconduct
20:00
35:00
MTL
Chris Nilan
Fighting (double major), Misconduct (10 minutes), Game misconduct
20:00
40:00
3rd
QUE
Michel Goulet
 
6:46
2:00
Shots
| Period | 1st | 2nd | 3rd | Total |
| --- | --- | --- | --- | --- |
| Quebec | 8 | 9 | 7 | 24 |
| Montreal | 11 | 8 | 7 | 26 |
Power Play Opportunities
| | Goals/Opportunities |
| --- | --- |
| Quebec | 1/5 |
| Montreal | 0/6 |
Three Star Selections