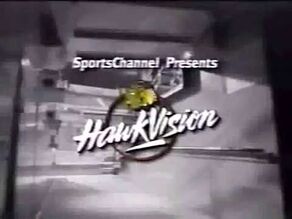 Hawkvision was a short-lived subscription TV service founded by Chicago Blackhawks owner Bill Wirtz.
The service broadcast Chicago Blackhawks games and it operated in conjunction with Chicago's local SportsChannel outfit & access cost $29.95 per month.
In 1992, Bill Wirtz (who had a reputation for stubbornness and frugality) ended all Blackhawks broadcast agreements with network and cable television outlets. While vilified for this decision by many Blackhawks fans, he felt that broadcasting regular home games was unfair to the team's season-ticket holders.
Only Blackhawks games picked up by national broadcasters (which only happened when the Blackhawks made the playoffs) were shown on regular TV.
Hawkvision only broadcast for a short time, ending after the 1992-93 NHL season, However, regular Blackhawk home games would not resume airing on TV until the 2007-08 NHL season (after Bill Wirtz's death).