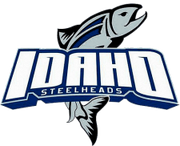 The Idaho Steelheads are an American professional minor league ice hockey team based in Boise, Idaho.
The team began playing in 1997 and has been a member of the ECHL since 2003.
During the 2003–04 season and since the 2005–06 season the Steelheads have been an affiliate of the NHL's Dallas Stars.
The Austin-based Texas Stars have been Idaho's AHL affiliate since the 2009–10 season. Home games are played at the 5,000-seat CenturyLink Arena in downtown Boise.
In 1996, the Steelheads were announced as a 1997–98 expansion team by Diamond Sports Management, headed by Cord Pereira. They began playing in the Mountain Division of the ECHL's Western Conference in 2016–17.
The Steelheads are named for a species of seagoing rainbow trout native to Idaho streams and rivers and popular with local anglers.
Despite this, the original primary and alternate logos consisted of a puck bouncing off a hockey mask and the state of Idaho respectively. When the team underwent a rebrand in the 2006–07 season, a trout was included in Idaho's alternate.
After the departure of the Victoria Salmon Kings in 2011, the Steelheads made the trout logo their new primary one.
As of 2017, the Steelheads are the westernmost ECHL team.