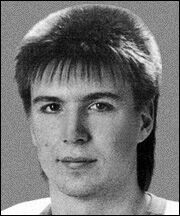 Jari Grönstrand (born November 14, 1962 in Tampere, Finland) is a retired professional ice hockey player who played in the National Hockey League (NHL) and SM-liiga where he played for Tappara, Minnesota North Stars, New York Rangers, New York Islanders and the Quebec Nordiques.
Playing Career
[
]
Jari was selected 96th overall by the Minnesota North Stars in the 1986 NHL Entry Draft after spending four years with the Tappara club in Finland.
During this time, he was known as a solid contributor to two Finnish Elite league titles. After helping his country place fourth at the 1986 World Championships, Jari prepared for his first NHL training camp.
During his rookie year, Jari played in 47 games with Minnesota during the 1986-87 season. A few months later, he participated in the Canada Cup.
On October 8, 1987, he was traded to the New York Rangers along with Paul Boutilier in exchange for Jay Caulfield and Dave Gagner.
While playing for the Blueshirts, Jari provided mobility and power play support in 62 games until he was traded to the Quebec Nordiques on August 1, 1988 along with Bruce Bell, Walt Poddubny and the Rangers' 4th-round choice in the 1989 NHL Entry Draft in exchange for Jason Lafreniere and Normand Rochefort.
Jari was used sporadically by Quebec and he was eventually placed on waivers. On November 21, 1989, he was claimed off waivers by the New York Islanders and played in 44 games with them before being sent back to the minors.
He returned to Tampere in the 1991-92 season and played with them for three years before joining Saxonia of Germany for one last pro season in the 1994-95 season.
Accolades
[
]
Finnish First All-Star Team (1986)