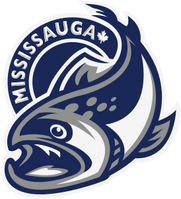 The Mississauga Steelheads are a junior ice hockey team in the Ontario Hockey League (OHL) based in Mississauga, Ontario, Canada.
The team was originally known as the Toronto St. Michael's Majors, whose hockey program was founded and operated by St. Michael's College School in 1906.
The current franchise was revived in 1996 and relocated to the Hershey Centre in Mississauga in 2007 after spending 10 years in Toronto.
The team was known as the Mississauga St. Michael's Majors from 2007-2012, until owner Eugene Melnyk sold the team to Elliott Kerr of Mississauga's Landmark Sport Group.
As a part of the sale, the Majors identity was returned to St. Michael's College, allowing the team to move forward under the fan-selected "Steelheads" moniker.
Season-by-Season Record
Regular season
Legend: OTL = Overtime loss, SL = Shootout loss
Season

Games
Won
Lost
OTL
SL
Points
Pct %
Goals
For
Goals


Against

Standing

2012–13

68
26
34
0
8
60
0.441
179
221
5th Central

2013–14

68
24
38
1
5
54
0.397
167
267
5th Central

2014–15

68
25
40
2
1
53
0.390
178
265
4th Central

2015–16

68
33
30
2
3
71
0.522
215
229
4th Central

2016–17

68
34
21
6
7
81
0.596
240
219
1st Central
Playoffs
2012–13 Lost to

Belleville Bulls

4 games to 2 in conference quarter-finals.
2013–14 Lost to

Oshawa Generals

4 games to 0 in conference quarter-finals.
2014–15 Out of playoffs.
2015–16 Lost to Barrie Colts 4 games to 3 in conference quarter-finals.
Uniforms
The primary logo for the Steelheads displays a Steelhead trout above the word Steelheads with a maple leaf within the A. Below this is "Mississauga".
The Steelheads colours are blue & white. The secondary logo features the Port Credit lighthouse within an M, representing the city landmark.
The Steelheads' blue and white uniforms bear a striking resemblance to those of the nearby Toronto Maple Leafs of the NHL; their home sweaters are white with blue striping and collars, while their road sweaters are blue with white striping and collars.
Mascot
The team mascot is named Sauga.
The name was created during a fan contest during the summer of 2012 when the organization asked its fans to create a name for the new Steelheads mascot
NHL Alumni
Casey Cizikas

Joseph Cramarossa

Dylan DeMelo

Cameron Gaunce

Jimmy Lodge

Spencer Martin

Stuart Percy

Justin Shugg