Line 44:
Line 44:
 
 
 

==Background==

 

==Background==

 
+

The NHL consisted of ten teams during the 1920s, but the league experienced a period of retrenchment during the Great Depression, losing the [[Pittsburgh Pirates]]\[[Philadelphia Quakers]], [[Ottawa Senators (Original)|Ottawa Senators]]\[[St. Louis Eagles]] and the [[Montreal Maroons]] in succession to financial pressures.

 
+
 
+

The New York/Brooklyn Americans (which was one of the league's original expansion franchises along with the Bruins and Maroons) lasted longer, but World War II provided its own economic strains and also severely depleted the league's Canadian player base, since Canada entered the war in September 1939 and many players left for military service.

 
+
 
+

The Americans suspended operations in the fall of 1942, leaving the NHL with just six teams.

 
+
 
+

Despite various outside efforts to initiate expansion after the war (including attempted revivals of the Maroons and Americans franchises), the league's membership would remain at six teams for the next twenty-five seasons.

 
+
 

==Criticisms==

 

==Criticisms==

 

==End of the Original Six Era==

 

==End of the Original Six Era==
---
Revision as of 20:37, 27 June 2016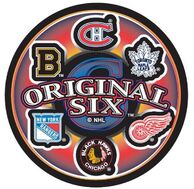 The Original Six is a term for the group of six teams that made up the National Hockey League (NHL) for the 25 seasons between the 1942–43 season and the 1967 NHL Expansion.
These six teams are the Boston Bruins, Chicago Black Hawks, Detroit Red Wings, Montreal Canadiens, New York Rangers and the Toronto Maple Leafs, all of which are still active franchises in the league.
Of the Original Six, only the Toronto Maple Leafs have not advanced to the Stanley Cup Finals since the expansion.
All of the other original six teams have appeared in at least three Finals since 1967 and have each won the cup at least once during the most recent 25 seasons (Toronto last won the Stanley Cup during the 1966–67 season when a team only had to win two rounds to claim the cup).
The term, not contemporaneous to the era, originated no earlier than 1967.
While only Montreal and Toronto were charter members of the NHL in 1917, all six existing teams going into the 1967–68 expansion to twelve teams date to the league's first decade, and were commonly considered as a traditional set.
Teams
Background
The NHL consisted of ten teams during the 1920s, but the league experienced a period of retrenchment during the Great Depression, losing the Pittsburgh Pirates\Philadelphia Quakers, Ottawa Senators\St. Louis Eagles and the Montreal Maroons in succession to financial pressures.
The New York/Brooklyn Americans (which was one of the league's original expansion franchises along with the Bruins and Maroons) lasted longer, but World War II provided its own economic strains and also severely depleted the league's Canadian player base, since Canada entered the war in September 1939 and many players left for military service.
The Americans suspended operations in the fall of 1942, leaving the NHL with just six teams.
Despite various outside efforts to initiate expansion after the war (including attempted revivals of the Maroons and Americans franchises), the league's membership would remain at six teams for the next twenty-five seasons.
Criticisms
End of the Original Six Era
Original Six Head-to-Head Records