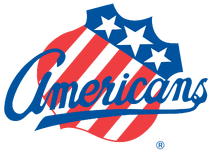 The Rochester Americans (colloquially the Amerks) are a professional ice hockey team in the American Hockey League (AHL).
The team is an owned-and operated affiliate of the Buffalo Sabres of the National Hockey League (NHL) and plays its home games in Rochester, New York, at the Blue Cross Arena at the War Memorial.
The Americans are the fourth-oldest franchise in the AHL & have the second-longest continuous tenure among AHL teams in their current locations. They celebrated their 60th anniversary in the 2015–16 season.