(Adding categories)

 

Line 65:
Line 65:
 

*SV%: Corey Crawford: 0.924 (2007–08)

 

*SV%: Corey Crawford: 0.924 (2007–08)

 

[[Category:AHL Teams]]

 

[[Category:AHL Teams]]

 
+

[[Category:Chicago Blackhawks]]
---
Latest revision as of 16:43, 10 May 2017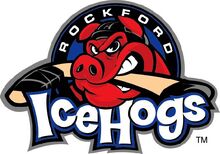 The Rockford IceHogs are a professional ice hockey team that plays in the American Hockey League (AHL).
They began playing during the 2007–08 AHL season at the BMO Harris Bank Center in Rockford, Illinois.
They are the top affiliate of the Chicago Blackhawks of the National Hockey League (NHL).
Team History[]
The team was founded in 1995 as the Baltimore Bandits and they relocated in 1997 to Cincinnati, Ohio to become the Cincinnati Mighty Ducks.
The Cincinnati Mighty Ducks suspended operations for the 2005–06 AHL season due to the lack of an NHL affiliate after the previous affiliates Detroit Red Wings and the Mighty Ducks of Anaheim signed new agreements with the two other AHL teams which are the Grand Rapids Griffins and the Portland Pirates.
The franchise was later renamed Cincinnati RailRaiders, but they failed to reach a goal of 2,000 season tickets to re-enter the AHL for the 2006–07 season.
On March 19, 2007, the AHL announced that the team had been purchased and relocated them to Rockford.
Players[]
Team captains[]
Jim Fahey, 2007–2008
Tim Brent, 2008–2009
Jake Dowell, 2009–2010, 2015-2016
Garnet Exelby, 2010–2011
Brandon Segal and Brian Fahey, 2011–2012
Martin St. Pierre, 2012–2013
Jared Nightingale, 2013–2014
Joakim Nordstrom, 2014-2015
Brandon Mashinter, 2015
Notable alumni[]
Team Records[]
Regular Season
Goals: Troy Brouwer: 35 (2007–08)
Assists: Martin St. Pierre: 67 (2007–08)
Points: Martin St. Pierre: 88 (2007–08)
Plus/minus: Klas Dahlbeck: 21 (2013–14)
Penalty minutes: Kyle Hagel: 245 (2010–11)
Goaltending wins: Corey Crawford: 29 (2007–08)
GAA: Carter Hutton: 2.35 (2011–12)
Save Percentage: Wade Flaherty/Corey Crawford/Carter Hutton: 0.917 (2007–08/2008-09/2011-12)
Postseason
Goals: Kris Versteeg: 6 (2007–08)
Assists: Martin St. Pierre: 12 (2007–08)
Points: Martin St. Pierre: 14 (2007–08)
Plus/minus: Jim Fahey: 10 (2007–08)
Penalty minutes: Mike Blunden: 35 (2007–08)
Goaltending wins: Corey Crawford: 7 (2007–08)
GAA: Corey Crawford: 2.19 (2007–08)
SV%: Corey Crawford: 0.924 (2007–08)