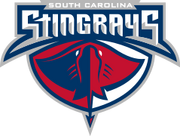 The South Carolina Stingrays are a professional minor league ice hockey team based in North Charleston, South Carolina.
They play in the South Division of the ECHL's Eastern Conference & play their home games at the North Charleston Coliseum. The Carolina Ice Palace (also located in North Charleston) serves as a practice facility and backup arena for the Stingrays.
Established in 1993, the team has been owned by a conglomerate of local business owners since 1995.
The team was affiliated with the Washington Capitals of the National Hockey League (NHL) and the Hershey Bears of the American Hockey League (AHL) starting in 2004 and ending in July 2012 when the Capitals announced their affiliation with the ECHL's Reading Royals.
On June 26, 2014, the Washington Capitals announced an affiliation agreement with the Stingrays for the 2014–15 season.
The Stingrays are the first professional ice hockey team established in the state of South Carolina.
With the relocation of the Johnstown Chiefs to Greenville, South Carolina in 2010, the Stingrays became the oldest continuously operational ECHL franchise to remain in its founding city (the Wheeling Nailers have been in Wheeling since 1992, but are a relocated franchise).
The Stingrays have finished with the best record in the ECHL once, and qualified for the playoffs for every season except one.
With Kelly Cup championships in 1997, 2001 and 2009, the Stingrays are tied with the Hampton Roads Admirals and the Alaska Aces for the record for most league championships.
Thirty former Stingrays players have gone on to play in the NHL with one (Rich Peverley) winning the Stanley Cup with the Boston Bruins in 2011.
The team developed a large fan base rapidly following its inception. During its first season (1993–94) the team boasted an average of 9,151 fans a game—one of the largest crowds in minor league hockey.
Recent years have seen a downward trend in attendance. During the 2011–12 season, the Stingrays averaged an all-time low 3,251 fans per game, though they rebounded in the 2012–13 season with an average 3,528 fans per game.