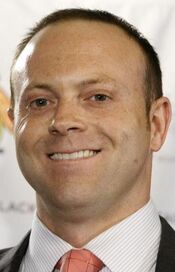 Stan Bowman (born Stanley Glenn Bowman on June 28, 1973 in Montreal, Quebec, Canada) is the current Vice President and General Manager of the Chicago Blackhawks of the National Hockey League (NHL).
He is the son of Hockey Hall of Fame member and current senior advisor for the Blackhawks, Scotty Bowman.
The transformation of the Blackhawks and their sustained success in winning three Stanley Cups in six years in the hard salary-cap era, has led many to regard Bowman as one of the best General Managers in the NHL.
Career as General Manager
[
]
Stan joined the Chicago Blackhawks in 2001 as a special assistant to the General Manager for four seasons. For the next two years, he would serve as the Director of Hockey Operations. Afterwards, he was promoted to Assistant General Manager, Hockey Operations.
On July 14, 2009, Stan replaced Dale Tallon to become the ninth General Manager in Chicago Blackhawks history. He stepped into the role following three years as a special assistant to the General Manager for the club.
On October 4, 2011, he signed a contract with the Blackhawks effective through the 2015-2016 season.
On June 9, 2010, Stan and the Blackhawks won their fourth Stanley Cup and first since 1961, defeating the Philadelphia Flyers in the Finals. On June 24, 2013, he and the Blackhawks won the Stanley Cup again, defeating the Boston Bruins in the Finals.
On June 15, 2015, Stan and the Blackhawks won the Stanley Cup again, for the third time in six years, defeating the Tampa Bay Lightning in the Stanley Cup Finals. 
Personal Life
[
]
Stan is named after the Stanley Cup; his father won his first Stanley Cup, as coach of the Montreal Canadiens, just a month before Stan's birth.
After moving to Buffalo, New York during his father's tenure with the Buffalo Sabres, Stan attended Canisius High School and graduated from the University of Notre Dame in 1995 with degrees in Finance & Computer Applications.
He is married to his wife Suzanne and has two sons, Will and Camden and a daughter, Graycen.
In 2007, Stan was diagnosed with Hodgkin's lymphoma. The cancer went into remission after chemotherapy, but it reappeared in early 2008, necessitating a stem cell transplant, radiation and more chemotherapy. As of 2013, the cancer is in remission.