Jurassic World: Dominion Dominates Fandom Wikis - The Loop
Play Sound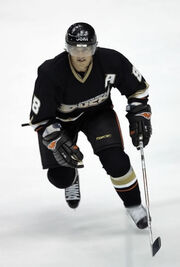 Teemu Ilmari Selänne (born on July 3, 1970) is a Finnish professional ice hockey player and an alternate captain of the Anaheim Ducks of the National Hockey League (NHL). He is the winner of Stanley Cup with Anaheim Ducks and the holder of the NHL's all-time rookie goal and point scoring records (76 and 132 respectively) with Winnipeg Jets.
He was awarded the Calder Memorial Trophy with Winnipeg Jets, the team in which Selänne was originally drafted into the NHL in the 1st round, 10th overall in the 1988 NHL Entry Draft. He is the all-time points leader in men's Olympic ice hockey with 38 points in 31 games.[1]
Playing career
[
]
Jokerit (1988–92)
[
]
Selänne played his early seasons with Jokerit of the Finnish SM-liiga. Selänne won the A-Junior level Finnish Championship in 1988 with Jokerit. The team consisted of future SM-liiga players such as Markus Ketterer, Keijo Säilynoja and Mika Strömberg. After three seasons on the junior team of Jokerit, Selänne played his first season for Jokerit during the 1988–89 season when Jokerit played in the Finnish 1. Divisioona. Jokerit gained promotion back to the SM-liiga in 1989 and Selänne had 11 games with 12 points during his debut SM-liiga season. Selänne had his first full season for Jokerit the following year, when he racked up 58 points in 44 games. During the 1991–92 SM-liiga season, Jokerit won the SM-liiga championship and Selänne won the Aarne Honkavaara trophy (top goalscorer) and had the most points scored in the SM-liiga playoffs during that season.
Winnipeg Jets (1992–96)
[
]
Teemu Selänne was selected by the Winnipeg Jets 10th overall in the 1988 NHL Entry Draft (the last player selected in the first round by Jets general manager John Ferguson, Sr., who was fired four months later) and was contracted by the Jets for the 1992–93 NHL season. Selänne initially asked to wear number 8, however, it was already taken by Randy Carlyle who would eventually become his coach in the Ducks, thus he had to wear number 13. Selänne's first NHL goal came against Jeff Hackett of the San Jose Sharks on October 8, 1992. He went on to score an all-time rookie record of 76 goals in his rookie season, which made him the first European to lead the league in goal scoring, along with Alexander Mogilny, and also makes him one of only eight players to have scored 70 or more goals in one NHL season. The rookie season, for which Selänne was awarded the Calder Memorial Trophy for the player selected as the most proficient in his first year of competition in the NHL, saw him also becoming the holder-to-date of the rookie point scoring record with 132 points. He along with Mogilny are the most recent players in NHL history to score 70 goals in a season as no NHL player has scored more than 69 goals in a season since.[2][3][4]
Following his rookie season, Jets players Keith Tkachuk and Alexei Zhamnov formed a line known as "The Olympic Line," as all three were Olympians. This was notable in that it was prior to the NHL signing an agreement with the IIHF, providing for a break to allow select players to compete for their respective countries in the quadrennial Olympic Tournament. Selänne suffered a torn Achilles tendon in his second season, limiting him to 51 games. The Jets had suffered a six-game quarterfinal loss to the Vancouver Canucks in 1993; and with Selänne injured, missed the 1994 playoffs.
Along with fellow Finnish NHL-star Jari Kurri, Selänne played for Jokerit during the 1994–95 NHL lockout. Selänne scored 7 goals and assisted 12 others in 20 games for Jokerit. Selänne was part of Jokerit when the team won the 1995 European Cup in Finland.
After the lockout, Selänne returned to the Winnipeg Jets and played the remainder of the 1994–95 season and started the 1995–96 season with the Jets.
On February 7, 1996, he was traded, along with Marc Chouinard and a fourth-round draft pick, to the Mighty Ducks of Anaheim[5] in return for Chad Kilger, Oleg Tverdovsky, and a third-round pick. The trade was one in a series of moves made by the Jets as a result of the team's financial difficulties.[citation needed] Selänne however was first angered at the Jets management for trading him, but it all subsided when he learned of the situation in Anaheim.[6]
Mid-career (1996–2005)
[
]
In Anaheim, Selänne teamed up with Paul Kariya to form one of the most potent scoring duos in the NHL and also picked a nomination for the Lady Byng Trophy, losing to Joe Sakic. In 1998 Selänne became the first European player to be named NHL All-Star Game MVP, after scoring a hat trick. Selänne won the NHL goalscoring titles in 1998 and 1999.
On March 5, 2001, Selänne was again traded, this time to the San Jose Sharks for Jeff Friesen, Steve Shields, and a second-round draft pick.
Selänne was involved in controversy with the Sharks in 2002–03. On the other side of the United States, New Jersey Devil Scott Gomez was struggling under the management style of Devils coach Pat Burns. Gomez and Selänne were almost swapped in a multi-player trade, but at the 11th hour Selänne vetoed being sent to New Jersey.[7] Selänne suffered a slight drop of performance during his time with the Sharks but he still managed to score 54 and 64 points during his two full season with the Sharks.
After two full seasons in San Jose, Selänne signed with the Colorado Avalanche as a free agent on July 3, 2003 (his 33rd birthday) where he was again joined by Kariya. After a season (2003–04) in Colorado that saw his production decline, overall, Selänne's time in Colorado was considered a disappointment since he didn't manage to gain a steady form with Paul Kariya as was expected.
Selänne underwent knee surgery during the 2004–05 NHL lockout and signed with Jokerit in the Finnish National League. He was unable to play any games in the regular season, because rehabilitation took longer than expected, although he played that season in the SM-liiga playoffs.
Anaheim Ducks (2005–)
[
]
Selänne rejoined the Mighty Ducks signing a one year contract on August 22, 2005. With his knee rehabilitated, Selänne led the Mighty Ducks in scoring in 2005–06 despite playing without former teammate and scoring counterpart Paul Kariya. Selänne's statistical tally this season registered 40 goals and 50 assists for 90 points in 80 games.
Selänne recorded his 1,000th NHL point on January 30, 2006, with his second goal against the Los Angeles Kings, becoming the 70th player, as well as the seventh European player, to achieve the milestone.[citation needed]
Selänne was back amongst the NHL's elite players after the 2005–06 NHL season, when he was awarded the Bill Masterton Memorial Trophy, which recognizes perseverance, sportsmanship and dedication to hockey, designating Selänne as the comeback player of the year.
Selänne received a one-year, $3.75-million contract extension for the 2006–2007 season with the newly renamed Anaheim Ducks, after deciding to continue his NHL career. He also changed his jersey number from #13 back to #8 for 2006–2007 season, the number he'd worn during his first stint with the Ducks franchise several years earlier.[citation needed]
Selänne scored his 500th NHL career goal against the Colorado Avalanche after getting by former Avalanche teammate and captain Joe Sakic to find the net against Colorado's José Théodore. Selänne joined fellow countryman Jari Kurri as the only Finnish-born players to have scored 500 goals in their NHL careers. On November 26, 2006, in a game against the Calgary Flames, Selänne scored his 600th point as a Duck.
Selänne played in his 1,000th NHL game on December 31, 2006, against the Minnesota Wild.[8] On February 7, 2007, in a game against the San Jose Sharks, Selänne scored his 524th career goal to move into a tie with Bryan Trottier for 27th on the NHL's all-time list. The "Finnish Flash" moved past Trottier with a first period goal against the Coyotes in Phoenix on February 15, 2007, with his father, Ilmari, in attendance (the fathers of 18 Anaheim players and one of the player's father-in-law were at the game as part of a team-building experience).
On January 10, 2007, Selänne heard grave news from a seriously ill friend. "Today he found out that the cancer has spread to his brain," Selänne said. "I don't think he has much time to live. So I told him if I scored a hat trick I'd keep the puck. I told him the odds weren't very good that it would happen. Obviously it was really a sad day today, but what are you going to do? Life is not fair sometimes." The next day against the Dallas Stars, Selänne would indeed achieve a hat trick, the 19th of his career and the first since 2001. Anaheim won the game, 5–1.
Selänne tied the Anaheim franchise record for goals (previously held by Paul Kariya) with his 300th in a Ducks jersey on February 17, 2007, when he flipped a second-period power-play goal past Mathieu Garon in a game against the Los Angeles Kings at Staples Center. One night later, Selänne took sole possession of the franchise record, scoring his 301st goal with Anaheim with a power-play goal at Honda Center in Anaheim in the second consecutive game against the Kings.
With two goals against the Vancouver Canucks on March 11, 2007, Selänne became the first player over the age of 35 to record consecutive 40-goal seasons. The two goals, both on the power-play, moved Selänne into a tie with Hall of Famer Frank Mahovlich on the NHL's all-time goal-scoring list at 533, the 26th highest total in the league's history. Finally, they gave him 107 power-play goals in a Ducks uniform, moving him into a tie for the franchise record with Kariya. Selänne removed his former linemate from the record book with a power-play goal in a victory against the Chicago Blackhawks on March 16, taking over sole possession on the Anaheim franchise record. Selänne's two-goal effort against Chicago also moved him past Mahovlich, for sole possession of 26th place on the NHL's all-time goal-scoring list.
Selänne completed the 2006–2007 NHL regular season with 48 goals (third best in the league) and became the first player in NHL history over the age of 35 to record consecutive seasons with 40-plus goals. He won the Stanley Cup in that 2006-2007 NHL season. He also led the NHL with 25 power-play goals, tying the Anaheim club record that he set in 1998–1999. His 10 game-winning goals tied him for the most in that category this season. He failed, however, to become the oldest player of all time with a 50-goal NHL season (he was 36 that campaign; 35-year-old Johnny Bucyk scored 51 goals for the 1970-71 Boston Bruins).
With an assist on a goal by François Beauchemin in Game 2 of the Ducks opening round playoff series against the Minnesota Wild on April 13, 2007, Selänne picked up his 30th playoff point in an Anaheim jersey – establishing a new franchise record. The Ducks would go on to defeat the Ottawa Senators in 5 games in the Stanley Cup Finals, giving the team and Selänne their first Stanley Cup championship.
Selänne considered retirement after he and the Ducks had won the Stanley cup in 2007. However, he did not announce his retirement, and in December he told a Finnish tabloid Iltalehti that he will announce his decision in January 2008.[9] On January 28, Selänne signed a one-year contract with the Ducks for the remainder of the 2007–08 NHL season.[10] On February 12, he tied Paul Kariya for most points in franchise history after scoring a goal against the Colorado Avalanche. On February 17, he passed Paul Kariya when he scored his 670th point over the Calgary Flames.[11] On February 24, Selänne earned his 20th career hat trick against the Chicago Blackhawks, increasing his career goals total to 546, placing him 25th on the all-time list, bypassing his idol Maurice 'Rocket' Richard. He was named the NHL's "First Star of the Week" for the week ending February 24. The game also gave him his 600th career assist.[12]
On September 28, 2008, Selänne signed a two-year, $5.25 million contract with the Ducks.
On October 29, 2008, Selänne scored his 21st career hat-trick, the most amongst active players, setting a new franchise-record 12 for career hat-tricks. All of his three goals came on power-play when the Ducks beat the Detroit Red Wings in over-time 5-4. Selänne has since been two hat-tricks behind Jari Kurri, who has 23, for the record of most hat-tricks in the NHL by a Finnish player.[13][14] On October 31, 2008, Selänne increased his goal total to 560, tying with Guy Lafleur for 20th place on the all-time list.[15]
On December 19, 2008, Selänne suffered an injury to his left quad muscle from his own skate after taking a hit from Denis Grebeshkov of the Edmonton Oilers.[16] On January 28, 2009, Selänne came back off his injury and played with the Ducks against the Chicago Blackhawks. Selänne ended up scoring 54 points including 27 goals and 27 assists for the Regular Season.[17]
On April 16, 2009, the Ducks made it to the playoffs as the 8th seed. The Ducks upset the Sharks in 6 games, during which Selänne contributed 1 goal and 1 assist. The Ducks then faced the Red Wings, who eliminated them in 7 games, during which Selänne contributed 3 goals and 1 assist[17], including a goal in the Game 7 loss in Detroit.
On June 27, 2009, Selänne announced that he would sign with the Ducks for the 2009-10 season,[18] for what should have been, according to him, his final season, stating a man at his age does not belong in a league like the NHL.[19] On July 9, 2009, the Montreal Canadiens' captain, Selänne's countryman and a long term linemate in the national team, Saku Koivu, also signed with the Ducks. On October 8, 2009, Selänne scored twice against the Boston Bruins. Just two days later, on October 10, Selänne scored two goals and added a shootout winner against the Philadelphia Flyers, leading his team to its second victory in the fourth game of the season. On March 21, 2010, Selänne scored his 600th career NHL goal against the Colorado Avalanche on goalie Craig Anderson. He is the 18th NHL player in history to score 600 goals, and joined Luc Robitaille and Mario Lemieux as the only Calder Trophy winners to score 600. On April 2, 2010, he scored his 602nd and 603rd NHL goals, passing Jari Kurri's record for Finnish born players of 601. Selänne ended up recording 48 points including 27 goals and 21 assists for the 2009-2010 Regular Season while the Ducks failed to make it to the playoffs.
On August 9, 2010, Selänne's one year, $3.25 million contract with the Ducks was announced. [20] On October 26, 2010, Selänne scored his 611th career NHL goal against Dallas Stars passing Bobby Hull for the 15th place in the list of NHL's all-time goal scorers.
The Finnish media has been reporting that Selänne would likely retire following the 2010-11 season.[21]
International
[
]
Medal record
Ice hockey
Competitor for

Template:Country data FIN

Winter Olympics

Bronze

2010 Vancouver

Silver

2006 Turin

Bronze

1998 Nagano

World Championships

Bronze

2008 Canada

Silver

1999 Norway
Together with Saku Koivu and Jere Lehtinen, Selänne has formed the backbone of Team Finland during his reign. He has appeared in over 120 international games: five Olympics, five Ice Hockey World Championships, the 1991 Canada Cup, and the 1996 and 2004 World Cup of Hockey.
Selänne played for Finland at the 1991 World Championship, hosted in his native Finland, and was one of the top scorers in the tournament with 11 points, behind only Mats Sundin and Jari Kurri. He also played in the 1991 Canada Cup, where Finland qualified for the semi-finals for the first time. At the 1992 Winter Olympics in Albertville, Finland ended up in a disappointing seventh place after losing 6–1 to the Unified Team in the quarter-finals. Selänne was top scorer for his team with 11 points. After a long season he chose not to participate in the 1992 World Championship, but Finland still managed to capture its first ever medal at the World Championship level.
Selänne did not take part in the 1995 World Championship, where Finland took its first and so far only gold medal, beating Sweden 4–1 in Stockholm's Globen arena. In 1996, Selänne played his second World Championship, and also in the 1996 World Cup of Hockey (successor to the Canada Cup), his team finishing fifth in both.
Selänne was teamed up with Saku Koivu at the 1998 Winter Olympics in Nagano, where they tied as the tournament's top scorers. Finland beat Canada 3–2 in the bronze medal game. However, Selänne was injured in the previous (semifinal) game against Russia, and did not play in the bronze medal game. At the 1999 World Championship, he was again combined with Koivu. Finland was beaten by the Czech Republic in the final games. With 11 points, he finished second in scoring, 5 points behind Koivu. Both were elected to the tournament's All-Star lineup, and Selänne also received the tournament's MVP award.[citation needed]
Selänne's next duty came at the 2002 Winter Olympics in Salt Lake City. Due to absence of Koivu, who was battling cancer at the time, Selänne was named the captain of the Finnish team, but was unable to carry the team to win a medal. The team was crushed by the United States in their first game, but made it to the medal round, where they were knocked out by the eventual gold medalists, Canada. Finland finished in sixth place. The following year, the World Championship was held in Finland. The San Jose Sharks (Selänne's team at the time) failed to qualify for playoffs, allowing Selänne to play for the national team. This was his second tournament on home soil, with Finland finishing in 5th place. He managed to score 11 points and was the tournament's leading goal scorer with eight goals.
Selänne's second World Cup opportunity came in 2004, but a nagging knee injury knee hindered his performance. He tallied only four points in six games. Finland won the silver medal, losing 3–2 to Canada in the final.
At the 2006 Winter Olympics in Torino, Selänne was again teamed up with Koivu and Lehtinen, captaining the Finnish team. Finland put up a 19–2 goal difference in the group stage. Finland came up short against Sweden in the final game. Selänne was once again the joint top scorer with Koivu and also tied for most goals with fellow Finn Olli Jokinen. Selänne and Koivu were named in the Tournament All-Star lineup and Selänne was elected the best forward of the tournament.
In summer 2007, Selänne announced his retirement from Finnish national team play, stating that there is room for only one "Raipe".[citation needed] However, Selänne accepted Doug Shedden's invitation to join the Finnish national team for the World Championship, coming out from his short-lived international retirement.[22] After the 2008 World Championship, Selänne once again announced his retirement from international competition.[23]
However, at the beginning of the 2008–09 NHL season, Selänne contemplated playing at the 2010 Winter Olympics in Vancouver.[24] Coming out of international retirement once again, Selänne joined the Finnish team for the 2010 Winter Olympics, serving as an alternate captain this time to Saku. At the tournament, he became the all-time leader for points scored in the Olympics.[25][26] In Finland's first game of the tournament, played against Belarus, Selänne had an assist, which tied him in first place with Valeri Kharlamov of Russia, Vlastimil Bubnik of the former Czechoslovakia, and Harry Watson of Canada, all of whom have 36 points in Olympic competition.[26] In Finland's second game, against Germany, Selänne had another assist, giving him a total of 37 points throughout his Olympic career.[25][26]
Personal
[
]
Selänne was born on July 3, 1970, in Helsinki, Finland. His mother's name is Liisa Viitanen and the name of his father is Ilmari Selänne. Teemu Selänne has a twin brother, Paavo Selänne, and an older brother named Panu Selänne. Teemu Selänne spent two years in business school[27] and taught kindergarten for three years in Finland before arriving in the NHL.[28]
Selänne married Sirpa Vuorinen on July 19, 1996. They have four children: sons Eemil, Eetu and Leevi, and a daughter Veera Johanna (b. December 5, 2007). They are residents of Coto de Caza, California, a gated community in southern Orange County.
Selänne is known as an avid car collector (he is one of the few people that own an Enzo Ferrari), golfer and auto racing fan. He has even entered WRC rally events in his home country of Finland. He usually races under the pseudonym "Teukka Salama" which loosely translates as "Tommy Lightning".
He was once voted Finland's sexiest man by readers of Finnish magazine Eeva.[29]
Career statistics
[
]
Regular season and playoffs
[
]
 
 

Regular season

 

Playoffs

Season

Team
League
GP

G

A

Pts

PIM

GP
G
A
Pts
PIM
1986–87

Jokerit Jr.

Fin-Jr.

33
10
12
22
8
—
—
—
—
—
1987–88
Jokerit Jr.
Fin-Jr.
33
43
23
66
18
5
4
3
7
2
1988–89
Jokerit Jr.
Fin-Jr.
3
8
8
16
4
—
—
—
—
—
1989–90
Jokerit

SM-l

11
4
8
12
0
—
—
—
—
—
1990–91
Jokerit
SM-l
42
33
25
58
12
—
—
—
—
—
1991–92
Jokerit
SM-l
44
39
23
62
20
10
10
7
17
18
1992–93
Winnipeg Jets
NHL
84
76
56
132
45
6
4
2
6
2
1993–94
Winnipeg Jets
NHL
51
25
29
54
22
—
—
—
—
—
1994–95
Jokerit
SM-l
20
7
12
19
6
—
—
—
—
—

1994–95

Winnipeg Jets
NHL
45
22
26
48
2
—
—
—
—
—

1995–96

Winnipeg Jets
NHL
51
24
48
72
18
—
—
—
—
—
1995–96

Mighty Ducks of Anaheim

NHL
28
16
20
36
4
—
—
—
—
—

1996–97

Mighty Ducks of Anaheim
NHL
78
51
58
109
34
11
7
3
10
4

1997–98

Mighty Ducks of Anaheim
NHL
73
52
34
86
30
—
—
—
—
—

1998–99

Mighty Ducks of Anaheim
NHL
75
47
60
107
30
4
2
2
4
2

1999–00

Mighty Ducks of Anaheim
NHL
79
33
52
85
12
—
—
—
—
—

2000–01

Mighty Ducks of Anaheim
NHL
61
26
33
59
36
—
—
—
—
—
2000–01
San Jose Sharks
NHL
12
7
6
13
0
6
0
2
2
0

2001–02

San Jose Sharks
NHL
82
29
25
54
40
12
5
3
8
2
2002–03
San Jose Sharks
NHL
82
28
36
64
30
—
—
—
—
—

2003–04

Colorado Avalanche
NHL
78
16
16
32
32
10
0
3
3
2
2004–05
Jokerit
SM-l
—
—
—
—
—
—
—
—
—
—
2005–06
Mighty Ducks of Anaheim
NHL
80
40
50
90
44
16
6
8
14
2
2006–07
Anaheim Ducks
NHL
82
48
46
94
82
21
5
10
15
10
2007–08
Anaheim Ducks
NHL
26
12
11
23
8
6
2
2
4
6
2008–09
Anaheim Ducks
NHL
65
27
27
54
36
13
4
2
6
4
2009–10
Anaheim Ducks
NHL
54
27
21
48
16
—
—
—
—
—
NHL totals
1186
606
654
1260
521
105
35
37
72
40
SM-liiga totals
117
83
68
151
38
10
10
7
17
18
International
[
]
Year
Team
Event
GP
G
A
Pts
PIM
1991
Finland

WC

10
6
5
11
2
1991
Finland

CC

6
1
1
2
2
1992
Finland

Oly

8
7
4
11
6
1996
Finland

WC

6
5
3
8
0
1996
Finland

WCH

4
3
2
5
0
1998
Finland

Oly

5
4
6
10
8
1999
Finland

WC

10
3
8
11
2
2002
Finland

Oly

4
3
0
3
2
2003
Finland

WC

7
8
3
11
2
2004
Finland

WCH

6
1
3
4
4
2006
Finland

Oly

8
6
5
11
4
2008
Finland

WC

9
3
4
7
12
2010
Finland

Oly

6
0
2
2
0
WC totals
42
23
23
46
18
OLY totals
32
20
18
38
20
WCH totals
16
5
6
11
6
INT totals
124
66
65
131
91
Records
[
]
NHL single-season record for goals by a rookie (76 in 1992–93)
NHL single-season record for points by a rookie (132 in 1992–93)
NHL single season record for most goals by a European player (76 in 1992–93 tied with Alexander Mogilny)
NHL calendar month record for most goals (20 in March 1993)
Anaheim Ducks franchise record for career points (743)
Anaheim Ducks franchise record for career goals (352)
Anaheim Ducks franchise record for career assists (391)
Anaheim Ducks franchise record for career power-play goals (110, established February 24, 2008)
Anaheim Ducks franchise record for career hat-tricks (12 as of October 31, 2008)
Anaheim Ducks franchise playoff record for points scored (30, established April 13, 2007)
Anaheim Ducks single-season record for power-play goals (25, established in 1998–1998 and tied in 2006–2007)
Anaheim Ducks single-season record for points (109, established in 1996–1997)
Anaheim Ducks single-season record for goals (52, established 1997–1998)
Winnipeg Jets/Phoenix Coyotes single-season record for goals (76, established 1992–1993) (as a rookie)
Winnipeg Jets/Phoenix Coyotes single-season record for points (132, established 1992–1993) (as a rookie)
First European to score a hat-trick in an NHL All-Star game (1998)
First player in NHL history over the age of 35 to record consecutive seasons with 40-plus goals
One of only three European-trained players, along with Jaromir Jagr (646) and fellow Finn Jari Kurri (601), to score more than 600 goals (606), a record for Finnish NHL players
Most recent NHL player, along with Mogilny, to score 70 goals in a season
Awards
[
]
Raimo Kilpiö trophy

for the gentlemanly player in the

SM-liiga

- 1991

Aarne Honkavaara trophy

for best goal scorer in the SM-liiga - 1992
SM-liiga championship - 1992
Calder Memorial Trophy - 1993
NHL All-Rookie Team - 1993
NHL First All-Star Team - 1993, 1997
NHL Second All-Star Team - 1998, 1999
Played in the NHL All-Star Game in

1993

,

1994

,

1996

,

1997

,

1998

,

1999

,

2000

,

2002

,

2003

,

2007

NHL All-Star Game MVP - 1998

Ice Hockey World Championships

Tournament All-Star Team - 1999
Ice Hockey World Championships Tournament's MVP - 1999

Rocket Richard Trophy

- 1999 (also tied for most goals in NHL in 1993 and 1998)

2006 Winter Olympics

All-Star Team
2006 Winter Olympics - Best forward
Transactions
[
]
See also
[
]
List of NHL statistical leaders

List of NHL players with 500 goals

List of NHL players with 1000 points

List of NHL players with 1000 games played
References
[
]
External links
[
]
Links to related articles
Note: Teemu Selänne served as captain during most of the 1997–98 season when Paul Kariya was injured and out of the line-up