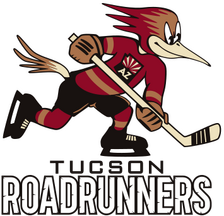 The Tucson Roadrunners are a professional ice hockey team in the American Hockey League (AHL) which began play for the 2016–17 season.
Based in Tucson, Arizona and affiliated with the National Hockey League's Arizona Coyotes, the team plays its home games at the Tucson Convention Center.
History
[
]
On April 19, 2016, the Arizona Coyotes announced that they had reached an agreement to purchase their AHL affiliate, the Springfield Falcons, and would relocate the team to Tucson for the 2016–17 season.
Said purchase and relocation was contingent on three approvals; the first from Rio Nuevo (Tucson's downtown revitalization authority) to invest $3.2 million in arena upgrades to bring the Convention Center to professional-quality standards was approved on April 26, 2016 the second from the AHL Board of Governors to conditionally approve the purchase and relocation of the Coyotes was approved on May 10, 2016 and the third from the Tucson City Council for a 10-year lease with the Convention Center was approved on May 17, 2016.
A name-the-team contest was held between May 17 until May 31, 2016. The hockey club's new name and logo were revealed on June 18, 2016 during the Tucson Convention Center's open house event.
The chosen name, Roadrunners, pays homage to the Phoenix Roadrunners, a team name that was used for various Phoenix professional hockey teams from 1967 to 2009, and creates a play on words with its parent club the Coyotes (a reference to the classic cartoon duo of Wile E. Coyote and The Road Runner). Its logo, as well, is a close match for the traditional logo used for Phoenix Roadrunners' teams of the past.
On June 21, 2016, Mark Lamb was hired as the team's first head coach after holding the same position with the Western Hockey League's Swift Current Broncos since 2009. Mark Hardy was hired as an assistant coach.
The team named its first president Brian Sandy, along with three other key staff members, on July 18, 2016.
On July 20, 2016, the Roadrunners announced their first general manager, Doug Soetaert, promoted from his former position as a scout for the Coyotes.
Season-by-Season Record
[
]
Regular Season
Playoffs
Season
Games
Won
Lost
OTL
SOL
Points
PCT
Goals
for
Goals
against
Standing
Year
1st
round
2nd
round
3rd
round
Finals

2016–17

68
29
31
8
0
66
.485
187
237
6th, Pacific

2017

Did not qualify