Jurassic World: Dominion Dominates Fandom Wikis - The Loop
Play Sound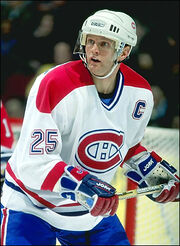 Vincent Francois Damphousse (born December 17, 1967) is a retired Canadian professional hockey player in the NHL. He played centre for the Toronto Maple Leafs, Edmonton Oilers, Montreal Canadiens and San Jose Sharks. He was signed as an unrestricted free-agent by the Colorado Avalanche in 2004 during the off-season, but he never played with the team due to the lockout that canceled the 2004–05 season.
Playing career
[
]
Damphousse was picked by the Toronto Maple Leafs 6th overall in the first round of the 1986 NHL Entry Draft. In 1991, playing as a Maple Leaf, he was named MVP of the NHL All Star Game, being one of only four players (at that time) to ever score 4 goals in a single All-Star matchup.[1] Damphousse played five seasons in Toronto before moving to the Edmonton Oilers. He found himself playing for his hometown team, the Montreal Canadiens the next season, helping them win the Stanley Cup in 1993 before moving to the San Jose Sharks during the 1998–99 season. He also spent a brief stint in the Deutsche Eishockey Liga playing for the Ratingen Lions. His last team was technically the Colorado Avalanche, with which he signed on August 19, 2004, but he never took the ice for them; the 2004–05 NHL season was canceled because of a lockout.
Damphousse was a member of the National Hockey League Players' Association (NHLPA) executive committee, serving as vice president under Trevor Linden. Damphousse was once mistaken for Vincent Lecavalier by master hockey legend Bill Watters on Sportsnet Connected during a Leafs broadcast.
Retirement
[
]
Damphousse announced his retirement on September 7, 2005. He currently lives in Montreal.
Awards
[
]
Career statistics
[
]
 
 

Regular season

 

Playoffs

Season

Team
League
GP

G

A

Pts

PIM

GP
G
A
Pts
PIM

1983–84

Laval Voisins

QMJHL
66
29
36
65
25
12
5
3
8
4

1984–85

Laval Voisins
QMJHL
68
35
68
103
62
—
—
—
—
—

1985–86

Laval Titan

QMJHL
69
45
110
155
70
—
—
—
—
—

1986–87

Toronto Maple Leafs
NHL
80
21
25
46
26
12
1
5
6
8

1987–88

Toronto Maple Leafs
NHL
75
12
36
48
40
6
0
1
1
10

1988–89

Toronto Maple Leafs
NHL
80
26
42
68
75
—
—
—
—
—
1989–90
Toronto Maple Leafs
NHL
80
33
61
94
56
5
0
2
2
2
1990–91
Toronto Maple Leafs
NHL
79
26
47
73
65
—
—
—
—
—

1991–92

Edmonton Oilers
NHL
80
38
51
89
53
16
6
8
14
8
1992–93
Montreal Canadiens
NHL
84
39
58
97
98
20
11
12
23
16
1993–94
Montreal Canadiens
NHL
84
40
51
91
75
7
1
2
3
8

1994–95

Montreal Canadiens
NHL
48
10
30
40
42
—
—
—
—
—
1994–95
EC Ratingen

DEL

11
5
7
12
24
—
—
—
—
—

1995–96

Montreal Canadiens
NHL
80
38
56
94
158
6
4
4
8
0

1996–97

Montreal Canadiens
NHL
82
27
54
81
82
5
0
0
0
2

1997–98

Montreal Canadiens
NHL
76
18
41
59
58
10
3
6
9
22

1998–99

Montreal Canadiens
NHL
65
12
24
36
46
—
—
—
—
—
1998–99
San Jose Sharks
NHL
12
7
6
13
4
6
3
2
5
6

1999–00

San Jose Sharks
NHL
82
21
49
70
58
12
1
7
8
16

2000–01

San Jose Sharks
NHL
45
9
37
46
62
6
2
1
3
14

2001–02

San Jose Sharks
NHL
82
20
38
58
60
12
2
6
8
12
2002–03
San Jose Sharks
NHL
82
23
38
61
66
—
—
—
—
—

2003–04

San Jose Sharks
NHL
82
12
29
41
66
17
7
7
14
20
NHL totals
1378
432
773
1205
1190
140
41
63
104
144
International play
[
]
See also
[
]
List of NHL statistical leaders

List of NHL players with 1000 points
References
[
]
External links
[
]

de:Vincent Damphousse fr:Vincent Damphousse pl:Vincent Damphousse sk:Vincent Damphousse fi:Vincent Damphousse sv:Vincent Damphousse