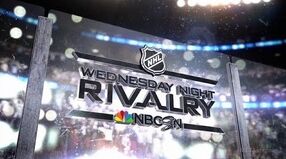 Wednesday Night Rivalry is a weekly presentation of NHL games that air on NBCSN on Wednesday nights during the regular season.
NBCSN rebranded their coverage of Wednesday night games as "Wednesday Night Rivalry" in the 2012–13 NHL season and primarily features rivalry games.
NBCSN sometimes produces a Wednesday Nightcap game primarily featuring Western Conference teams immediately following their "Wednesday Night Rivalry" game.
Beginning in the 2013–14 NHL season, NBCSN aired the series "NHL Rivals" which looks back at the participating teams' historic rivalry, leading up to their Wednesday Night Rivalry game.
That same season, NBCSN promoted the games with the slogan "The Night You Love To Hate".