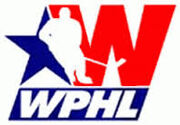 The Western Professional Hockey League (abbreviated WPHL) is a defunct minor professional ice hockey league.
The WPHL operated from 1996 to 2001 with teams based in the southern United States, primarily Texas and Louisiana.
The league started with six teams in the 1996–97 season and grew to 18 teams in the 1999–00 season.
After the 2000–01 season, the WPHL was bought out by the Central Hockey League. Former WPHL teams continued to play in the CHL until the 2012–13 season.